1. Clippers' Identity Check Will Come In Playoffs
LOS ANGELES -- If you think you've got the Los Angeles Clippers all figured out, that puts you one step ahead of Doc Rivers.
In his first season as the Clippers' coach, the team has won a franchise-record 57 games -- yet he'd be the first to tell you he doesn't know what to expect from it come playoff time. For one, he's never been with this group in the playoffs, never had an up-close look at how it responds to postseason intensity and pressure. He's barely had a chance to study it during the 82-game experiment that is the NBA's regular season.
Injuries took J.J. Redick out for two extended stretches, sandwiching a stretch without Chris Paul, and by the time Redick made his latest return the Clippers had replaced Jared Dudley with Matt Barnes at the starting small forward spot.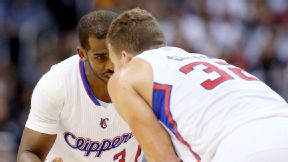 Stephen Dunn/Getty ImagesChris Paul and Blake Griffin led the Clippers to a record regular-season finish. What's next?
That means the starting lineup Rivers intends to use in the playoffs -- Paul, Redick, Barnes, Blake Griffin and DeAndre Jordan -- has been announced only four times, including Tuesday's 117-105 victory over the Denver Nuggets.
It won't be intact for the finale Wednesday in Portland; Rivers announced Redick will sit out to protect him from the strain of back-to-back games on the eve of the playoffs, and Griffin won't play either. Griffin's availability might not even be an option because he's subject to a mandatory suspension after receiving his 16th technical foul during the second quarter Tuesday night. Griffin made a hard swipe at Nuggets center Timofey Mozgov that caught the ball and then Mozgov's head after an offensive foul was called on Mozgov. It's possible the technical foul could be rescinded by the NBA, which has already nullified three previous technical fouls on Griffin this season. Whether the decision belongs to the Clippers or the league is a technicality that will impact Griffin's bank account -- a suspension without pay would cost him more than $200,000 in lost salary.
Griffin already missed a game with back spasms, leaving Jordan as the only Clipper to start every game this season. So while the Clippers have played a pretty consistent level of basketball this season -- thanks largely to Griffin's steady scoring and Jordan's efforts on the boards -- they haven't had consistent lineups.
"I think we know WHO we play," Rivers said. "That part's not that hard. The problem will be how they play together, because they haven't played together a whole lot. The playoffs are not the place you want to find out who's your best group."
Rivers continued to tinker Tuesday night, including a three-guard lineup of Paul, Jamal Crawford and Darren Collison. He deemed that one "too small" and doesn't expect to use it again.
For a while he tried a lineup that included Redick, Hedo Turkoglu and Glen Davis, because if it's continuity you're looking for, why not try a mini-reunion of the 2011-12 Orlando Magic? (It's easy to forget that in the midst of that "Dwightmare" season the Magic finished eight games above .500 and played a competitive first-round series against the Indiana Pacers).
Crawford's still making the slow return from a calf injury. He missed 6 of 9 shots and played a hesitant game that led to four turnovers. The turnover count doesn't include another one not charged to him but attributable to him: a three-second call on Jordan after Crawford passed up an open shot.
"Just thinking too much," Crawford said. "Getting back in the flow. I think I went a nine- or 10-minute stretch without taking a shot. Once you do that it's hard to get in a rhythm.
"Every time you can be on the court helps. Get the rust off and hopefully this weekend I'll be ready to go."
He feels he needs the reps right now. That clearly doesn't apply to Griffin or even Redick. So the final game will be more of an experiment than anything else, perhaps the equivalent of an emergency drill that might even test their ability to play without Paul as well.
For all of Rivers' apprehension of the unknown, he does like the way the team has bought into his concept of unity and rallied from deficits this season.
Collison, who has had to adjust as much as anybody while swinging from the bench to the starting lineup and back depending on the injuries, believes in the Clippers' ability to overcome the jumbling.
"You're going to have some miscues here and there, but for the most part we have a lot of good veteran guys that they're going to fit right in and they're going to know exactly what to do," Collison said.
He sounds more confident than Rivers. Maybe it's easier to play in it than coach it.
Dimes past: March 24 | 25 | 26 | 27 | 30 | 31 | April 1 | 2 | 3 | 6 | 7 | 8 | 9 | 10 | 13 | 14
ESPN Senior Writer
ESPN.com senior writer since 2007
Around The Horn panelist
Formerly at Los Angeles Times
2. Around the Association
| | | | | |
| --- | --- | --- | --- | --- |
| New York Knicks | 109 | FINAL | 98 | Brooklyn Nets |
---
MVP: Amar'e Stoudemire. His stat line might not be that impressive, but early on, as the Knicks were building a double-digit lead, he bulled his way to the rim, converting some tough buckets and drawing a slew of fouls.
X factor: Speaking of which, without Carmelo Anthony, an often-undersized New York team -- one that came into Tuesday last in the league in free throws per game (20) -- got into the paint time and time again, setting season highs for both makes and attempts.
That was ... a glorified exhibition: The Nets' effort level left something to be desired, and the Knicks' played like a team that had nothing to lose. There were a slew of highlight-reel dunks and 30-plus-foot 3s, but it was probably the least hard-fought of all of the 2013-14 battles of the boroughs.
| | | | | |
| --- | --- | --- | --- | --- |
| Denver Nuggets | 105 | FINAL | 117 | Los Angeles Clippers |
---
MVP: Chris Paul finished with 21 points and 10 assists on 8-or-10 shooting in just 28 minutes. He completely dominated the early portion of the game when the Clippers took control and never looked back.
X factor: The Clippers outscored the Nuggets 21-6 from the 3-point line in the first half. It was enough to build a 17-point halftime lead that allowed them to coast to a victory in the second half.
That was....never in doubt. The Clippers started the game on a 13-0 run, and their lead never felt in danger after that. In fact, neither Paul nor Blake Griffin saw the floor in the fourth quarter, despite a mini-run from Denver.
3. Tuesday's Best
Paul
Chris Paul, Clippers: A crisp, efficient outing that might have served as the perfect warm-up for the playoffs. CP3 spent 28 minutes on the court, sinking 8 of 10 shots en route to 21 points and 10 assists in the win over Denver.
4. Tuesday's Worst
Foye
Randy Foye, Nuggets: Foye missed all seven 3-point attempts he launched in the 117-105 loss to the Clippers. The season-long 38.7 percent 3-point shooter had been hot recently, having posted a 30-point, 15-assist game on the Rockets last week.
7. Quote Of The Night
"I feel for him more than anybody. The kind of season that he had, he deserves to be in the playoffs. I feel bad about that."
-- Mike Woodson, on Carmelo Anthony's finish to the season with a torn labrum
8. Shump Dunk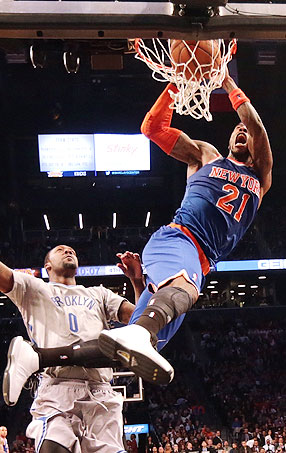 Bruce Bennett/Getty ImagesIman Shumpert scores two during the second half against the Brooklyn Nets at Barclays Center. The Knicks beat the Nets 109-98 to win the season series between city rivals.