1. After Staggering Defeat, Will Pacers Rise Up?
INDIANAPOLIS -- The Indiana Pacers spent the days leading up to Game 1 of their first-round matchup against the Atlanta Hawks talking about being refreshed physically and mentally. This was their moment to start over and put the final four weeks of the season behind them.
But in a matter of minutes in the third quarter Saturday, the Pacers proved yet again why claims of a turnaround are flimsy. More importantly, in that short period of time, they lost home-court advantage, something they spent all season talking about.
In a score that was far worse than the final outcome -- 101-93 -- the Pacers walked off the court in typical fashion of late: with their heads down and only themselves to blame as they trail their best-of-seven series to Atlanta 1-0.
"We didn't play nearly well enough to beat this basketball team, on either end of the court," Pacers coach Frank Vogel said.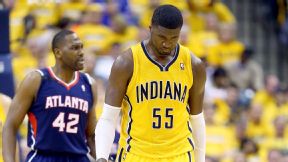 Andy Lyons/Getty ImagesPacers center Roy Hibbert had another lackluster performance in the Game 1 defeat.
The Pacers tried to downplay their second bad performance against the Hawks in less than two weeks. Point guard George Hill said it's not like the NCAA tournament, in which it's a one-and-done format. That's true, but they needed the victory worse than Atlanta. The Hawks are the underdogs. They're the team that's not supposed to have a chance as a No. 8 seed.
This is all about the Pacers. Nobody else.
Vogel has spent the past two weeks in scramble mode, desperately trying to figure out a way to get his team out of its late-season funk. He gave the starters practice off. He gave the starters a game off. He even rested three starters and played Roy Hibbert and Hill, the two starters who struggled the most of late, in an attempt to get them going. That has turned out to be futile so far. Indiana won three of its four games to close out the regular season. Two of those victories were with backup players.
"Of course I'm disappointed," Pacers swingman Paul George said. "Especially after the game they played previous to this one. We know how they can play when they're on their A-game."
The Pacers appear to be a vulnerable top seed, even against an Atlanta team that finished the season 38-44. Hill, George, David West and Rasual Butler were still in uniform huddled together talking about the game after the media entered the locker room.
"We just have to stay the course," West said. "Obviously, we have to make them guard us and defend us. We're just fouling too much and not being solid and making them score over us."
The Hawks took control of the game in the third quarter, using a 14-0 run to take 74-58 lead after West and Atlanta center Pero Antic got tangled up, exchanged words and received double technicals. A sign of things to come, though, happened late in the second quarter.
The Pacers missed three straight free throws in the final 62 seconds, then George tried to get cute with the ball by dribbling between his legs several times only to have Cartier Martin steal it, and Kyle Korver tipped in Jeff Teague's miss to tie the game at 50-50 as the half ended.
The third quarter was just where the Pacers fell apart.
They finished the regular season as the league's most efficient defense, but the Hawks -- more like Teague and Paul Millsap -- scored whenever they wanted against Indiana. Teague, who is from Indianapolis, didn't need any screens to get into the paint. He beat them off the dribble and scored 14 of his 28 points in the third quarter. Millsap had 13 of his 25 points also in the quarter.
The larger their deficit, the worse the body language got for the Pacers. Vogel got so desperate that he went with a small lineup that featured West as the center midway through the fourth quarter when the team trailed by 17 points.
That didn't work, either.
"We're fighting uphill," West said. "We can't allow teams to go on that type of run. We have to make some adjustments on how we're defending them. We have to guard, too, without fouling. Make them take shots. We didn't do a good enough job tonight."
Vogel plans to stick with the same starting lineup in Game 2, but at some point -- hopefully sooner than later -- he's going to have make a decision on whether to keep Hibbert as his center, because he's not producing and their season continues the downward spiral.
"We're going to be OK," Lance Stephenson said, entirely unconvincing, with his voice lowered as he headed toward the shower.
Dimes past: March 27 | 30 | 31 | April 1 | 2 | 3 | 6 | 7 | 8 | 9 | 10 | 13 | 14 | 15 | 16
ESPN Staff Writer
Previously worked at Indianapolis Star, covering the Indiana Pacers for nine seasons
Also covered Vikings for St. Paul Pioneer Press
2. Around the Association
3. Saturday's Best
Teague
Jeff Teague, Hawks: The Indianapolis native scorched his hometown Pacers with 28 points in the 101-93 win over the East No. 1 seed. While his teammates spread the floor, Teague drove with impunity to the hoop, giving the Hawks their first road playoff win in three years.
4. Saturday's Worst
Indiana Pacers: Is it any comfort for the Pacers that the eventual 2008 NBA champion Celtics were taken to seven games by a No. 8 seed Hawks team? Probably not. The Pacers are down 1-0 after the 101-93 loss to Atlanta. If Indy has anything left up its sleeve, now is probably the time to use it.
7. Quote Of The Night
"F--- Brooklyn!"
-- Raptors GM Masai Ujiri, at a fan rally outside Air Canada Centre prior to Game 1 loss to the Brooklyn Nets.
8. Physical Challenge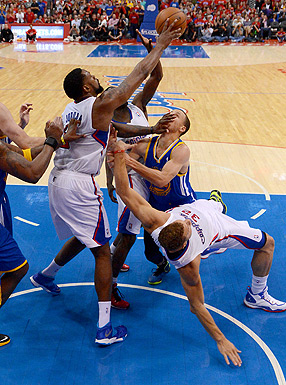 Jayne Kamin-Oncea/USA TODAY SportsPossible to imagine the Warriors winning a road playoff game while Stephen Curry was essentially muzzled? It happened, with the help of Klay Thompson (22 points).
9. Stat Check
It would be historic if Indiana or Miami turned things around and went on to win the NBA title. The Pacers went 12-13 over their last 25 games, while the Heat were just 11-14. Only two teams in NBA history finished with a sub-.500 record over their last 25 games of the regular season and then went on to win the title (1957-58 Hawks and 1994-95 Rockets).