1. Blazers Leave Their Marks On Playoff Opener
HOUSTON -- In a Portland Trail Blazers-Houston Rockets playoff opener full of crazy, which fact takes the cake?
That LaMarcus Aldridge made two 3-pointers in a single game after making three all regular season?
Or maybe it's that Aldridge became only the third player since 1986 to put up at least 46 points and 18 rebounds in a playoff game and the other two just so happened to be employed by the opposing team (Dwight Howard and current Rockets staffer Hakeem Olajuwon)?
Or how about the time that Howard was benched for his charity-stripe liabilities, then returned to the court and swished a pair of free throws in a one-possession game with 32 seconds left in regulation?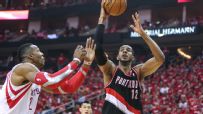 Troy Taormina/USA TODAY SportsLaMarcus Aldridge and the Blazers rallied for an OT win in Game 1.
Or how about how Aldridge and Damian Lillard are the first teammates to score 45 and 30 in a playoff game since some guys named Michael Jordan and Scottie Pippen in 1992?
Or perhaps it was the fact that the Blazers were down by 10 points with 3:58 remaining in the fourth quarter? And then they down again by six points in overtime?
But above all, this one's the craziest: Sunday was Lillard's playoff debut.
The 23-year-old was the last player remaining on the court as thousands of exasperated, red-clad Rockets fans flooded the Toyota Center exits following Houston's multiple collapses in the waning minutes. Lillard spoke in an arena that he single-handedly hushed in the closing moments and delivered his postgame TV interviews with measured poise, just like he had all game across from a human firecracker in Patrick Beverley.
You wouldn't have known it by the Blazers point guard's performance, but Lillard was the most inexperienced of all the All-Stars in this matchup, and he ended up with 31 points, 9 rebounds and 5 assists in a team-high 46 minutes. Through it all, he coughed up the ball once, an unthinkable feat against an unrelenting pest like Beverley.
Beverley did, however, manage to get the best of Lillard on a crucial play. Down two with 53.6 seconds left in overtime, Lillard turned down a high pick-and-roll with Dorell Wright and blitzed past Beverley to the rim. But Beverley closed the gap and blocked Lillard's layup from behind.
Unfazed, Lillard went right back at Beverley again. Still needing a bucket with 47.6 seconds left, Lillard curled past Beverley down the baseline and rose for another layup as Beverley contested it. Whistle. Bucket. And-one.
Lillard walked to the line on the road and drained the go-ahead free throw.
Then again with 24.5 seconds left, trailing by one point after the Rockets split two trips to the free-throw line, Lillard blew past another Houston defender at the top of the key, this time Terrence Jones, and darted to the rim for the third time in the final minute. Lillard drew another foul. And sure enough, he drilled the subsequent tying and go-ahead free throws -- bang, bang.
The Rockets would never score again. Game over.
"For all the people who wanted to know whether he was ready for the playoffs," Blazers coach Terry Stotts said, "I think he answered that question."
So the Blazers escaped Game 1 with a thrilling 122-120 victory and stole the Rockets' home-court advantage from underneath them.
"It was exciting, man," Lillard said after the game.
The Blazers entered Sunday's action with only 114 combined games' worth of playoff experience on the roster, which was the fewest among all playoff teams. But it was the Rockets who looked rattled by the playoff gravity down the stretch.
The Rockets blew about a dozen chances to seal the game. For starters, they were up by as many as 11 points under five minutes in regulation. With 4:30 left on the clock, down nine, Stotts elected to employ the hack-a-Dwight strategy to lengthen the game after the Blazers couldn't get a stop.
The plan ended up working. Howard made two free throws and then missed four consecutively and the Blazers capitalized by scoring 11 unanswered points on five straight possessions to tie the game at 98-98.
"We had to extend the game," Stotts said. "Whether he made them or missed them, if he missed one or two, it would've been great. But it prolonged the game for us, no matter what he did."
The Rockets missed a litany of open shots that could have won it for them. Open 3-pointers and point-blank shots. On the final possession, Harden hit a wall in Joel Freeland, the Portland big man's only minute on the floor in Sunday, and could only fire up a fadeaway jumper over Nicolas Batum.
"He's made those shots before, but it wasn't a smooth running play," Rockets coach Kevin McHale said. "We didn't attack the rim and get downhill like we wanted to."
Part of the reason for that was that Howard had fouled out on the previous possession. He joined Beverley, Aldridge and Robin Lopez who were also disqualified with six fouls.
From Howard's perspective, the Rockets didn't show patience with their final possessions.
"I just think that we had some quick shots," Howard said. "We got offensive rebounds and threw it out, quick shot. In the playoffs, you have to value each possession. That's something that our team is learning. A lot of guys haven't been in the playoffs that much and this is a new experience for them."
To make matters worse, the Rockets didn't just lose the game; they might have lost their best perimeter defender.
Beverley, who partially tore his meniscus three and a half weeks ago, may have aggravated the injury when he was pancaked by Aldridge's screen just beyond half court in overtime. After limping around the floor in visible pain, Beverley stayed in the game another two possessions before fouling out with 45 seconds left on Lillard's drive. After the game, the Rockets classified Beverley's injury as a sprained knee; he will undergo an MRI on Monday.
In Game 2 on Wednesday, the Rockets have to hope they get a better performance out of Harden, who finished with 27 points on 8-for-28 shooting, including 11 missed 3-pointers. But Harden's damage wasn't solely done on the offensive end.
Once again, Harden's defense compromised the Rockets' efforts, especially early in the game. This comes on the heels of an 11-minute YouTube video titled "James Harden Defensive Juggernaut" that went viral over the weekend, collecting about a quarter-million views in just a few days. The video exposed Harden's serial defensive apathy this season.
Oftentimes, Sunday provided an encore. Wesley Matthews alternated between burning Harden backdoor for easy layups and posting him on the block with little resistance. And McHale was forced to switch Harden off him and hide him elsewhere.
Harden was the NBA's slowest guard in the NBA this season, according to SportVU 3D-camera tracking. He averaged just 3.6 mph this season and only 3.4 mph on the defensive end, although most players generally show tapered times on the defensive end. But numbers aren't deceiving.
Harden clearly saves his energy for the offensive end, where he is the catalyst of the Rockets' attack. But he struggled to break free from Matthews and missed key shots down the stretch that yielded a collective groan from the audience.
The groans were compounded by Aldridge's remarkable effort inside. Although he couldn't get his signature mid-range going, Aldridge pounded the paint and routinely scored from the left block. Before the game, Aldridge ran into former Blazers and Rockets great and told him that he wanted to "catch" Drexler's records. Aldridge now holds the Blazers' all-time single-game scoring record.
"I've been a Trail Blazer all my life," Aldridge said. "I want to break every record if I can."
After Aldridge fouled out setting a screen on Beverley, Aldridge walked up to Lillard with a simple message: "Take it over."
Lillard outscored the Rockets 5-4 the rest of the way. Crazy, indeed.
"I think I heard Tim Duncan played in 200-plus playoff games," Lillard said after his playoff debut. "That's my first one, and I'm happy we were able to win it."
Dimes past: March 27 | 30 | 31 | April 1 | 2 | 3 | 6 | 7 | 8 | 9 | 10 | 13 | 14 | 15 | 16 | 19
ESPN Staff Writer
ESPN.com NBA analyst since 2010
ESPN.com Insider researcher in 2009
Developer of NBA DRAFT Initiative database
2. Around the Association
3. Sunday's Best
Aldridge
LaMarcus Aldridge, Trail Blazers: Though he fouled out in the last minute of overtime, LA did impressive work in scoring a franchise playoff-record 46 points in a 122-120 Game 1 win over the Rockets. He sank 3 of 15 3-pointers this season, but was 2-for-2 on Sunday.
4. Sunday's Worst
Houston Rockets with a lead: Houston was in command 86-73 early in the fourth quarter, but ended up losing at home. Portland's Hack-A-Howard defense produced four missed free throws as Portland tied the game 98-98 with 2:46 remaining.
7. Quote Of The Night
"Who can control our present is ourselves. Who can control our future is only God."
-- Wizards center Nene, after his team earned a long-awaited playoff win.
8. Winning Wizards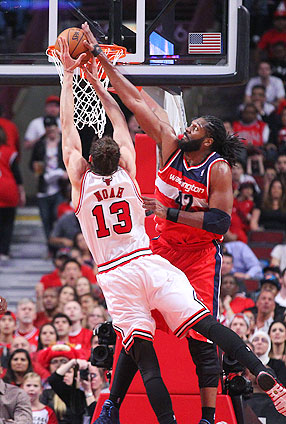 Dennis Wierzbicki/USA TODAY SportsNene Hilario scored a game-high 24 points to help the Wizards provide a stiff challenge to Joakim Noah and the Bulls in Game 1.
9. Stat Check
Portland Trail Blazers forward LaMarcus Aldridge is the second player in NBA history to have at least 40 points and 15 rebounds in a Game 1 playoff game on the road. The first was Wilt Chamberlain, who had 42 points and 29 rebounds for the Philadelphia Warriors in Game 1 at the Boston Celtics in the 1960 division finals (which was the equivalent of today's conference finals).