1. Another Unstoppable Night For Aldridge
HOUSTON -- For hours in the wake of their Sunday loss to the Portland Trail Blazers, the Houston Rockets watched film. Clip after clip, the team watched all 46 of LaMarcus Aldridge's points in Game 1 with one goal in mind: Don't let him do it again.
After three long days, the Rockets watched Aldridge again, this time live, scoring 43 points on 28 field goal attempts in Game 2. Aldridge becomes the third active player to score 40 points in consecutive playoff games, joining Kobe Bryant in 2001 and LeBron James in 2009.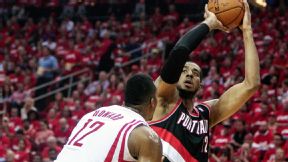 Troy Taormina/USA TODAY Sports LaMarcus Aldridge scored 89 points over two games, lifting the Blazers to a 2-0 series lead.
So much for that.
On Wednesday morning, James Harden called Game 2 a must-win and vowed he'd play better after shooting 8-for-28 in Game 1. A few hours later, Harden missed 13 of his 19 shots and turned the ball over five times.
So much for that.
The Rockets are scrambling. After securing home-court advantage in the series, they're now down 0-2 backpedaling back to Portland and searching for answers.
Dwight Howard put up 32 points, 14 rebounds and four blocks, thanks to a conscious effort by the team to get him more post touches. And yet, both coach Kevin McHale and the Rockets players used their postgame news conferences to talk about how they were out of rhythm.
The team is clearly on edge. That was no more evident in the Rockets' newly renovated, state-of-the-art, $7 million locker room where Harden had a contentious verbal exchange with a longtime media member who asked about his 14-of-47 (29.8 percent) shooting mark in this series.
Harden flatly said he wasn't worried about his offense.
"It's basketball," Harden said. "You're going to miss shots. It's basketball, that's it."
The interview session moved on, Harden calmly answered additional questions from other reporters. The Rockets' line of flat-screen TVs scrolled through the team's statistical ranks on the season, including their defensive efficiency rank of 13th. Harden focused on the Rockets' defense as their downfall in Game 2.
"I'm not worried about my offense, I'm worried about our defense -- our defense as a team," Harden said.
A few minutes later, the questions stopped coming, but not before Harden, evidently still aggravated, circled back and spun the questioning to the aforementioned reporter, taking issue with his basketball credibility.
"You've never seen someone shoot 29 percent in two games? You must not watch basketball."
The longtime reporter responded that he'd watching basketball longer than Harden had been alive. And that Harden should be held to a higher standard because he is All-NBA.
"Weirdo," Harden said, before walking out of the room once Houston's PR staff stepped in.
Despite his defiance, Harden has never been this bad. He has missed 33 shots in his past two games, the most he has ever missed in a two-game span in his career. In the 2012 Finals, Harden infamously shot 18-for-48 (37.5 percent) in five games, but he wasn't the focal point of the offense like he is in Houston.
In Game 2 on Wednesday, Harden missed 13 shots, which is more than he attempted in any of those five Finals games.
As Aldridge terrorized the Rockets' defense, it's clear that Harden and Howard aren't on the same page. Harden is the up-tempo, downhill star who wants to get out in transition and slalom his way to the basket. On the other hand, Howard prefers to slow it down and play back-to-the-basket, grind-it-out basketball. The two styles have been incompatible so far in this series.
Howard is one of the most devastating pick-and-roll threats in the NBA, and yet the Rockets oddly avoid that play call with Harden, who is an artist in such actions. In this series, Howard has just one made basket directly coming out of the pick-and-roll, according to Synergy video tracking. And it came in the third quarter of Wednesday's game, with Harden throwing him an alley-oop lob. That's the only one.
After the game, Harden said he'd like to see more pick-and-rolls with Howard.
"We don't have our same flow, our same mojo that we had throughout the season," Harden said of his on-court chemistry with his All-Star. "We don't have our same swag that we go out there and just play and have fun with it. We have to get that back."
Jeremy Lin, who missed four of his five shots from the floor after battling with the flu in recent days, was asked whether the Rockets have fallen into an identity crisis in the style of play.
"It's a good question," Lin said. "I think there's always a balance. We have a great, dominant post player, so I wouldn't say we should neglect him and run away from him. But we also have other weapons, and it's a balance."
The balance hasn't been easy to find. It's hard to push the ball, taking the ball out of the basket off Aldridge makes.
"Dwight played unbelievable," Lin said. "He had a great game, dominated down low, getting high-percentage baskets. That's not a bad thing at all. He did everything he could to keep us in the game, but it's about finding a balance and finding ways to get him and James [Harden] going at the same time."
Rockets coach Kevin McHale noted after the game that the Rockets finished with just 16 assists on 39 field goals.
"We have to move the ball and attack," McHale said. "We can't hold it. And we have to have play better pace and more flow. James will get it going when we get going. When we get up-and-down, that's where he's at his best. But we need to get up-and-down."
The Rockets' defensive game plan on Aldridge clearly did not work. Houston tried to go big with its so-called "Twin Tower" lineup with centers Howard and Omer Asik on the floor at the same time. Asik usually got the assignment on Aldridge, and the Rockets tried to push him away from the basket.
Here's the problem: That's where Aldridge thrives. To push Aldridge into the midrange area is like handing a dog a rib eye. It was a curious adjustment from McHale and his staff.
"We tried to take him out of the post for the most part," McHale said. "We tried to change it up. That first game, he got in the paint and wore us out. He was moving and we were having a hard time running people at him out on the perimeter."
In the practices leading up to Game 2, Howard mentioned that Aldridge had taken more long 2s than the entire Rockets team that season. That's his sweet spot, and the Rockets paid dearly for that adjustment.
"I just got in that rhythm and started making shots, but they definitely changed it up on me."
Aldridge shot 13-for-19 on midrange jumpers in Game 2 after shooting just 3-for-12 in Game 1. Nearly all 13 of Aldridge's makes splashed through the basket without touching the rim. Portland coach Terry Stotts remarked he had never seen Aldridge play this well in his two seasons as head coach.
The Rockets pledged to watch more film after Game 2 and figure out a way to stop Aldridge. Just like they promised after Game 1.
"LaMarcus Aldridge killed us once again," Harden said. "Game 3 is our season."
Dimes past: April 1 | 2 | 3 | 6 | 7 | 8 | 9 | 10 | 13 | 14 | 15 | 16 | 19 | 20 | 21 | 22
ESPN Staff Writer
ESPN.com NBA analyst since 2010
ESPN.com Insider researcher in 2009
Developer of NBA DRAFT Initiative database
2. Around the Association
| | | | | |
| --- | --- | --- | --- | --- |
| Portland Trail Blazers | 112 | FINAL | 105 | Houston Rockets |
---
MVP: LaMarcus Aldridge is the third player to score at least 40 points in Games 1 and 2 on the road in NBA playoff history, joining Michael Jordan and Tracy McGrady. His 43 points in Game 2 came on a slew of midrange jumpers ranging from difficult to impossible. Hats off to a historic performance.
That was ... baffling: As Aldridge swished jumper after jumper, the Houston Rockets refused to alter their defensive coverage. It's difficult to double a guy who shoots on the catch, but there were a few instances when Aldridge put it on the floor and no Rockets were in position to slide over to force a pass. The strategic indecision was a huge part of why they lost.
LVP: James Harden finished with 18 points on 6-of-19 shooting, but that isn't even half the problem. Houston can only live with his standard catastrophic defense if he's making the other team backpedal in transition. He didn't do that at all in Game 2; four free throw attempts won't cut it.
| | | | | |
| --- | --- | --- | --- | --- |
| Charlotte Bobcats | 97 | FINAL | 101 | Miami Heat |
---
MVP: Al Jefferson came out hobbling and then felt his plantar fascia tear more, yet he still played 40 minutes and put up 18 points and 13 rebounds. His gutsiness very nearly lifted Charlotte to an upset.
X factor: Chris Bosh shot 4-for-5 from the arc, and each 3-pointer seemed to come just as the Bobcats were building up some momentum. Further proof he doesn't have to light it up all the time from distance, just consistently.
That was ... closer than it should have been: In spite of back-to-back championships, the Heat are still dogged by the sense that they play down to their opponent. Facing a beat-up Bobcats team and escaping with a victory that was in doubt to the last second could be the new Example 1A of that.
| | | | | |
| --- | --- | --- | --- | --- |
| Dallas Mavericks | 113 | FINAL | 92 | San Antonio Spurs |
---
MVP: It's hard to argue with what Shawn Marion did to the Spurs in Game 2. The Matrix scored 20 points on just 10 shots, while grabbing four rebounds and nabbing three steals. He also helped toss the wrench into the Spurs' offense, using his length to get in passing lanes and harass ball handlers.
That was ... a wasted GINO-BLI! performance for the Spurs: Manu Ginobili doesn't score 27 points on 12 shots very often anymore. It's pretty rare. But that's exactly what he did in Game 2 for San Antonio. But he didn't get near enough help on the offensive end as Dallas took home-court advantage from the Spurs.
X factor: THE TURNOVERS. It's hard to score when you don't get a chance to shoot as the Spurs learned quickly on Wednesday night. Dallas put up 28 more field goal attempts than the Spurs in Game 2 thanks to San Antonio's nasty habit of giving the ball away on the offensive end.
3. Wednesday's Best
Aldridge
LaMarcus Aldridge, Blazers: Even containing LMA looks like a task too big for Houston. He scored 43 points to lift the Trail Blazers to a 112-105 victory and a 2-0 lead over the Rockets in their the first-round playoff series. He sank 18 of 28 shots, getting eight boards.
4. Wednesday's Worst
San Antonio Spurs' turnovers. As if to offer an unfitting tribute to new coach of the year Gregg Popovich, the Spurs promptly committed 24 turnovers to the Mavs' eight in a 113-92 Game 2 loss. According to Elias, over the past 15 years, only two other teams had at least 16 more turnovers than their opponent in a playoff game: the 2009 Hornets and 2008 Magic.
7. Quote Of The Night
"It's a bad combination to not play good defense at one end and give the ball up at the other end and not shoot free throws very well, either. ... That means you get your butt kicked, and that's what happened tonight."
-- Gregg Popovich, after his Spurs were routed by the Mavs
8. Can't Touch This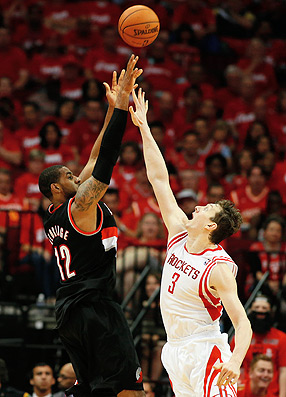 Scott Halleran/Getty ImagesWith LaMarcus Aldridge's length and high release point, blocking his shot proves a tough task even for a big man such as Omer Asik.
9. Stat Check
LaMarcus Aldridge scored 43 points in the Blazers' 112-105 win over the Rockets, and he's scored 89 points over the first two games of this series. Only four other players in NBA history have scored at least 89 points in their first two games of a playoff season: Michael Jordan (112 points in the 1986 playoffs and 105 in the 1988 playoffs), Jerry West (101 in the 1965 playoffs), Elgin Baylor (89 in the 1961 playoffs) and Tracy McGrady (89 in the 2003 playoffs).