1. Lillard Ends Wild Series In Classic Fashion
PORTLAND, Ore. -- A series this good, this competitive was always destined to come down to who had the ball last. And that was the Portland Trail Blazers and Damian Lillard, who delivered the final game-changing shot in a series full of them, making an off-balance 3-pointer as time expired to win Game 6 (99-98) and the series (4-2) over the Houston Rockets.
Moments earlier, the Rockets figured they'd sent the series back to Houston for a deciding Game 7 when Chandler Parsons was in the right place at the right time to follow up a James Harden miss with a reverse layup, giving Houston a two-point advantage. But the Rockets left just enough time -- 0.9 seconds -- for one final possession.
In the huddle, Portland coach Terry Stotts diagrammed a play that would bring Lillard toward inbound passer Nicolas Batum after a screen from Wesley Matthews. Lillard was one of two options on the play -- actually, the second option after forward LaMarcus Aldridge.
"The play was for LaMarcus," said Batum, "but [Lillard] was so wide open, we had to break the play."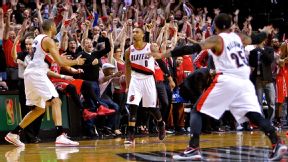 Craig Mitchelldyer/USA TODAY SportsDamian Lillard had six 3-pointers on the night, none more important than his series-clincher.
"To be honest, I didn't think Dame would come that open," said Stotts. "[Aldridge] was probably the first look, but Dame came wide open."
Having separated from defender Parsons, who got stuck on the screen despite Houston's emphasis on not giving up a 3-pointer, Lillard clapped to get Batum's attention. He planted his feet, caught the pass and fired as his momentum carried him away from the basket.
"It felt real good leaving my hands," said Lillard. "Once I saw it on line, I said, 'That's got a chance.'"
More than a chance. Lillard's shot splashed through the net as the Moda Center crowd that had waited 14 years to see the Blazers win a playoff series -- the league's longest drought up until the moment Lillard hit the shot -- erupted.
"After he made the shot, I didn't let him go for about three minutes," said Aldridge.
In his second season, Lillard has already established a penchant for clutch heroics. "I think he lives for those moments," Stotts said.
They don't come much bigger. Batum called it the most important shot he's seen in six years in Portland, and one of the biggest in franchise history. According to the Elias Sports Bureau, it was the first walk-off shot to win a playoff series since John Stockton's 3-pointer to cap the 1997 Western Conference finals.
The ending was fitting for a series featuring razor-thin margins. The six games were decided by a total of 28 points, with three of them coming down to the final buzzer. Over the six games, the Rockets actually outscored the Blazers by two points.
Though it did not require overtime, the final game might have been the most dramatic. Neither team led by more than 10 points, and there were five ties and four lead changes in the fourth quarter alone. The last two came in the final second, producing a remarkable reversal of emotions.
"When Chandler Parsons made that layup with 0.9 seconds left, everybody was like, 'Man, we've got to go back to Houston,'" recounted Lillard. "The first thing I did after he made it was look to the other end to see how much time was left. I knew we would get a shot off. I didn't know the quality of the shot, but we got as good a look as we were going to get."
Lillard's shot delivered the Blazers their first series win since the 2000 Western Conference semifinals, when they beat the Utah Jazz. That Portland team would blow a fourth-quarter lead in Game 7 of the conference finals against the Los Angeles Lakers, beginning a stretch of playoff futility that lasted nearly a decade and a half. During that span, the Blazers lost seven consecutive series, including back-to-back-to-back first-round losses from 2001-03 and again from 2009-11.
Along with Batum, Aldridge was part of all three first-round defeats in the more recent stretch, which started at the hands of the Rockets in 2009, and he was pleased to win a playoff series for the first time in his career.
"It feels good. It feels weird, but it feels good," said Aldridge. "The people that's been here with me, we've definitely had our moments where we felt like we should have made it and we've had teams that maybe should have done it in the past, so it feels good to finally make that step."
Though this was his first playoff series, Lillard still developed a sense over the past two years of what advancing meant to die-hard Portland fans starved for playoff success. That's why he celebrated his shot by grabbing a microphone and yelling, "Rip City" over the arena PA.
"I think our whole team really wanted to get it done for them. Not only ourselves, our group in the locker room, but for the crowd because they show up so consistently for us. They were with us. The whole series, they were with us 100 percent. I felt like they deserved to be rewarded.
"Us sticking out on the court and kind of rallying and chanting with the crowd for a while, I think that's what Portland has been looking for for a long time, as far as advancing past the first round. I'm just excited that I can be on the team with this group of guys and we were the group to get it done."
Dimes past: April 19 | 20 | 21 | 22 | 23 | 24 | 25 | 26 | 27 | 28 | 29 | 30 | May 1
ESPN Staff Writer
Co-author, Pro Basketball Prospectus series
Formerly a consultant with the Indiana Pacers
Developed WARP rating and SCHOENE system
2. Around the Association
| | | | | |
| --- | --- | --- | --- | --- |
| Houston Rockets | 98 | FINAL | 99 | Portland Trail Blazers |
---
That was ... truly unbelievable: I think we're all still trying to process what happened at the end of the game. It looked like Chandler Parsons won it for Houston, until Damian Lillard decided to disagree. It's disappointing that there won't be a Game 7, but what a finish.
MVP: LaMarcus Aldridge. Offensively, Aldridge made his presence felt in the first half. His defense, along with a big drawn foul in the closing minutes, helped put Portland in position to win it with a Lillard buzzer-beater. Aldridge needed a big game, and he had one.
X factor: Thomas Robinson. Robinson went blow-for-blow with Dwight Howard to start the fourth quarter, making his mark on the series in just a four-minute stretch. His massive dunk got the crowd rocking, and the momentum eventually carried the Blazers to the win.
| | | | | |
| --- | --- | --- | --- | --- |
| San Antonio Spurs | 111 | FINAL | 113 | Dallas Mavericks |
---
MVP: Monta Ellis. The Spurs had no answer, especially in the fourth quarter, for Ellis, who finished with a game-high 29 points on 11-for-22 shooting from the floor. Ellis' athleticism in the open court was difficult for San Antonio to corral.
X factor: DeJuan Blair. The former Spur continues to stick it to his old team in this series. Blair posted 10 points, 14 rebounds and four steals to go along with plenty of energy and emotion for his teammates -- and the Dallas crowd -- to feed off of.
That was ... really, another Game 7?: We're running out of ways to describe the first round of these playoffs, and when Dallas held on to force yet another Game 7, the basketball world went into overload.
| | | | | |
| --- | --- | --- | --- | --- |
| Toronto Raptors | 83 | FINAL | 97 | Brooklyn Nets |
---
MVP: Deron Williams got banged-up both on the court, where he twisted his ankle badly, and off, where mocking "missing person" signs bearing his name hung outside Barclays Center. But he silenced the critics with 23 points, 5 rebounds and 4 assists, plus a dagger 3-pointer to seal the win.
That was ... predictable. With three Game 7s already scheduled for tomorrow, why not schedule the first one for Sunday? The way these playoffs have gone, you shouldn't be surprised.
X factor: Points in the paint. The game ended with a 48-32 advantage for Brooklyn, but at the half it was 34-10 in favor of the Nets in the paint. The Nets attacked inside early, and it gave them enough of a cushion to withstand a stout challenge by the Raptors in the fourth quarter.
3. Friday's Best
Lillard
Damian Lillard, Blazers: In his first trip to the playoffs, Lillard delivered the knockout punch to the Rockets with a game-winning 3 at the buzzer in Game 6. He finished with 25 points on 8-of-14 shooting with six 3-pointers.
4. Friday's Worst
Lowry
Kyle Lowry, Raptors: A force for most of this series, Lowry didn't bring his A-game to Brooklyn in Game 6. After going off for 36 points in Game 5, Toronto's point guard recorded only 11 points on 4-of-16 shooting and was plagued by foul trouble most of the night.
7. Quote Of The Night
"That's definitely the biggest shot of my life. So far."
-- Damian Lillard, on his game-winning 3 that sent Portland to the second round.
8. Matching Attire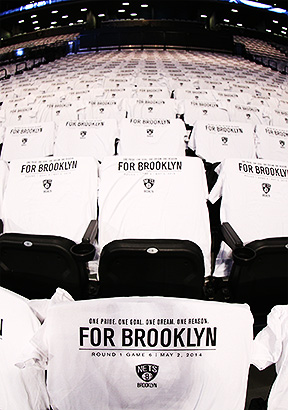 Nathaniel S. Butler/NBAE/Getty ImagesAlthough their team is gone from New Jersey, it was definitely "T-Shirt Time" for Nets fans ahead of Game 6.
9. Stat Check
Aldridge
Although he didn't score in the game's final 13 minutes, LaMarcus Aldridge led the Trail Blazers with 30 points in their 99-98 victory over the Rockets. Only two other players in Blazers history scored 30 or more points in a playoff-series-clinching win: Terry Porter had 36 points against the Spurs in 1990, and Clyde Drexler had 34 points against the Suns in 1992. Both were in conference semifinals series.