1. Doc, Clippers Win With All The Right Stuff
LOS ANGELES -- It went against everything a coach who's been there before should do or the example he should set for a team that shouldn't be satisfied with winning a first-round playoff series. Doc Rivers did it anyway.
He pumped his fist. And yelled. He pumped his fist again. He leaned over the scorer's table and high-fived Michael Smith, the Los Angeles Clippers' television analyst.
Even those who'd known him the longest said they'd never seen him react that way -- including after the Celtics' NBA championship in 2008. All in celebration of the Clippers victory over the Golden State Warriors in Game 7 on Saturday night.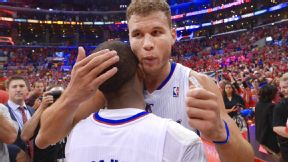 Kirby Lee/USA TODAY SportsChris Paul and Blake Griffin were clutch in Game 7, part of the reason Doc Rivers could exult.
"With all this stuff, this team just needed this win," Rivers explained.
Stuff. Coaches have a way of compartmentalizing and summarizing things like that. Rivers always jokes with the media that they're the trained professionals with the better vocabularies anyway.
"Stuff" was short for a franchise plunged into turmoil ever since TMZ splashed audio of Donald Sterling's clueless comments concerning the intersection of race and "the Instagram." Short for an emotional meeting. Short for players being besieged by texts and calls to the point Chris Paul ditched his phone. Short for players tossing their warm-up jackets in a heap and wearing their shooting shirts inside out in a silent protest before Game 5. Short for negotiating with other teams -- even their opponent -- for a possible league-wide boycott Tuesday night. Short for awaiting commissioner Adam Silver's decision on Sterling, which came down while the Clippers were in shootaround the morning of Game 5. Short for a story that wouldn't go away even after Silver banished Sterling, with constant twists and turns, including Rivers and Paul and Blake Griffin asked right after the Game 6 loss what they thought about the news that Sterling had cancer. Short for Rivers waking up off minimal sleep to drive to downtown L.A. and address the Clippers' beleaguered business staff Friday morning.
Rivers had indicated earlier in the week that Sterling's words impacted so many people. He just didn't realize the magnitude. Staffers who had to deal with irate ticket holders or disappointed sponsors. Even the sponsors themselves, who tried to distance themselves from Sterling and the Clippers and wound up consumed by the fallout, unable to spend quality time with their families.
Yeah, that sort of stuff. The sort of stuff that just doesn't pop up in your typical first-round series.
"Saturday morning, when everything had hit, you could see certain guys that were really emotional about the situation," Griffin said. "... and it got a lot bigger ... it just wore on guys."
It was profound. Life-altering. Clippers guard J.J. Redick said he actually found himself taking into account the races of the people he talked to more than ever, wondering how it affected them to hear Sterling hateful words.
"It hits you when you see your teammates being emotional or crying," Redick said. "It hits you that they're thinking about their parents or their brother or their sister, their kids. That's when it hits home."
And all of that doesn't even include a Warriors team playing inspired basketball in an attempt to preserve their coach's job and playing with the relaxed confidence of an underdog that believed it really could win this thing. Rivers' biggest basketball fears were being realized. The Clippers were playing tensely against a good-shooting team that was hitting.
The Warriors led for the first 2 ½ quarters before finally the Clippers came back, finding the energy even at the end of a long week and series, even after playing from behind all night.
"Game 7, if you don't go out and find energy from somewhere, I really don't think you should be on the floor," Griffin said.
By the fourth quarter, the Clippers came closest to being the fully realized version of the squad they kept teasing in different spurts this season.
All five starters in double-figures, plus Jamal Crawford playing like the sixth man of the year and supplying 22 points off the bench. Paul with a double-double in the points and assists categories, and a double-double for DeAndre Jordan in points and rebounds. Griffin relentlessly attacking the basket for hoops, or finding Jordan above the rim or open teammates in the corner.
The vision of what this team could be came together late in the fourth quarter when Jordan blocked Stephen Curry's layup attempt and Redick took the outlet pass and pushed upcourt, then threw a lob to Griffin for the dunk.
The only thing slightly off was Redick's throwing the lob pass, something he wasn't known for that became an acquired skill.
"Prior to this year, I always threw pocket passes," Redick said. "They want it up in the air. I've learned to just throw it near the rim, and they usually go get it."
They had taken Rivers' lesson to heart -- that defense could come from offense. Jordan had made Rivers' promise come true -- that if he dedicated himself to becoming the team's defensive anchor, good things would happen.
They had followed his lead, then filled in the answers he couldn't provide. He kept insisting before the playoffs began that he wouldn't know how this team would react in the crucible of the postseason until he went through it with them. They lost the opening game at home ... and that wasn't even the tough part. And after all of it, they prevailed to earn a second-round matchup with the Oklahoma City Thunder.
"I love 'em," Rivers said. "They're tough. We never splintered. That's what you don't know. And we never splintered. We just hung in there. After losses, everybody was down, no adversity, no bickering. No second-guessing.
"They're committed. I know that now."
Dimes past: April 19 | 20 | 21 | 22 | 23 | 24 | 25 | 26 | 27 | 28 | 29 | 30 | May 1 | 2
ESPN Senior Writer
ESPN.com senior writer since 2007
Around The Horn panelist
Formerly at Los Angeles Times
2. Around the Association
| | | | | |
| --- | --- | --- | --- | --- |
| Golden State Warriors | 121 | FINAL | 126 | Los Angeles Clippers |
---
MVP: After struggling with a hamstring injury the past few games, Chris Paul returned to form. He guided the offense with 22 points and 14 assists and hounded Steph Curry as best he could defensively. Whenever the Warriors made a run late, Paul manufactured a basket to quell their comeback.
Defining moment: Doc Rivers is normally a man of composure, but with two seconds remaining and the game sealed, he let the moment overwhelm him. He began yelling and pumping his fists, and then turned to the crowd and high-fived a fan. With all his team has been through in the past week, it was probably therapeutic to let loose.
That was ... a heartbreaker: Someone had to lose, unfortunately, and Saturday it was the Warriors. Still, with four of the seven games decided by five points or fewer, the matchup definitely met, if not surpassed, everyone's expectations as the best series of Round 1.
| | | | | |
| --- | --- | --- | --- | --- |
| Atlanta Hawks | 80 | FINAL | 92 | Indiana Pacers |
---
MVP: Paul George continued his great series with 30 points and 11 rebounds. George did most of his damage in the first three quarters, when he scored 22 of his points on just 13 shots.
X factor: The Roy Hibbert who was selected to the All-Star Game finally showed up to the second half of the season. Hibbert had 13 points, seven boards, five blocks and was a team-high plus-16.
That was ... a long road: Most expected Indiana to get through this series when the playoffs began. It might have taken the Pacers longer than expected, but they finally got the series win and will face Washington in the second round.
| | | | | |
| --- | --- | --- | --- | --- |
| Memphis Grizzlies | 109 | FINAL | 120 | Oklahoma City Thunder |
---
MVP: Russell Westbrook composed a masterpiece on the hardwood Saturday, playing by far his best game of the series. His 27 points, 16 assists and 10 rebounds made him just the second player in NBA history to have a triple-double in two Game 7s.
X factor: He didn't have a triple-double, but Kevin Durant was nearly as sublime with 33 points on just 18 shots. Perhaps more importantly, Durant rediscovered his stroke from distance, sinking all five of his shots from beyond the arc.
That was ... bittersweet. This had been one of the most entertaining, if not exhausting, series in these playoffs. Unfortunately, Game 7 featured a Grizzlies team without Zach Randolph, and one can't help but feel a bit disappointed by a game in which one team wasn't at full strength.
3. Saturday's Best
Westbrook
Russell Westbrook, Thunder: Westbrook had a triple-double to help the Thunder beat the Grizzlies 120-109 in Game 7 of their first-round Western Conference playoff series. Westbrook had 27 points, 16 assists and 10 rebounds. It was his second triple-double in the past three games. He made 10 of 16 shots from the field, both of his 3-pointers and five of his six free throws.
4. Saturday's Worst
Antic
Pero Antic, Hawks: Where's non-shooting Zaza Pachulia when you need him? After sinking 3 of 10 3-pointers in the first two games of the series, Antic missed his next 15, including three in a scoreless effort in a Game 7 loss to the Pacers.
7. Quote Of The Night
"You're an animal, dog. You're an animal."
-- Paul Pierce, offering praise to Raptors dynamo Kyle Lowry after the Nets' Game 7 win.
8. Russell Athletic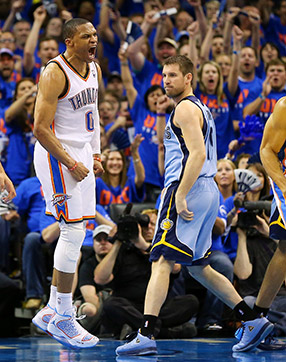 Ronald Martinez/Getty ImagesRussell Westbrook celebrated his Thunder's Game 7 win that capped a rally from a 3-2 series deficit.
9. Stat Check
Russell Westbrook scored 27 points, passed out 16 assists and grabbed 10 rebounds in Oklahoma City's win over Memphis on Saturday in Game 7 of their series. The only other players to have a 25/15/10 (points/assists/rebounds) game in the playoffs are Oscar Robertson, who did it twice, in 1962 and 1964 (like Westbrook, in a winner-take-all game) and Chris Paul in 2011.
Kevin Durant scored 33 points in Oklahoma City's victory. It's the second time Durant has scored at least 30 points and Westbrook has had a triple-double in the decisive game of a postseason series against Memphis; the dynamic duo also did that in 2011. There have been only three other winner-take-all games in postseason history in which a player scored at least 30 points and a teammate had a triple-double, and no other pair did it more than once.
Oklahoma City made 42 of 69 field goals on Saturday (60.9 percent), the second-highest shooting percentage in a winner-take-all game in NBA history. The Suns went 47 for 77 (61 percent) in Game 7 of their first-round playoff win over the Lakers in 2006.