1. Spurs Now Primed For Tough Playoff Battles
SAN ANTONIO -- What's left for the San Antonio Spurs to say to the Dallas Mavericks? What can they possibly want to impart after going up against them seven times in the past two weeks before advancing to the second round following a thoroughly dominating 119-96 Game 7 win to close out their first-round series Sunday?
How about, "Thank you"?
Thanks for waking us up. Thanks for getting us ready. Thanks for reminding us just how tricky the postseason can be.
Maybe it's not the way the Spurs scripted it. Maybe they failed to make a statement coming off that Finals loss to Miami to let the league think they're invincible now. Maybe disposing of Dallas in fewer than seven games would have saved some of their legs for the rounds to come. Maybe after sweeping the Mavericks in the regular season -- a regular season in which the Spurs won 13 more games than the Mavs -- letting it get to Game 7 was somewhat of a disappointment.
Then again, maybe not.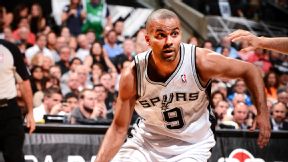 Garrett W. Ellwood/NBAE/Getty ImagesTony Parker's Game 7 performance is just the kind of game the Spurs will need to make a deep run.
Maybe Dallas was just a team that had been fighting for its playoff life the last six weeks of the regular season and came into the series on top of its game. Maybe playing a team like that forced the Spurs to ante up, because the rest of the Western Conference certainly won't lie down for them the rest of the way. Maybe the Mavs were actually a perfect opponent for the Spurs, considering they'll now face the Portland Trail Blazers in the conference semifinals.
Maybe figuring out how to hold a dynamic lead guard like Monta Ellis to 12 points on 3-for-11 shooting and a versatile stretch forward like Dirk Nowitzki to 8-for-21 shooting Sunday with it all on the line was the best dress rehearsal the Spurs could have to prepare for Damian Lillard and LaMarcus Aldridge coming to town.
"That was a great warm-up, if I can call it a warm-up," said Tony Parker after a brilliant Game 7, scoring 14 of his 32 points in the first quarter as the Spurs jumped on the Mavs early and never looked back. "It was tough to play them. Because you know that Dirk is one of the best ever and Monta Ellis played great in that series. So it's going to be pretty much the same -- Aldridge and Lillard in pick-and-rolls."
Getting pushed to the limit early isn't necessarily a sign of vulnerability. Sometimes it can ramp up a team's resolve. Just look at Boston going seven games with Atlanta in the first round in 2008 or the Los Angeles Lakers going six games with Oklahoma City to open up the 2010 postseason. Both of those series helped catapult the favored team toward a championship. They both served as a well-timed, swift kick in the rear.
Dallas did its best to boot the Spurs' butts out of the playoffs, too. But after getting pushed by the Mavs and still standing, the Spurs have nearly their entire team tuned up and ready for what's sure to be a rambunctious Blazers bunch.
Outside of Marco Belinelli, who went from averaging 11.4 points during the regular season to scoring just 22 points in the seven games combined for the series, every Spurs rotation player has something to feel good about at this point.
For all the talk about Mike Conley being the league's most underrated point guard during the Memphis-Oklahoma City Game 7 on Saturday, Parker made an even stronger case Sunday that he still doesn't get enough credit.
Manu Ginobili called Parker's Game 7 "inspired." Tim Duncan called it "fantastic." It was really more of the same, marking the fourth time in the series he topped 20 points. He scored 17 of his points off drives, according to ESPN Stats & Info, getting to the heart of Dallas' defense and blowing it up like the Death Star from the inside out. Appropriate enough Sunday with "May the 4th be with you" blowing up social media as the unofficial "Star Wars Day."
"Tony lived in the paint," said Devin Harris.
Ginobili was Jedi-like too. He finished the series on a high note, scoring 20 off the bench to go with six steals and five assists after scoring just six points on 1-for-8 shooting with three turnovers in Game 6.
Duncan was sublime the whole way, shooting better than 50 percent in five out of the seven games, and the two games he didn't, the Spurs still won because he went for double-digit boards both games.
Danny Green (33 points in the last two games after 17 combined in the first five) and Kawhi Leonard (51.5 percent shooting in the last three games after 46.9 percent in the first four) got stronger as the series went on.
Tiago Splitter had three double-doubles, shot lights out from the free throw line and gave Nowitzki fits on defense. Boris Diaw came up with some big shots off the bench, including the clinching 3-pointer in Game 4, and also played Nowitzki honest. Patty Mills hit four shots in the first three games and 10 shots over the final four.
Even Gregg Popovich seemingly improved as it all unfolded.
Popovich will always be revered for his four rings and three coach of the year awards, but a loss to Dallas would have complicated his legacy. Losing to the No. 8 seed as a No. 1 for the second time in four years -- accounting for two of the six times that ever would have happened -- would weave its way into his narrative somehow. At the very least, it would give Phil Jackson some more ammunition to hurl at his only contemporary who can come anywhere near his credentials. First the "asterisk" title for winning it all in the lockout-shortened 1998-99 season. Then Jackson's recent comments claiming the Popovich-Duncan era is merely a "force" instead of a "dynasty" because it never included consecutive titles.
That talk will be shelved for now as Popovich won the heavyweight coaching battle against Dallas' Rick Carlisle, another name on the short list for the best mind manning the sideline in the game today.
"I'm certainly glad it's over," Popovich said. "It kept many of us up night after night trying to figure those guys out."
But figure them out he did. In Game 7 the Spurs shot 56.8 percent while holding the Mavericks to just 40.9 percent. It was their best game of the series, and several Spurs players wondered if it was their best game all season. That's saying something for a team that won 62 games during a regular season that included a 19-game winning streak.
"I think the longer the series went, they attacked our defense better and better," said Nowitzki, who was limited to 22 points and nine rebounds in the closeout game. This after being usually unflappable in Game 7s with averages of 28 points and 14.8 rebounds in his 4-0 career record in the do-or-die game coming into Sunday.
And just as the players got to go up against proxies for the Blazers' personnel, Popovich also got some training for Terry Stotts' schemes through Carlisle's moves throughout the series. Stotts, of course, was Carlisle's assistant coach when the Mavs won it all in 2011. Given the Blazers' makeup as a jump-shooting team with a roster full of offensively gifted personnel, it was no wonder Stotts was the man hired to coach them in the same style the Mavericks employ.
Yes, there's a thank you to be said and a new opponent to eye for these Spurs.
"I think we proved today that we really didn't want to go on vacation, that we're ready to compete and that we were not, for sure, over," Ginobili said.
Dimes past: April 19 | 20 | 21 | 22 | 23 | 24 | 25 | 26 | 27 | 28 | 29 | 30 | May 1 | 2 | 3
ESPN Staff Writer
Lakers and NBA reporter for ESPN.
Covered the Lakers and NBA for ESPNLosAngeles.com from 2009-14, the Cavaliers from 2014-18 for ESPN.com and the NBA for NBA.com from 2005-09.
2. Around the Association
| | | | | |
| --- | --- | --- | --- | --- |
| Brooklyn Nets | 104 | FINAL | 103 | Toronto Raptors |
---
MVP: The Raptors had no answer for Joe Johnson. If they double-teamed him, the Nets were a ball swing away from an open 3-pointer and a look at an offensive rebound. Against single coverage, well, I'll point you toward the fourth-quarter 13-point barrage that laid the Raptors to rest.
LVP: After a breakout series, Jonas Valanciunas came up empty in Game 7. The Nets constantly beat him on the boards, and he couldn't get anything going offensively. The Raptors were noticeably more effective with him on the bench.
That was ... random. It was a one-point victory in a seven-game series that's been as close as you could imagine. There isn't one unifying factor that swung the pendulum Brooklyn's way. All we know is that the Nets won; another five seconds, and that might not have been the case.
| | | | | |
| --- | --- | --- | --- | --- |
| Dallas Mavericks | 96 | FINAL | 119 | San Antonio Spurs |
---
MVP: Tony Parker. San Antonio's point guard unloaded his best performance of the playoffs and perfectly characterized the Spurs' first-half success as he attacked relentlessly. San Antonio built a 22-point lead at halftime, and Parker finished the afternoon with a game-high 32 points, 4 assists and 4 rebounds.
X factor: Danny Green showed up to play for the Spurs, something that could be debated about his first five games of the series. Green scored 16 points on 5-for-7 shooting in Game 7 and helped harass Monta Ellis into shooting 3-for-11 from the floor.
Defining moment: With the Spurs up by eight points as the first quarter wound down, Parker zigged and zagged by DeJuan Blair for a layup. On his way up the court, Parker got in Blair's face and drew a technical foul. It was all in fun, Parker said after the game, but the tone had been set for the Spurs.
3. Sunday's Best
Parker
Tony Parker, Spurs: Parker made the Game 7 battle with Dallas an early knockout, scoring 32 points en route to a 119-96 victory. Parker signaled he meant business early, even getting a first-quarter technical for a little smack talk with ex-teammate DeJuan Blair.
4. Sunday's Worst

Valanciunas
Jonas Valanciunas, Raptors: His three points and five rebounds in the 104-103 Game 7 loss to the Nets were both series lows for the Toronto big man who had started the series with three straight double-doubles.
6. Tweet Of The Night
It's funny how when people talk about the best point, they leave out Tony P, but then after the playoffs they put him back in, TP is real!!

— Austin Rivers (@AustinRivers25) May 4, 2014
7. Quote Of The Night
"You're an animal, dog. You're an animal."
-- Paul Pierce, offering praise to Raptors dynamo Kyle Lowry after the Nets' Game 7 win.
8. Kidd's Winner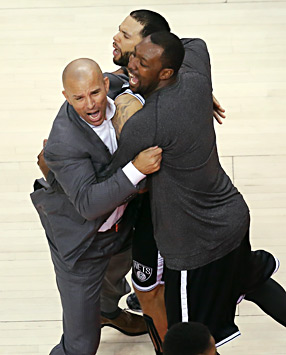 Tom Szczerbowski/USA TODAY SportsNets coach Jason Kidd celebrates a Game 7 victory with point guard Deron Williams and forward Andray Blatche in Toronto.
9. Stat Check
Brooklyn Nets coach Jason Kidd is the 19th first-year head coach to appear in a Game 7 on the road, and the first to win. The previous 18 first-year NBA head coaches lost by an average margin of 11.2 points in those games.