1. Despite Layoff, Miami Feeling The Rhythm
MIAMI -- This LeBron James who showed up on the postgame podium didn't seem like a LeBron you'd see after a Game 1 victory.
He had more life to him. This was more like a James you'd see after a series victory.
He donned the camo-frame glasses (can you call them glasses if there is literally no glass in them?) and, unsolicited, happily congratulated Kevin Durant for winning his first MVP.
LeBron joked about Paul Pierce being more like a distant cousin than an adversary.
He even politely answered a question about where Johnny Manziel might go in the upcoming NFL draft.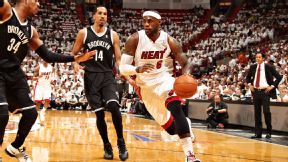 Issac Baldizon/NBAE/Getty ImagesLeBron James poured in 22 points in Miami's Game 1 win over Brooklyn.
You could hypothesize that this enthusiastic version of James was a product of a weeklong layoff between series, or perhaps simply the result of his first victory over the Brooklyn Nets this season.
That might've accounted for some of it. But LeBron's demeanor probably had more to do with a pregame "fear" he had that was lifted during Miami's convincing 107-86 Game 1 win.
"I think the most surprising thing was the rhythm that we were in," James said. "It seemed like we didn't take much time off at all.
"Having eight days off before a game, I feared the rhythm. I guess I don't have to fear that anymore."
Indeed, there was a rhythm to the Heat's offense. It began with LeBron, who was clearly committed to moving the ball from the start, running the offense and notching a pair of assists before attempting his first shot more than halfway through the opening quarter. And it resulted in 56.8 percent shooting, five players scoring in double figures and 22 assists to 10 turnovers for Miami.
But perhaps more surprising than the fact that such a clean offensive performance came after a long layoff was that it came against these Nets.
See, for four regular-season games, Jason Kidd's team caught the Heat in what Chris Bosh called a "web."
Their switching defenses and determined paint protection had the Heat settling for a lot of isolation offense and difficult shots against a veteran team that frustrates you with physicality. Shane Battier called it being "lazy" against Brooklyn's style.
Technically, the Heat had only one practice session after they actually knew their second-round opponent. But based on how sharp the offense was against Brooklyn, it was as though Miami had been preparing for the Nets' defense the entire week.
And nowhere was the Heat's preparation more evident than in the performance of Ray Allen.
Playing against his former Boston teammates Pierce and Kevin Garnett for the first time in the playoffs since signing with Miami, Allen finished with 19 points and three assists, including four 3-pointers after hitting all of five 3s in the Heat's first-round sweep of the Bobcats.
It would've made for a fantastic tale had Allen credited Pierce and Garnett's mere presence as the reason for his scoring outburst. But he insisted his opponents are "blank to me, regardless of who they are."
And the Heat teammate who probably knows Allen best, Rashard Lewis, also said Allen wasn't driven by any bitter feelings toward his former teammates.
"A lot of people are probably going to say that it's extra for him going against KG and Paul Pierce, but Ray Allen is strictly professional," Lewis said. "He comes to help us win ballgames."
And when Allen is helping the Heat win ballgames, it's usually because the ball movement is so good that defenses can't help but leave the NBA's all-time 3-point shooting king open at times.
In fact, the Heat put up 23 3-point attempts in the game, including seven from Allen but none from LeBron.
That meant most, if not all, of those attempts were a result of natural ball movement and none were of the pull-up variety LeBron occasionally takes as either a heat check or a result of bad offense.
No matter how long the Heat studied their regular-season games against the Nets, one necessary change was evident. They needed to play faster.
"Can't play their game," Lewis said. "They want us to play iso basketball and let the defense sit. We have to move the ball around and make their defense move, catch and go on the weak side."
As LeBron pointed out, playing "fast" doesn't necessarily mean scoring in transition. In fact, the Heat had only four fast-break points for the game.
Playing "fast" in Game 1 meant getting into offense early, making quick decisions when the ball is swung your way and being active without the ball so the Nets' defense can't focus on one or two players.
"We played at a speed, not necessarily with quick shots, but getting the ball up the floor and putting them in situations that they're not comfortable in," Allen said. "If you run it up the floor, then you got to play defense for another 12, 15 seconds. And then you move the ball like we did and it put a huge crux on their defense."
It just so happened the Heat, before Tuesday's Game 1, watched a 2009 playoff game between the Boston Celtics and Chicago Bulls that went to triple-overtime and featured Allen, who scored a career-playoff-high 51 points. LeBron joked that watching the game might've "juiced up" Allen a little bit.
But at this stage of his career, the 38-year-old Allen is more dependent on his teammates to get him scoring opportunities than a memory from five seasons ago.
Which is why it was encouraging for him when LeBron did more of his work near the rim and left the perimeter space for Miami's shooters.
"When [LeBron's] not shooting [3-pointers], it means he's working down there in the post and looking for his shooters," said Bosh, who drained one of four attempts from distance. "We want him to be aggressive, but he's such a great facilitator, it's a good thing for us."
LeBron finished with just three assists, but his teammates added 19 more by the time the Game 1 destruction was complete.
Pierce, who finished with just eight points, said the Nets have to offer more "resistance." Garnett, who went scoreless for the first time in his playoff career, added, "We need to be better, and we will."
LeBron wouldn't expect anything less, particularly from Pierce, who has been a fixture in James' postseason history. Just before tipoff, in fact, LeBron had a brief exchange with Pierce about that very subject that left both players smiling.
"I looked at him and told him, 'It's only right,'" James said. "Paul is like, almost, I don't know, like a family member at this point. It's like you go to a family reunion and you don't ever see that cousin until the family reunion, that's what Paul is to me.
"I mean, I've got nine straight postseasons and I've seen Paul in five of them. First it was me changing a uniform and now it's him changing a uniform, and we still see each other."
More importantly for LeBron and the Heat, it was a change in approach against Brooklyn that left him beaming well past tipoff.
Dimes past: April 20 | 21 | 22 | 23 | 24 | 25 | 26 | 27 | 28 | 29 | 30 | May 1 | 2 | 3 | 4 | 5
ESPN Staff Writer
Israel Gutierrez is an NBA writer for ESPN.com.
2. Around the Association
| | | | | |
| --- | --- | --- | --- | --- |
| Brooklyn Nets | 86 | FINAL | 107 | Miami Heat |
---
MVP: Kevin Durant may be the MVP, but much like Shaq in the early to mid-2000s, LeBron James is the most dominant. LeBron scored 22 points on 10-for-15 shooting, grabbed five boards and made three assists as Miami crushed the Nets in the second half.
X factor: Maybe the highest-paid X factor in the league, Chris Bosh blitzes pick-and-rolls on defense and stretches the floor on offense with his ability to knock down 3-pointers. In Game 1, he hit only one 3-pointer but scored 15 points and pulled down a game-high 11 rebounds.
Defining moment: Throwing his weight around like few perimeter players in the league have ever been able to do, James backed down Brooklyn's Shaun Livingston and missed an attempt at the rim but had no problem grabbing his own rebound and scoring. The basket was part of an 18-5 third-quarter run and underlined the physical dominance Miami has in this series.
| | | | | |
| --- | --- | --- | --- | --- |
| Portland Trail Blazers | 92 | FINAL | 116 | San Antonio Spurs |
---
MVP: Tony Parker simply overpowered the Trail Blazers. His 33 points came in typical Parker fashion -- knifing into the lane, pulling up from midrange or dropping in his patented floater. Portland had no answer for Parker, who looked invigorated after struggling somewhat against Dallas.
LVP: Nicolas Batum is one of the unspoken threats of the Blazers' offense, sinking 3-pointers as the defense focuses all of its attention on LaMarcus Aldridge and Damian Lillard. On Tuesday night, however, Batum was ineffective, hitting just one of his five 3-point attempts.
Defining moment: The Spurs pounced on the Blazers from the get-go, jumping out to a 29-16 advantage in the first quarter. Portland shot just 21 percent in the quarter, and Parker outscored the Blazers' starters 13-12. This was over almost before it began.
3. Tuesday's Best
Parker
Tony Parker, Spurs: Parker led San Antonio's rout from the opening tip and finished an impressive Game 1 performance with 33 points and nine assists in the Spurs' wire-to-wire victory.
4. Tuesday's Worst

Batum
Nicolas Batum, Blazers: Batum, who had provided Portland with a 3-point boost during its opening-round series win, connected on 1 of 5 triples (3 of 12 overall) for seven points in the Blazers' Game 1 loss in San Antonio.
6. Tweet Of The Night
Gotta admit I did not account for Aron Baynes in my pre-series scouting.

— Kevin Pelton (@kpelton) May 7, 2014
7. Quote Of The Night
"You made us believe, you kept us off the streets, put clothes on our backs, put food on the table. You the real MVP."
-- Kevin Durant, to his mother during his MVP acceptance speech.
8. Emotional KD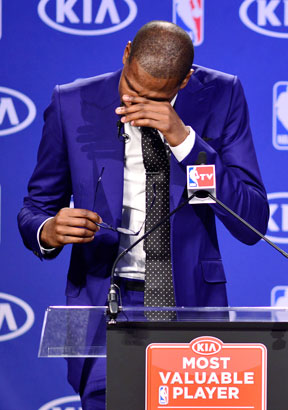 9. Stat Check
The Miami Heat outscored the Brooklyn Nets 52-28 in the paint Tuesday, their most paint points scored against the Nets this season. LeBron James scored as many points in the paint (10) in the first half as the entire Nets team.