1. Westbrook, Durant In Perfect Harmony
OKLAHOMA CITY -- Russell Westbrook was at it again, infringing on Kevin Durant's space and time ... and it was all good for the Oklahoma City Thunder.
It's long been a matter of when, not if, Durant would win the Most Valuable Player award, something that was officially settled this week. The fundamental question for the Thunder was whether Westbrook could become the required second Hall of Famer to play with him. Truly with, as in balanced cooperation. It was a matter of whether Westbrook could meld his need to impose his will on basketball -- not the game, the sport itself -- without taking away from the room Durant needs to operate.
The Thunder keep saying they believe in Westbrook, and the tell-tale indication of that is the fact that he's still here. He's outlasted onetime Thunder building blocks Jeff Green and James Harden. The organizational philosophy is to be in position to compete for championships annually, and they believe Westbrook gives them as good a chance as anyone.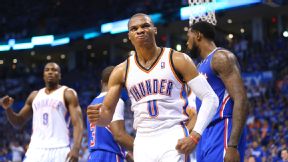 Ronald Martinez/Getty ImagesRussell Westbrook recorded his third triple-double of the playoffs in OKC's Game 2 win.
Wednesday night's series-tying 112-101 Game 2 victory over the Los Angeles Clippers was a case study in how well it can work. It was the Thunder's vision come to fruition. There was enough time in the game and space on the floor for both to do their thing. Durant accepted the MVP trophy from commissioner Adam Silver shortly before tipoff, then unleashed a 17-point first quarter. Westbrook took it from there. He not only played with a controlled aggression that filled the whole arena with energy, he had more energy than the building itself.
A lighting outage caused by a power surge that temporarily halted the game right before halftime was the only thing that could stop Westbrook. He was so active the SportVU cameras probably lost track of him. There's no way they can be programmed to follow him on the third-quarter play when he passed from the left side to Durant up top for a jumper, then managed to grab the rebound on the right side of the rim when Durant's shot missed, raced out to the 3-point line and drilled a 3 of his own.
When it was over, the two had nearly combined for an unprecedented NBA tandem performance of triple-doubles by teammates in a playoff game. The final tally: 32 points, 12 rebounds and nine assists for Durant and 31 points, 10 rebounds and 10 assists for Westbrook.
Westbrook's triple-double deserves a huge asterisk, if not a review by the NBA. It came with less than 90 seconds remaining in the game, when Westbrook passed to Thabo Sefolosha in the left corner. Sefolosha battled with Willie Green for control of the ball, then drove past Green all the way to the basket for a layup. An assist is defined as a pass that leads directly to a basket. Saying Westbrook's pass led directly to Sefolosha's basket would be like saying "the shot heard round the world" in 1775 led directly to the Vietnam War.
Nobody questioned the validity of Westbrook's six offensive rebounds or four steals, the closest the statistics came to reflecting the effort he put forth.
"I think Russ played harder than all of 'em combined," Chris Paul said. "He was all over the place."
Paul was the story of Game 1 with his eight 3-pointers. Two quick fouls removed him from the first quarter of Game 2, and Westbrook overshadowed him in the point guard matchup from there.
"Just keep pressuring," Westbrook said about his approach. "Those guys are good, especially Chris when he gets space."
The Thunder didn't feel they needed many tactical adjustments after losing the series opener. It was a matter of more focus, better belief, higher intensity. Westbrook took it upon himself to provide them all after taking the blame during a team film session.
"He was like, 'That one was on me,'" Kendrick Perkins said of Westbrook. "'I messed up. I didn't come with the right mindset.' So when one of your leaders speaks up like that, it speaks volumes."
Westbrook is usually more than we give him credit for. It's not simply a matter of Westbrook setting a physical tone to go with Durant's moving words at his MVP award ceremony the day before. It would be impossible for the Thunder players to feel like separate entities after Durant gave such a unifying, inclusive speech. But Westbrook provided his own motivational moment himself, in addition to providing the exertion that sent a cue to everyone from Sefolosha to Steven Adams.
The maddening thing with Westbrook is the uncertainty. His tendency to help or hurt the team can vary within games, quarters, even possessions. It's the constant battle between Good Russ and Bad Russ.
"I know I'm going to get a competitive Russ," Thunder coach Scott Brooks said. "That's what I look for every game. He's going to give you everything he has. He's not going to make every shot, but he's going to compete."
Westbrook wound up taking the same number of shots as Durant on Wednesday (22). If only it could always work so easily, at least mathematically. Their personalities are as different as their clothing styles.
In a moment of locker room banter that involved them both, when Caron Butler suggested that there should be an ESPN The Magazine fashion issue, Westbrook responded that not only had there been one, he was on the cover.
"I can't take the arrogance," Durant said.
Durant's tribute to Westbrook during Wednesday's speech touched on the challenging, competitive nature of their relationship, but at its core it spoke to their bond.
Westbrook reciprocated after the game Wednesday.
"I love him like a brother," he said, with Durant seated next to him. "We've been together since I've been here. He's taught me so much as a player ... and things off the floor."
Westbrook didn't need to be taught anything in Game 2. He was the one providing the lessons in playoff-level intensity. This is the game to demonstrate why the combo of Durant and Westbrook could one day prove to be the league's best. Maybe it's the one to show Westbrook should he veer off course.
Dimes past: April 21 | 22 | 23 | 24 | 25 | 26 | 27 | 28 | 29 | 30 | May 1 | 2 | 3 | 4 | 5 | 6
ESPN Senior Writer
ESPN.com senior writer since 2007
Around The Horn panelist
Formerly at Los Angeles Times
2. Around the Association
| | | | | |
| --- | --- | --- | --- | --- |
| Los Angeles Clippers | 101 | FINAL | 112 | Oklahoma City Thunder |
---
MVPs: Kevin Durant (32 points, 12 rebounds, 9 assists) and Russell Westbrook (31 points, 10 rebounds, 10 assists) were at the pinnacle of their powers, carving up the Clippers' porous defensive and getting to the rim with ease. Had Durant dished out one more assist, they would've become the first set of teammates to register triple-doubles in a playoff game.
X factor: The other guys. After quiet performances in Game 1, Serge Ibaka, Kendrick Perkins and Thabo Sefolosha combined for 36 points on 15-of-26 shooting and were key cogs in OKC's third-quarter onslaught. The Thunder can usually survive on a steady diet of Durant and Westbrook, but when the supporting cast pitches in, they're nearly unbeatable.
LVP: Blake Griffin struggled to find his rhythm offensively, scoring a playoff-low 15 points on 5-of-13 shooting. Over half of his shot attempts came from 16 feet and further, as Ibaka and Steven Adams were able to push him out of the paint with their length and physicality. Defensively, he wasn't much better, blowing rotations and providing little resistance at the rim.
| | | | | |
| --- | --- | --- | --- | --- |
| Washington Wizards | 82 | FINAL | 86 | Indiana Pacers |
---
MVP: Roy Hibbert was finally revived from his slump, scoring a season-high 28 points on 10-for-13 shooting. Hibbert also tallied nine rebounds and two blocks and was a Pacers-best plus-16.
Defining moment: Down three with 2:25 left in the game, Marcin Gortat tipped out an offensive rebound to John Wall. Instead of resetting the offense, Wall launched an ill-advised jumper from several feet behind the 3-point arc. The shot was the most glaring mistake in a disastrous final few minutes for Wall.
That was ... a reawakening: Hibbert bounced back in a way not many thought he could. After toying with disaster, the Pacers managed to tie up the series and might finally have found a groove they can build upon.
3. Wednesday's Best
OKC's dynamic duo: Kevin Durant opened his MVP reign with 32 points, 12 rebounds and 9 assists, while teammate Russell Westbrook added 31, 10 and 10 for his fourth career playoff triple-double.
4. Wednesday's Worst
Wall
John Wall, Wizards: Wall could never find his stroke in the Wizards' Game 2 loss, going 2-of-13 from the field for six points and 0-of-4 from long range.
6. Tweet Of The Night
Never a good thing when lights go out in arena. Even worse when building's named after an energy company

— J.A. Adande (@jadande) May 8, 2014
7. Quote Of The Night
"David [West] always talks to me about being the person that rescues yourself when you're in the middle of the ocean. There's nobody who can throw a lifesaver or a rope out to help you. So I had to do it myself."
-- Roy Hibbert, on his 28-point performance in the Pacers' Game 2 win.
8. Dropping The Hammer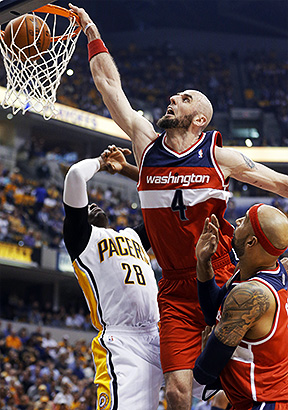 AP Photo/Darron CummingsMarcin Gortat poured in 21 points in Washington's Game 2 loss, none more emphatic than his poster of Indiana's Ian Mahinmi.
9. Stat Check
The Pacers outscored the Wizards by 16 points with Roy Hibbert on the court Wednesday. In the previous eight games in the playoffs, the Pacers were outscored by 28 points with him on the court.
10. Wednesday's Top Plays