1. Miami Turns Back The Clock For Game 2
MIAMI -- Ninety minutes before Thursday's game, images of Larry Johnson, Patrick Ewing and Allan Houston were flashing across the large-screen television in the middle of the Miami Heat's locker room.
Typically, this is the time when the Heat have scouting film of that particular night's opponents running on a loop on this particular screen. During the regular season, there would have been footage of the Brooklyn Nets' previous game or video cut outs of play sets to look out for during the upcoming game.
But, as veteran guard James Jones said before Game 2, the Heat know these Nets.
What the Heat needed to remain aware of is the focus, physical play and relentless fight required to put away an opponent this time of the year. So for the past couple of weeks, Miami's players have been getting taped, dressed and prepared for games while watching some of the most brutal playoff series the 1980s and '90s could offer, from the Pistons-Celtics classics to the Heat-Knicks clashes.
"At this point, it's about seeing the kind of intensity those guys played with every single possession," Jones said as he nodded toward the screen just as Johnson and Alonzo Mourning had gotten entangled while pursuing a rebound. "It's about mental toughness and effort. We watch these games all the time once the playoffs get here, and it reminds of what to expect every time we go on the court right now."
Jones didn't play one second during the Heat's 94-82 victory on Thursday to take a 2-0 series lead against the Nets as the series shifts to Brooklyn for the next two games. But Jones did have a prime view from the bench for the defining sequence of the game, when the Heat essentially put the Nets away with the same level of ferocious effort and intensity playing in the locker room.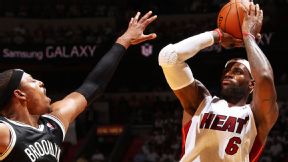 Issac Baldizon/NBAE/Getty ImagesLeBron James scored a modest 22 points as Miami grabbed a 2-0 series lead on Brooklyn.
The Heat, one of the worst rebounding teams in the league, extended a possession late in the fourth quarter by snagging three offensive rebounds before LeBron James' layup with 1:59 left put Miami ahead by double figures. The possession lasted 100 seconds and was a microcosm of the Heat's playoffs so far.
They're leaving nothing to chance, and simply won't be denied.
After stumbling down the stretch and losing 14 of their final 25 regular-season games, the Heat have been flawless in the playoffs. After sweeping the Charlotte Bobcats in the first round and holding serve through its first two home games against the Nets, Miami improved to 6-0 in the postseason, with five of those victories coming by a double-digit margin.
The Heat have tied a franchise record with an eight-game postseason win streak that dates to Games 6 and 7 of last year's NBA Finals victory against San Antonio to secure their second consecutive championship. Miami overwhelmed its opponent with a balanced attack that saw five players score in double figures for a third consecutive playoff game. James matched his Game 1 production with another 22-point effort in Game 2, which also included another huge boost -- 13 points and a team-high eight rebounds -- off the bench from Ray Allen.
"It was a very frustrating regular season, and it was hard to get that team chemistry and camaraderie on the floor," said James, trying to turn the page on an injury-ravaged regular season in which the Heat finished with their lowest winning percentage since he arrived.
"But so far in the first six postseason games, we're back in our rhythm and it's great to have, for sure. The playoffs can be frustrating, but it's just how the game goes. Teams are trying to figure out ways to be their best. For us, we just need to continue to work off our defense, put ourselves in position where we can be successful."
After blowing out the Nets by 21 points in Tuesday's series opener, played two days after Brooklyn prevailed in a seven-game series against Toronto, the Heat anticipated more of a grind Thursday. And for three-plus quarters, they got exactly that.
But the difference in the game was in the fourth quarter, which was often the case in all of those brutal throwback battles that have served as the Heat's mood-setters heading into these games. Miami held the Nets to just 15 points in the fourth on 33.3 percent shooting. Brooklyn has scored a total of 35 points in the final period of the first two games of the series. Teams that take a 2-0 lead in a best-of-seven series go on to advance 93.7 percent of the time.
"We knew it was going to be a grind, but we had to change things around that were going on in the game," Heat guard Dwyane Wade said of bullying the Nets in the final stretch. "We felt they were beating us to the 50-50 balls, the loose balls, the offensive rebounds. In the fourth quarter, we had to turn that around if we wanted to win."
At some point late Thursday, the game became more about will than skill.
Stamina, not statistics, was the only measurable that mattered.
"Especially because we were down about eight points and we needed every possession at that point," Nets forward Paul Pierce said. "It's very deflating when you play good defense three straight possessions and don't get the rebound. It's very deflating, especially when you're trying to come back on the road."
Defensively, the Heat have taken one Brooklyn catalyst completely out of his game each night. In Game 1, future Hall of Famer Kevin Garnett was held scoreless for the first time in his postseason career. On Thursday, it was point guard Deron Williams who didn't score a point in nearly 37 minutes.
"It was almost as if we just didn't have the energy or the effort down the stretch," Nets guard Joe Johnson said. "We fought so hard to stay within reach, to stay within the game. Those last few possessions killed us."
Meanwhile, the Nets have yet to take anything away from the Heat. In other words, this matchup in the postseason is playing out completely different than it did when the Nets swept all four games of the regular season. Three of those games were decided by a point and a fourth went to double overtime.
Now, the Heat are pulling away at the finish to make sure the Nets don't even get close enough in the final minutes to pose a legitimate threat. James faced more suspense after the game than during it as he waited in the locker room to watch the NFL draft in hopes his marketing client, quarterback Johnny Manziel, would be selected with the 16th overall pick by his beloved Dallas Cowboys.
Manziel instead was taken at No. 22 by the team from James' former town, the Cleveland Browns.
It seemed only fitting that James brought a replica NBA draft cap to his postgame session with the media Thursday night. He said it was his way of paying tribute to the NFL draft.
It made sense in at least one regard. Compared to today's NBA standards, those old playoff games from the '80s and '90s were as physical as football games.
The Heat were inspired by a tackle mentality from start to finish.
Dimes past: April 23 | 24 | 25 | 26 | 27 | 28 | 29 | 30 | May 1 | 2 | 3 | 4 | 5 | 6 | 7
ESPN Staff Writer
ESPN.com NBA reporter
Blogs regularly on the Miami Heat
14 years covering the ACC, SEC, NFL and NBA
2. Around The Association
| | | | | |
| --- | --- | --- | --- | --- |
| Brooklyn Nets | 82 | FINAL | 94 | Miami Heat |
---
MVP: Chris Bosh, who imposed his presence on both ends of the floor, had 18 points on 7-for-13 shooting. But his impact might have been greater on defense, where he defended the rim and continuously broke up Brooklyn's offense.
X factor: Ray Allen scored all of his 13 points in the second half, a huge complement to the efforts of Bosh and LeBron James. Allen also had eight rebounds, which were the most by any Miami player for the game.
Defining moment: In the fourth quarter, Miami started a possession with 3:39 left after a Mirza Teletovic layup. The Heat were able to hold on to the ball for the next 100 seconds as a flurry of offensive rebounds helped Miami really put the dagger into Brooklyn's chances.
| | | | | |
| --- | --- | --- | --- | --- |
| Portland Trail Blazers | 97 | FINAL | 114 | San Antonio Spurs |
---
MVP: Kawhi Leonard was on fire from the start, scoring 12 of his 20 points in the first quarter. Though his offense slowed down somewhat as the game progressed, he still hit a key 3-pointer in the fourth quarter that quelled Portland's comeback attempt.
LVP: LaMarcus Aldridge just can't seem to figure out this San Antonio defense (he's not the only one). Scoring just 16 points on 6-of-23 shooting, Aldridge never came close to finding a comfort zone, struggling to get in good position for any easy looks.
X factor: Tiago Splitter was a main reason for Aldridge's aforementioned offensive struggles. The Spurs' unsung hero of the first round continued his strong play on Thursday, disrupting Aldridge and preventing him from finding any sort of offensive flow.
3. Thursday's Best
San Antonio Spurs: The West's top seed continues to exert its dominance in its Round 2 meeting with the Blazers. Led by Kawhi Leonard's team-high 20 points, seven Spurs recorded double figures as they extended their series lead to 2-0.
4. Thursday's Worst
Williams
Deron Williams, Nets: Williams flat out never showed up for Game 2, failing to score on 0-of-9 shooting. Without the efforts of Mirza Teletovic off the bench (20 points) Brooklyn would have been blown out heading back home.
7. Quote Of The Night
"That one hurt. We were right there. We gave ourselves, on the road, an opportunity against the world champs. We let the game slip away."
-- Nets coach Jason Kidd, on Brooklyn's Game 2 loss in Miami.
8. Stop Right There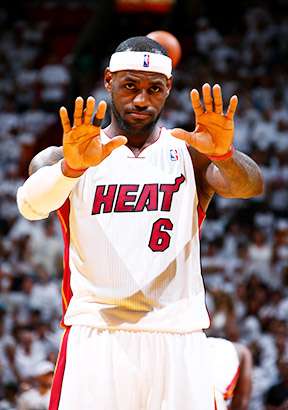 Nathaniel S. Butler/NBAE/Getty ImagesIf Brooklyn thought it had a chance to steal one in Miami, LeBron and the Heat put that to rest with a late Game 2 charge.
9. Stat Check
James
LeBron James has never lost a playoff series when his team takes a 2-0 series lead. He was 6-0 with the Cleveland Cavaliers and is 6-0 with the Miami Heat.