1. OKC Calls On Playoff Experience Against L.A.
LOS ANGELES -- The Thunder-Clippers series we expected finally got here Friday night, as competitive and ornery as a back-alley fight, with 19 lead changes and five technical fouls. And no sooner had the series arrived then it became obvious that it isn't about this one.
It's about series, plural.
It's the 12th playoff series for Kevin Durant, Russell Westbrook and the Oklahoma City Thunder. It's only the fifth playoff series together for Chris Paul, Blake Griffin and this version of the Los Angeles Clippers.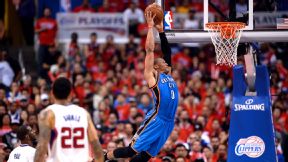 Noah Graham/NBAE/Getty ImagesRussell Westbrook finished two rebounds shy of his second straight triple-double in OKC's Game 3 win.
The Thunder had more of the elements required to win a playoff game, elements such as patience, poise, toughness, big shot-making. Those are qualities that develop over time. They were the reason why Oklahoma City won 118-112 to take a 2-1 series lead.
"You grow from experience," Durant said. "Having been here before, it's helped it out."
Three years ago in the Western Conference finals, it was the Thunder who came home from a road split and dropped Game 3 to the Dallas Mavericks the way the Clippers did Friday. So they've been in the situation the Clippers now face. It didn't work out so well for OKC that time; they wound up losing in five games.
Now the Thunder have been through everything short of winning the championship. They've overcome a 2-0 deficit in a series. They've won Game 7s. They've played in the NBA Finals. The Thunder have won five of the past six series they've played with Westbrook involved and are now halfway to making it six of seven.
"We've grown leaps and bounds from where we were before," Durant said.
I thought Metta World Peace provided an interesting time machine to put the Thunder in perspective while also describing the Pacers-Wizards game.
Wizards remind me of OKC when they were young. They rushed a little at the end of game to and didn't take the easy opportunities. Pacers did

- Metta World Peace (@MettaWorldPeace) May 10, 2014
The Clippers are somewhere in between. They did many things right, including 34 points from Blake Griffin and 16 assists from Chris Paul. They even kept up with the Thunder at the free-throw line, shooting 84 percent. But they lost the category that most reflects desire, rebounds, 44-33.
"Rebounding is really just about going and getting it," said Griffin, who got eight boards.
They also lost a little bit of their cool. Griffin even lost some blood, after catching an elbow from Serge Ibaka. At least he didn't lose his sense of humor.
"I got to be careful where I put my face," Griffin said.
They let the Thunder outscore them 32-22 in the fourth quarter, failing to get the big defensive stops when necessary. There were shots taken a little too fast, defensive rotations made a little too late.
"Instead of just keeping playing, you felt like you had to tell them," Doc Rivers said.
Compare that to Thunder coach Scott Brooks, who didn't call a timeout when the Clippers scored the first seven points of the game. His squad rewarded him by reeling in the Clippers on their own. And for all of the criticisms of Brooks' basic offense, basic worked just great in Game 3: The Thunder kept going to Ibaka at the left elbow and he kept knocking down the 17-footer.
Ibaka had 20 points, Durant 36 and Westbrook 23 to go with 13 assists. Seventy-nine points from guys who have played a combined 183 playoff games.
The Thunder made it simple for the less-experienced players. Steven Adams is a rookie, but all they ask of him is to run in straight lines from rim to rim, knock people around and go after the ball when it's around.
Adams had nine rebounds in 17 minutes (one more than Griffin had in 42 minutes).
The veterans no longer are lacking. They're getting the shooting from Durant that went astray in the middle of the Memphis series. They're getting the attack mode that Westbrook lacked in Game 1.
Most of all, they're getting the benefits of playing series after series together.
Dimes past: April 23 | 24 | 25 | 26 | 27 | 28 | 29 | 30 | May 1 | 2 | 3 | 4 | 5 | 6 | 7 | 8
ESPN Senior Writer
ESPN.com senior writer since 2007
Around The Horn panelist
Formerly at Los Angeles Times
2. Around The Association
| | | | | |
| --- | --- | --- | --- | --- |
| Oklahoma City Thunder | 118 | FINAL | 112 | Los Angeles Clippers |
---
MVP: Kevin Durant had a typically ridiculous 36-point, eight-rebound, six-assist performance, and Westbrook nearly triple-doubled for the fourth time this postseason, but MVP for this game has to go to Serge Ibaka, who scored 20 on 9-of-10 shooting and played in control despite struggling with foul trouble for the entire game.
That was ... everything and more: After a pair of double-digit losses either way, this game had giant individual performances on both sides, flaring tempers, highlight-reel dunks, blocks, crossovers and even blood (from Blake Griffin's nose). It was essentially all you could ask for out of playoff basketball.
Defining moment: After a Griffin layup pulled the Clippers within one with 2:33 to play, Westbrook answered with a 3-pointer that pushed the lead back out to four. That was just the thing the Thunder needed to establish a buffer, and the Clippers would never get closer than that down the stretch.
| | | | | |
| --- | --- | --- | --- | --- |
| Indiana Pacers | 85 | FINAL | 63 | Washington Wizards |
---
MVP: Paul George. It's not just that George scored 23 points to lead all scorers. His defense on Bradley Beal was one of the most decisive factors in a game in which offense was at a premium.
X factor: David West's jumper. Washington tried to make a run in the fourth quarter, but every time it looked to close the gap, West was there with an elbow jumper that pushed Indiana's lead back to an insurmountable margin.
That was ... ugly. With apologies to the Pacers, who probably preferred a game played at this level, the defense and slow pace made for a rather sluggish night. That hardly matters to Indiana, though, since it got the win.
3. Friday's Best
Durant
Kevin Durant, Thunder: The MVP had his second straight stellar performance in OKC's second straight win of the series. KD went for 36 points, eight rebounds, and six assists in a back-and-forth Game 3 win for the Thunder.
4. Friday's Worst
Washington Wizards: John Wall & Co. were held to a franchise-low 63 points in their Game 3 loss to the Pacers. Washington shot 32.9 percent with 18 turnovers (seven from Wall) in a game head coach Randy Wittman called "a clunker."
7. Quote Of The Night
"This was probably the ugliest game of the postseason thus far. This is our style of basketball. That's what we do. Whether you like it or not, are a fan of watching our games or not, defense is what we hang our hats on."
-- Paul George, on the Pacers' 85-63 win over the Wizards in Game 3.
8. What You Lookin' At?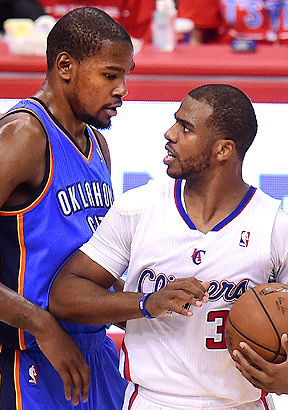 Frederic J. Brown/Getty ImagesIn a heated Game 3, even good friends Kevin Durant and Chris Paul got into it on the court.
9. Stat Check
The Thunder scored 52 points in the paint during their Game 3 win in Los Angeles, their most in a playoff game since their win in Game 1 of the 2012 NBA Finals against the Heat (56).