1. Super Spurs One Win From Power Sweep
PORTLAND, Ore. -- For a few minutes during the third quarter of Saturday night's Game 3, the Moda Center was rocking, the home team was rolling and it was the first round all over again for the Portland Trail Blazers. Portland opened the second half with an 17-4 run, cutting a 20-point halftime lead for the San Antonio Spurs down to seven and sending Blazers fans excited for their first home game in the conference semifinals since 2000 to new decibel levels.
But the daunting deficit Portland faced after a dismal first half proved too much to overcome. San Antonio shook off the challenge and held on for an 118-103 victory. Now, the Blazers have to hope the same isn't true of their deficit in the series. Starting with an elimination game at home on Monday, Portland must win the next four games to become the first team in NBA history to rally from a 3-0 hole.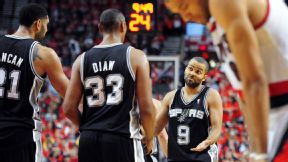 Steve Dykes/Getty ImagesTony Parker had 29 points as the Spurs moved out to a 3-0 lead on the Trail Blazers.
At the midway point, the Spurs appeared to be cruising. Behind offensive execution so clinical it belonged in a Tom Emanski instructional video, San Antonio shot 55.8 percent and committed just one turnover in the first 24 minutes, running its aggregate first-half advantage over the Blazers to 65 points in three games.
While the Spurs exploited every mismatch, from Damian Lillard defending Manu Ginobili to smaller defenders caught against Kawhi Leonard in the post, their efficiency started with Tony Parker. The French point guard was, as his countrymen say, magnifique. Parker scored eight of San Antonio's first 10 points, turning the corner on the pick-and-roll time and again and knocking down the pull-up jumpers and floaters Portland's scheme concedes.
"He started out really well tonight," said Spurs coach Gregg Popovich. "He made shots, he involved everybody else. He was playing great D at the other end. He's really playing a whole complete game."
Two buckets early in the third quarter gave Parker 24 points on 11-for-14 shooting. At that point, Blazers coach Terry Stotts moved Nicolas Batum on Parker, his teammate with the French national team. Where the more physical Wesley Matthews was ineffective against Parker, Batum's length caused him problems. Parker was scoreless for more than a quarter, missing five of his last six shots and finishing with 29 points.
"Usually they put Batum pretty fast on me," noted Parker postgame. "Nico knows my game; we play together every summer. So he tries to put pressure and did a good job."
Parker can expect to see more of Batum in Game 4.
"I thought Nic did a very good job in the second half," said Stotts. "Most likely, he'll start on Parker on Monday."
On the other end, Stotts began using star forward LaMarcus Aldridge in more pick-and-pops rather than the isolations and post-ups that have been ineffective against Spurs center Tiago Splitter. While Aldridge was no more accurate himself, his presence on the perimeter opened up the paint for teammates.
Portland also came out of the locker room with a more desperate, frantic energy that helped get it back in the game. Along with the adjustments, the Blazers will rely on the urgency of a must-win game to carry them in Monday's Game 4.
"We're going to come out and have a great effort on Monday night," Stotts said. "That's the most important thing. We're going to show our character, we're going to show our pride and we're going to come out and play our asses off on Monday."
That might not be enough.
For one, Portland will have a hard time maintaining a high-effort style of play without getting anything from its reserve corps. With Mo Williams sidelined by a strained left groin, the Blazers' second unit contributed a combined six points -- four of those from rookie C.J. McCollum in garbage time after Stotts pulled his starters. The contrast with San Antonio's deep bench, which totaled 40 points, is especially glaring.
Stotts tried Will Barton, a source of energy in Games 1 and 2, and even Victor Claver, who had been inactive throughout the postseason. Ultimately, the only solution for Stotts was simply riding his starters, all of whom played at least 20 minutes after halftime.
The bigger issue, however, might be the run the Spurs are currently enjoying. Since exploding for a 23-point win in the deciding Game 7 of their first-round series with the Dallas Mavericks, the Spurs have been unstoppable. Friday was their fourth consecutive win by at least 15 points. According to Basketball-Reference.com, just two other teams in NBA history have streaks of four 15-plus wins in the playoffs, and only one (the 1984-85 Los Angeles Lakers, with five) has won more in a row by such large margins.
"This is as well as I've seen them play all season," said Stotts. "Game 7 against Dallas, they came out of the gate and they haven't stopped since then."
For all the talk of the easier path to the NBA Finals in the Eastern Conference, San Antonio has a chance to be the only team to sweep its semifinal series, offering the Spurs' veteran stars valuable rest heading into the conference finals. Portland still hopes to have something to say about San Antonio advancing, but it may already be too late for the Blazers.
Dimes past: April 24 | 25 | 26 | 27 | 28 | 29 | 30 | May 1 | 2 | 3 | 4 | 5 | 6 | 7 | 8 | 9
ESPN Staff Writer
Co-author, Pro Basketball Prospectus series
Formerly a consultant with the Indiana Pacers
Developed WARP rating and SCHOENE system
2. Around The Association
| | | | | |
| --- | --- | --- | --- | --- |
| Miami Heat | 90 | FINAL | 104 | Brooklyn Nets |
---
MVP: LeBron James. The Heat lost, but without James, this would have been really, really ugly for Miami. It took a team effort from Brooklyn to overcome 28 points from the best player in the league.
X factor: Deron Williams once again struggled shooting (3-for-11 from the field), but his passing made the Nets' offense flow. Brooklyn doesn't need its point guard to score; it just needs him to play as well as he did in Game 3.
That was ... predictable: All of the credit in the world goes to the Nets, especially for their excellent shooting from behind the arc, but it felt like Miami was due for a letdown game like this. The question now is whether or not Brooklyn can capitalize on the win.
| | | | | |
| --- | --- | --- | --- | --- |
| San Antonio Spurs | 118 | FINAL | 103 | Portland Trail Blazers |
---
MVP: Tony Parker asserted himself early and often, absolutely shredding Portland in the pick-and-roll. He finished with a game-high 29 points on 12-of-20 shooting, and looked unstoppable through all of his 35 minutes.
That was ... paper thin: Portland's bench was nowhere to be seen, scoring six points on eight shot attempts. Will Barton was the only non-starter to log at least 10 minutes, and it's clear Terry Stotts needs more out of his reserves as a sweep sits on the horizon.
X factor: Who knew going 25-of-25 from the free throw line and turning it over just seven times would lead to another convincing win for San Antonio? Turns out making free throws and taking care of the ball matters!
3. Saturday's Best
Parker
Tony Parker, Spurs: Parker pick-and-rolled his way to 29 points on 12-of-20 shooting, managing six assists along the way in a 118-103 win over the Blazers. Is the only thing stopping the Spurs from a sweep Nicolas Batum's likely full-time assignment of defending his fellow Frenchman in Game 4?
4. Saturday's Worst
Chalmers
Mario Chalmers, Heat: His three points in 26 minutes in the 104-90 loss to the Nets in Game 3 could be a prelude to a) yelling at Mario that the President Obama once took note of or b) a Chalmers game where he takes a back seat to (almost) no one.
6. Tweet Of The Night
My best friend just told me that KD is his favorite NBA player, don't know how I feel about that

— Lavoy Allen (@chefVOYardee) May 11, 2014
7. Quote Of The Night
"This is a series now. I've been part of a lot of series. I understand it's never won in two games."
-- LeBron James, after his team lost Game 3 to the Nets.
8. Mirza For Three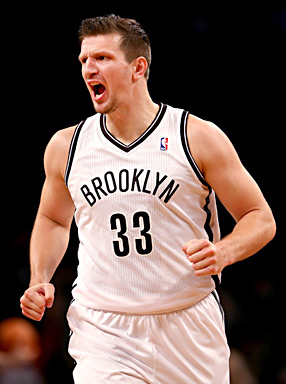 Elsa/Getty ImagesNets forward Mirza Teletovic sank 4 of 7 3-pointers in the 104-90 win over the Heat in Game 3.
9. Stat Check
By
ESPN Stats & Information
Tony Parker was 4-of-5 for 9 points when guarded by Damian Lillard in Game 3. Parker has gotten the best of Lillard this series, averaging nine points per game and shooting 59 percent when Lillard is his primary defender.