1. Grin Shares: Indy's Good Start Bodes Well
INDIANAPOLIS -- Roy Hibbert was smiling.
There is perhaps no better litmus test of the Indiana Pacers than the Hibbert Smile Index (HSI). Sure, those fancy advanced metrics like points per possession, effective field goal percentage and rebound rate are fantastic ways to dissect the way most teams are performing.
The Pacers, though, aren't most teams, having been one of the most maddening groups the NBA has seen in the past decade. Any bad team can be bizarre but it can't hold interest for long. The Pacers are fascinating.
During Sunday's Game 1 of the Eastern Conference finals the HSI was exploding, hitting its highest levels in weeks. This was due to heavily weighted inclusion of the valuable HFQCG quotient. That is, of course, a Hibbert First Quarter Confidence Grin.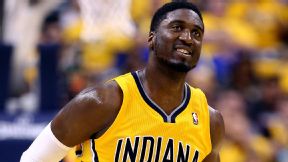 Andy Lyons/Getty ImagesRoy Hibbert saw his good start keep rolling en route to 19 points and nine rebounds in Game 1.
"When guys succeed and play well against the defending champs I'm happy," Hibbert said after the Pacers beat the Miami Heat 107-96 to take a 1-0 series lead. "It's not always going to be like that."
Yes, Roy, we all know.
For the past several months it's been a challenge to crack the code that controls the yo-yoing Pacers -- a problem professionals, amateurs and the team members themselves have diligently analyzed.
It's given rise to many a theory, some of them featuring the more sinister sides of the Internet. Like with anything that involves team chemistry, it probably can't be reduced to a single issue.
But finally, after weeks, it appears like there's a good place to start. That is, the start.
In the common flow of the NBA game, the first moments of the first quarter are superficial. It's a time for probing, revealing basic strategy and breaking sweat. By the end of the game, where most games are determined, the events of the first quarter are often an afterthought.
The same could often be said for Game 1 of any playoff series. Like points scored in the first quarter, it counts, but it rarely defines anything. The Pacers are such a highly volatile team, swinging vastly in different directions, that their case calls for a reset of typical game theory.
Their outward emotions not only reveal their confidence level but also can turn quickly infectious. How the Pacers start a game can often define the entire game. Whether or not a player hits his first shot, even, can make all the difference.
This is not how it should be and the Pacers don't strive for it. A veteran and playoff-tested team should be more levelheaded and impervious to a few positive or negative moments. That would be nice, yes, but that isn't this team.
In the Pacers' last series against the Washington Wizards, Hibbert was scoreless in Game 1. In fact, he'd been scoreless in three of his previous four games. On the very first possession of Game 2, Hibbert ended up with the ball in his hands at the end of the shot clock. He fired up a 15-footer while being covered.
It went in. The next possession, his teammates gave it to him again. He scored again. Hibbert, feeling confident, jammed himself into position on the third possession and called for the ball. He got it and was fouled. He ended up scoring 28 points that night, carrying the Pacers to a win and evening the series. It was the first of three straight victories, swinging the Pacers' whole mindset.
In Game 5, they fell down 10-3 in the opening moments to the Wizards and ended up losing by 23. In Game 6, they had a great first quarter and ended up with a 13-point win.
This snowball effect goes both ways. It's partially how Hibbert can stand 7-foot-2 and go without a rebound for an entire game. When he gets off to a bad start, he often never recovers and disappears.
"When he's not playing well, it's really heavy, it weighs on him," David West said of Hibbert. "Not just mentally but physically, it weighs him down."
Lance Stephenson is often just as susceptible, only his reaction to a rough start is often to go rogue and start going manic, driving his teammates crazy -- often resulting in wild play and technical fouls.
"He gets out of hand sometimes," Paul George said of Stephenson.
Sunday, the Pacers jumped out to a 7-0 lead. In the Pacers' locker room afterward, player after player referred to George Hill making the first shot of the game, a 3-pointer, as being a crucial aspect of the game. Within moments, Hibbert was scoring. Then Stephenson. Then George. Then Hibbert started smiling.
No sulking. No going off the reservation. No bad Pacers, just No. 1 seed Pacers.
"Coach really talked about setting the tone early," Hill said. "It worked in our favor."
Obviously, coaches routinely talk about setting tones early. But Pacers coach Frank Vogel no doubt has felt this same notion with his team and has been trying to use it. Certainly he's also tried to curb it; after the win Sunday he spoke of the need for balance. But at this point he might as well roll with what he has.
"We try to stay poised and try not to show expression," Stephenson said. "That's something I notice about myself when we look at film, sometimes I let my emotions go."
It's not just you, Lance. Nothing is more telling during a Pacers loss than those camera shots of the bench. Even their team president, Larry Bird, often gives away his thoughts when the camera catches him in the stands.
More from ESPN.com
• Sunday's Best: The Ten »
• Wallace: Heat can't stop Indy roll
• Adande: Thunder vs. role model
• Elhassan/Doolittle: OKC-SAS

Naturally, there were so many other factors in how Game 1 unfolded. The Heat started a small lineup and assigned LeBron James to West and Shane Battier to George. This bit of strategy failed, helping the Pacers to get off to that start. The Heat were also uncharacteristically lethargic defensively, not applying pressure on their pick-and-roll defense as is normally their trademark. In the second half, the Heat started hacking like crazy and the Pacers got 30 free throws, which allowed them to rack up the most points in regulation in almost three months.
The Heat are sure to make adjustments, but one of them will surely not be to gamble with things early in the game from here on out. Usually, this is a fine way to test options. Not against this opponent right now, though, as feeling out the game can play right into the Pacers' hands.
James had 25 points on 11-of-18 shooting; Dwyane Wade scored 27 points on 12-of-18 shooting. Overall, the Heat shot 51 percent and got the sort of dynamic output from their stars that is part of their formula for winning. But they trailed by double figures for nearly the entire game, which had them feeling OK about themselves.
In the four seasons of the Big Three era, the Heat have lost all three road Game 1s they've played. They've lost four times in Game 1 overall and previously have come back to win every series. This one, though, may require a bit of a different tactic.
"We gave them too many points in the first quarter," James said. "We'll be more mentally prepared for their actions."
And their reactions, too. Keep an eye on that HSI.
Dimes past: 27 | 28 | 29 | 30 | May 1 | 2 | 3 | 4 | 5 | 6 | 7 | 8 | 9 | 10 | 11 | 12 | 13
ESPN Senior Writer
ESPN.com NBA writer since 2010
Covered Cleveland Cavs for seven years
Author of two books
2. Around The Association
| | | | | |
| --- | --- | --- | --- | --- |
| Miami Heat | 96 | FINAL | 107 | Indiana Pacers |
---
MVP: Paul George set the pace for Indiana on both ends of the court. His defense on LeBron James prevented the Heat from effectively executing their offense, and George's 24 points and seven assists spearheaded an outstanding scoring performance from the Pacers.
X factor: David West picked the Heat apart when Miami trapped Indiana on the pick-and-roll, finding space at the free throw line and creating easy offense for Roy Hibbert on the baseline. The Heat simply had no answer for West's offensive versatility.
That was ... decisive: Anyone questioning which Indiana team would show up in this series quickly got the answer on Sunday. The Pacers are ready for the Heat, and the defending champions are on the ropes after Game 1. We've got ourselves a series.
3. Sunday's Best
Indiana Pacers starters: A complete effort from the first five. Paul George's two-way excellence, David West's savvy, Roy Hibbert's confident play and the accurate shooting of backcourt tandem George Hill-Lance Stephenson led the way. Maybe the Heat now wish the Hawks had finished these guys last month.
4. Sunday's Worst
Bosh
Chris Bosh, Heat: Missing all five of his 3-point attempts did not help the Heat's floor-spreading mission in the Game 1 defeat in Indiana. His two rebounds did not help the board battle that the Heat lost 38-29.
6. Tweet Of The Night
In Big Three era, the Heat have lost Game 1 four times and won all four series. Their record after losing Game 1? 16-3.

— Tom Haberstroh (@tomhaberstroh) May 18, 2014
7. Quote Of The Night
"We've been complacent many times. We just can't get complacent."
-- Paul George, after the Game 1 win over the Heat
8. George In Charge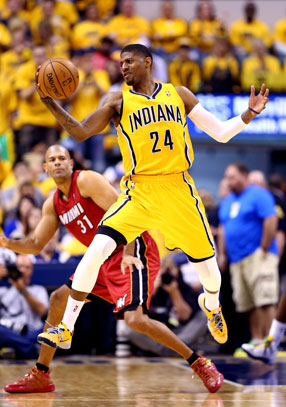 Andy Lyons/Getty ImagesPaul George had 24 points and seven assists in helping Indiana take a Game 1 win over the Heat.
9. Stat Check
It's been said that LeBron James has accomplished everything that you can in pro basketball: back-to-back championships, four MVP Awards, two Finals MVP Awards, two Olympic Gold Medals, a slew of All-Star Games, All-Pro selections and records. But the Heat's loss at Indianapolis on Sunday kept intact one of the few things that LeBron hasn't done: win the opening game of an NBA playoff series on the road. LeBron's teams are now 0-7 when he has played Game 1 of a playoff series on the road: 0-4 with the Cavaliers and 0-3 with the Heat.