1. D-Wade's Healthy Approach Pays Dividends
INDIANAPOLIS -- Night after night, Miami Heat coach Erik Spoelstra would leave Dwyane Wade's name uncircled on his active list and then give purposely vague updates about his condition.
"Don't worry, Heat nation," he'd say routinely while looking directly into the cameras, hoping to quell the rising skepticism. Wade constantly had to address questions on his health, doing his best to dampen his annoyance with the topic.
Over and over, Tim Grover, Wade's personal trainer, would board a plane in Chicago and fly to Miami to hold private sessions when the Heat had homestands. Grover and Wade aimed to make slow and incremental progress with endless stretching, physical therapy, icing, massaging and preventative exercises. This was all in addition to the constant work the Heat's training staff was giving Wade's arthritic and temperamental knees, especially his right one.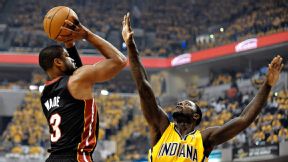 Michael Laughlin/Sun Sentinel/MCT/GettyDwyane Wade made all five of his shot attempts in the fourth quarter of the Game 2 victory.
There were setbacks. Wade's teammates sometimes would find out their All-Star shooting guard was out a day before the game, sometimes an hour before the game, sometimes he was scratched during pregame warm-ups. Maybe he'd miss one game. Maybe two. Maybe two weeks.
Privately, it occasionally frustrated other Heat players. The lack of information and their competitive spirit as they fought for playoff seeding clouded the Heat's ongoing but hard-to-quantify Wade "maintenance program."
In all, it was 28 games that Wade sat, but the piecemeal nature of it made it feel like more. All along the way, the team knew it was gearing up to have Wade healthy for two playoff series at the end.
It's too early to declare victory, and Wade's knees have proved to be too sensitive to permit extreme confidence, but there's no question the long-term approach is unfolding exactly how the Heat had hoped.
After probably the most uneven season of his career, Wade has turned it on exactly on schedule. He has been every bit the future Hall of Famer his résumé implies as the stakes have soared. The latest example was a strong all-around performance in the Heat's crucial 87-83 Game 2 victory over the Indiana Pacers on Tuesday to even the Eastern Conference finals at 1-1.
Wade had 23 points, five rebounds and five assists in the victory. Over the past three games, the two games against the Pacers and the closeout game against the Brooklyn Nets in the last round, Wade is averaging 26 points while shooting 62 percent. He's doing it looking as spry as he has all season, creating space with pull-ups, getting lift on turnaround jumpers and running the floor pain-free.
"This was the plan, I just want to continue it," Wade said. "I just want to continue to keep going, continue to keep getting better. There's a lot of basketball left, but I feel good."
Wade has been through too much not to continue being cautious. Last year as he struggled through bone bruises, he banged knees during the Finals and needed to have his left knee drained just to play in Game 7. On Tuesday he had a close call when he kneed Paul George in the back of the head as they chased a loose ball, a blow that briefly caused George to black out and Wade to limp off.
The Heat and Wade live in fear of those moments, knowing that all their work could come undone with one wrong step. Opponents, of course, are well aware, and they routinely build challenges for Wade into their game plan. When Pacers guard Lance Stephenson said before the series that he would try to run Wade to make his knees "flare up," it created a minor stir, but that item would likely be on any prudent opponent's game plan.
This situation is one Wade and the Heat organization have come to terms with over the past several years. It has not been easy to live with every day, but generally all have accepted the reality that Wade as a part-time player in the regular season is a worthwhile trade-off for Wade's having as much health as possible in these vital series.
"Wade's a great player," said Stephenson, who had 25 points in an excellent performance but was outplayed by Wade in the deciding fourth quarter. "He's making big shots. He's being aggressive. He's making smart plays. I've got to slow him down."
Wade made all five of his shots in the fourth quarter as he and LeBron James turned in another one of their collective daggers that have plagued the Pacers over the past three seasons. After a less-than-stellar first three quarters in which James played sluggishly and tentatively by his standards, they scored or assisted on every Heat basket in the fourth quarter, executing under pressure to avoid going down two games.
James scored 12 of his 22 points in the final 12 minutes with two assists, two rebounds and a block. Wade also had two rebounds, two assists and a vital steal that helped get the Heat needed separation.
Perhaps more telling than those numbers, though, were two athletic plays Wade made. After James made a steal and looked to be off for a breakaway basket, George challenged the shot and James blew a layup. Wade followed the miss and slammed it home.
"Usually, D-Wade doesn't even chase me," James said. "He knows if it's a one-on-one matchup with me, most of the time I'm going to score. I was glad that he did. I missed the layup, and he was able to tip-dunk it. It was a huge momentum play in the fourth quarter when we needed it the most."
And it was the type of play for which Wade didn't have the spring in his legs to execute often in the regular season. That turned out to be only his second-most impressive play of the night, topped by a soaring reverse dunk off a pass from James with 20 seconds left that essentially ended the game.
There were other reasons why the Heat were able to recover to win their 11th straight game after a playoff loss. They got a second strong game off the bench from Chris Andersen, who had 12 rebounds. Norris Cole, who has struggled in the second half of the season, had his best game of the playoffs by hitting two clutch 3-pointers and providing defense on Stephenson in the fourth quarter. Plus, there was the Heat's overall fourth-quarter execution, which was a full display of their experience to overcome a deficit on the road.
But it was James and Wade who ultimately closed it. As is in the script of the entire operation, one couldn't have done it without the other. It's a scenario that's been seen plenty of times before but might not have been possible had Wade not spent the past nine months getting himself ready for it.
"That's why," Cole said, "they are the $100 million guys."
Dimes past: May 1 | 2 | 3 | 4 | 5 | 6 | 7 | 8 | 9 | 10 | 11 | 12 | 13 | 14 | 15 | 18 | 19
ESPN Senior Writer
ESPN.com NBA writer since 2010
Covered Cleveland Cavs for seven years
Author of two books
2. Around The Association
| | | | | |
| --- | --- | --- | --- | --- |
| Miami Heat | 87 | FINAL | 83 | Indiana Pacers |
---
MVP: LeBron James and Dwyane Wade will need to share this for coming alive in the final quarter when Miami needed them most, scoring 12 and 10 points, respectively, on collective 9-for-12 shooting.
LVP: Paul George's defense on LeBron early was solid, but his 1-for-11 shooting in the first half kept Indiana from capitalizing on a lethargic start by Miami. Then, in the final five minutes he made poor decision after poor decision on defense. Getting kneed in the head by Wade probably had something to do with it.
Defining moment: The game was tight through most of the fourth quarter, but with 4:19 left, James hit a free throw to draw the Heat even with the Pacers. That was the beginning of a 10-0 run led by James and Wade from which Indiana could not recover.
3. Tuesday's Best
Wade
Dwyane Wade, Heat: While LeBron shared the hero role late, D-Wade's efficient 23 points on 10-of-16 shooting helped lead the Heat to a 87-83 Game 2 win over Indiana. Wade had 10 in the fourth quarter to help pull the series even.
4. Tuesday's Worst
George
Paul George, Pacers: Going 1-for-11 in the first half hurt Indiana's hopes to put a lead on the Heat. George finished with 14 points and ended up taking a knee in the head from Dwyane Wade that he said caused him to black out.
6. Tweet Of The Night
How many number one picks is Cleveland gonna get smh... Yes I'm hating

— Ty Lawson (@TyLawson3) May 21, 2014
7. Quote Of The Night
"That's why they are the $100 million guys."
-- Heat guard Norris Cole, on LeBron James and Dwyane Wade coming up big in the fourth quarter
8. Who Scores? Lance, A Lot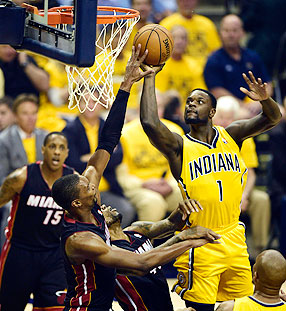 Marc Lebryk/USA TODAY SportsLance Stephenson's 25 points, six rebounds and seven assists were nearly enough to carry the Pacers in a Game 2 loss.
9. Stat Check
Dwyane Wade scored 10 of his team-high 23 points in the fourth quarter, going 5-for-5 from the field. Wade is the first Heat player since Damon Jones in April 2005 to attempt at least five shots from the floor in the fourth quarter of a playoff game without a miss. The only other player in the 2014 playoffs to go 5-for-5 or better from the field in the fourth quarter is Monta Ellis, who went 5-for-5 in the fourth on April 26 against the Spurs.