1. Danny Green On Target To Make Things Right
SAN ANTONIO -- Maybe Danny Green defines the San Antonio Spurs more than we realize.
In their stellar Game 1 victory over the Oklahoma City Thunder, he quietly had a plus/minus of plus-30 -- 30! -- in 27 minutes. And in Game 2, he did the bulk of the long-distance damage for the Spurs, hitting seven 3-pointers to account for all of his 21 points as San Antonio cruised to a 112-77 win and a 2-0 series lead.
If you think about it, Green also mirrors the pain that's haunted and driven the Spurs for the past 11 months. Just like the team, he was on his way to a 2013 NBA Finals worth savoring until it got away in the last two games.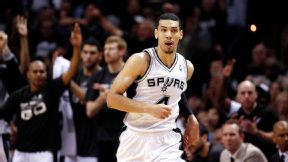 Soobum Im/USA TODAY SportsDanny Green sank 7 of 10 3-point shots, showing the aim that almost earned the 2013 crown.
He'd already set a record for 3-pointers in a Finals series with 25 by Game 5; then he made only two of his 11 3-point attempts in Games 6 and 7 -- while Ray Allen hit that unforgettable corner 3 in Game 6 and Shane Battier made six of 'em in Game 7 and the Spurs left Miami without the franchise's fifth Larry O'Brien Trophy.
Green wasn't singularly responsible for the Spurs' collapse, of course. There were sloppy turnovers by Manu Ginobili, a missed free throw by Kawhi Leonard, a blown layup by Tim Duncan and a decision by Gregg Popovich to sub out Duncan among the moments that contributed to their demise.
Still, Green's drop-off has weighed on him.
"A lot, actually," he admitted as he got dressed at his locker.
"I thought I helped my team to get in a good position but didn't do the little things -- not just offensively, but defensively -- to close it out," Green said. "Timmy could have another ring, and Pop and Tony and Manu, and, obviously, my first one. We were right there. All I needed was a little bit more focus and a little bit more execution down the stretch, especially in that Game 6."
The Spurs almost made those same mistakes in the first round this year, when they let the Dallas Mavericks stretch them to seven games. Since then, they've reverted to the team that had the best record in the league this season -- better, actually, since they're not periodically resting players to save them for the playoffs.
The playoffs are here now, and so are the Spurs. Their only breaks these days come from cushy fourth-quarter leads. For example, Duncan has played less than 30 minutes in three of the past six Spurs victories.
Just as Green wasn't strictly accountable for last year's pain, there have been team-wide contributions to the Spurs' 2-0 lead in the series; Game 2 included 10 rebounds and three blocked shots from a very active Tiago Splitter and 22 points from Tony Parker.
It was back-to-back 3-pointers by Green that helped the Spurs pull away late in the first half and had Russell Westbrook harping on Kevin Durant for leaving Green open.
Green held the unique distinction of hitting as many 3-pointers as any Thunder player made shots of any kind. Anytime Green can match Westbrook or Durant field goal for field goal, you can rack up a W for the Spurs.
Green is a role player, of course, not a star like Durant or Westbrook. But role players just have a tendency to flourish with the Spurs. This is not strictly a case of the system making the player. Green had to transform into a player worthy of being in the system, starting with a voicemail plea to Popovich to bring him back after he was cut in 2010. Pop is glad he didn't erase it.
"The light went on and he became a little bit more aggressive so that he could play at the defensive end also," Popovich said. "But I think his confidence grew, shooting-wise, and I think that he gets a lot of credit for persevering and ended up where he is right now."
When Green speaks these days, he sounds like a full-fledged Spur, talking all that team stuff.
"It's about everybody," he said. "We're a family here. Brotherhood, whatever you want to call it. Fraternity. We've been together for a couple of years, I've grown very fond of a lot of my teammates, and we've grown close together, close friendships. I know how much it means to them, how competitive they are. As much as I want to win a ring, I know they want it, too."
And like the rest of them, he carries the memories of 2013.
"It's always something in the back of our minds that keeps us focused, keeps that chip on our shoulder," Green said.
So keep an eye on Green going forward. Listen to what he has to say. That will tell you a lot about the state of the Spurs.
Dimes past: May 1 | 2 | 3 | 4 | 5 | 6 | 7 | 8 | 9 | 10 | 11 | 12 | 13 | 14 | 15 | 18 | 19 | 20
ESPN Senior Writer
ESPN.com senior writer since 2007
Around The Horn panelist
Formerly at Los Angeles Times
2. Around The Association
| | | | | |
| --- | --- | --- | --- | --- |
| Oklahoma City Thunder | 77 | FINAL | 112 | San Antonio Spurs |
---
MVP: Tony Parker was a human blender in Game 2, leading all scorers with 22 points and matching Russell Westbrook with a game-high five assists. The Spurs dissected the Thunder's defense on Wednesday night, and Parker was the scalpel.
X factor: Danny Green's 3-point shooting buried Oklahoma City under a flurry of long-range buckets. All but one of his 11 shots came from behind the arc, and it seemed that all of those looks were wide open.
That was ... almost routine. Rote dominance has kind of become San Antonio's thing. It's a lot of fun to watch, at least for three quarters, but it'd be nice to see a little competition in these Western Conference finals.
3. Wednesday's Best
Parker
Tony Parker, Spurs: Parker dissected OKC in his 28 minutes, dropping 10 of 17 shots en route to 22 points in the Game 2 win over the Thunder. Will he now turn his efficiency into making this a very short series?
4. Wednesday's Worst
Thunder's star duo: Kevin Durant and Russell Westbrook each had 15 points and earned an early night off by allowing their team to be routed in Game 2. The star duo combined to shoot 13-for-40, including 4-for-14 in the third quarter.
7. Quote Of The Night
"I believe that we have the maturity, the character and the experience to stay focused and not take this win to head."
-- Danny Green, on how his Spurs will respond in Game 3
8. Sporting Green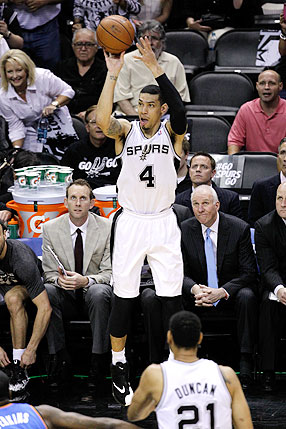 Chris Covatta/Getty ImagesSpurs guard Danny Green has now sunk 15 of 21 3-pointers (71.4 percent) over San Antonio's past three playoffs games.
9. Stat Check
San Antonio has now won 111 playoff games in which Tim Duncan, Manu Ginóbili and Tony Parker all played. That's the all-time NBA record for combined playoff wins by three teammates for one team -- one more than Kareem Abdul-Jabbar, Michael Cooper and Magic Johnson won together. The Lakers trio won their games from April 4, 1980, to May 28, 1989, encompassing five NBA championships; the Spurs trio's first win came on April 21, 2003, and they have won three NBA titles together.