1. In Key Games, Heat Won't Let Pacers Through
MIAMI -- In 15 or so years, Paul George and Roy Hibbert sure hope they don't find themselves getting offers to do self-deprecating commercials with Chris Webber and Karl Malone about not getting over the hump.
Throughout NBA history there's been numerous promising and title-worthy teams that ran into roadblocks, leaving them with melancholy reputations as tragic figures. Malone's Utah Jazz and Webber's Sacramento Kings are in that woebegone pile along with a bunch of debris from the paths of greats like Michael Jordan, Kobe Bryant, Larry Bird and Magic Johnson.
The Indiana Pacers are dangerously toeing that path after the Miami Heat beat them yet again in a playoff swing game, winning Game 3 by a 99-87 score Saturday to take a 2-1 series lead.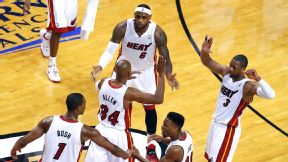 Robert Mayer/USA TODAY SportsWith Ray Allen sinking 3-point shots in the fourth, Miami took a 2-1 East finals lead on Indiana.
The Heat are now two wins away from doing something that hasn't been accomplished in nearly 25 years: making it to four consecutive NBA Finals. This is the stuff of legacy, the sort of mantlepiece LeBron James, Dwyane Wade and Chris Bosh had in mind back in 2010.
And the Pacers, unless there's a striking shift in momentum, are headed for an unfortunate footnote to it all.
Yes, the series is still reasonably young with plenty of time remaining. Yes, the Pacers are just a victory away from reclaiming home-court advantage. No, the Heat aren't leaving any clues they'll ever lose ultimate control.
Dating back to 2012 and the first of the Heat and Pacers three postseason meetings, there have been 11 games played between these two teams where the series was tied or the Pacers were ahead. If you eliminate the Game 1s, when the series were 0-0, it's actually eight such games.
The Heat have won seven of them, the Pacers winning once in Game 3 back in 2012 when Bosh was hurt and Ray Allen was still playing for the Boston Celtics. The Heat have won every one since, time after time refusing to let the Pacers ever take or build a lead, including Games 2 and 3 of this series despite the Pacers' owning the top seed.
That's a detailed way of saying that when the chips are down -- be it a Game 5 when it's 2-2 or a Game 7 when it's 3-3 or the past two Game 3s when it's been 1-1 -- the Heat have just owned the Pacers. And it's hard to see an end in sight.
"We've had our chances against this team," said Pacers veteran leader David West. "It's very frustrating."
The circumstances of how these pivotal games have played out vary. In this example, the Heat played by far their most aggressive defense of the series and got another terrific shooting game from Allen, who hit four 3-pointers. James and Wade collaborated wonderfully, combining for 49 points, nine rebounds, 11 assists and seven steals. Coach Erik Spoelstra made some excellent mid-series adjustments including using an ultra-small lineup that totally neutralized the Pacers' size by turning it against them.
All of that is interesting taken on the micro scale, each individual battle creating opportunity for breakdown. Norris Cole, for instance, has suddenly become a vital defender on Lance Stephenson in the series after a largely listless second half of the regular season in which his place within the playoff rotation sometimes appeared in doubt.
On the macro level, however, the characteristics of each game blend into the overall reality that the Heat just get it done when they have to. Usually it's James out-executing George in various facets, Wade shaking off injury concerns to have dominant offensive nights when needed, Hibbert having moments where he appears to control the game at both ends only to have it become fleeting under pressure, West not taking advantage of his mismatch as much as he should, Stephenson vacillating between being in and out of control, and various Heat role players from Mario Chalmers to Udonis Haslem to Cole coming up with clutch shots.
The Pacers have gone through these struggles and have attempted to learn from experience to correct mistakes. They've revamped their roster to try to take some pressure off their starters, and even undertook a season-long mission to earn home court so they could reverse these trends. But they show no signs of letting up. Bottom line: The Heat win when they need to win.
"They're a championship team, they're a great team," Stephenson said. "And they just keep throwing punches at us all the time."
If the Pacers are able to win Game 4 on Monday, thus taking back home-court advantage and evening the series at 2-2, would the Heat truly feel like they wouldn't just win Game 5? Or Game 6 and 7 if need be? They have gone the distance with the Pacers before but never once did they ever show the sort of uncertainty Indiana seems to grapple with on a regular basis.
When the Heat got down 15 points in the first half of Game 3, they barely looked stressed and just flipped on their game by applying pressure. The same sort of mindset they had when they fell behind in Game 1 of this series, after which players in the locker room were chatting about where they would watch "Game of Thrones" that night in their hotel in Indianapolis.
"We're a confident group, we don't panic," James said. "We just work the game."
Back in the 1990s, the highly-entertaining Pacers made it to four conference finals and lost them all. That group of standouts like Reggie Miller, Rik Smits, Dale Davis, Antonio Davis and Mark Jackson were a fantastic team that racked up so many playoff victories. They were so close, three times losing in Game 7 when they were on the cusp of a Finals breakthrough.
Those teams just weren't quite good enough. This Pacers group, even with its stingy defense, size advantage and all the motivation in the world, looks like it is headed for the same purgatory. The team with more Hall of Famers wins when it matters, just like it usually has through the decades.
This rivalry has seen a lot of little surprises and seesaw moments but no really big ones. Looking at it with so much data and inventory between the teams to judge, it's hard to see one coming now.
"We've been playing each other for a while," Wade said. "We've seen what each other has."
Dimes past: May 5 | 6 | 7 | 8 | 9 | 10 | 11 | 12 | 13 | 14 | 15 | 18 | 19 | 20 | 21
ESPN Senior Writer
ESPN.com NBA writer since 2010
Covered Cleveland Cavs for seven years
Author of two books
2. Around The Association
| | | | | |
| --- | --- | --- | --- | --- |
| Indiana Pacers | 87 | FINAL | 99 | Miami Heat |
---
MVP: LeBron James seems to ramp up his production just a little bit more with each passing game this postseason. He was once again unstoppable on offense -- 26 points, seven assists and five rebounds -- all while tightening the vise on defense, where he added four steals.
X factor: When the Heat sought to put this game out of reach, Ray Allen answered the call. The Pacers will see Allen knocking down transition 3s in their nightmares, especially if they end up going home after this series.
That was ... momentous: In every sense of the word, Game 3 was all about momentum. Though the Pacers got out to an early advantage, Miami's dominance snowballed from quarter to quarter, until there was nothing left of Indiana's chance of taking back home-court advantage.
3. Saturday's Best
Heat's all-around effort: The two-time champs showed the kind of teamwork that could give them a third straight title. Ray Allen and Norris Cole in particular gave the Heat scoring punch (25 points combined) off the bench in the 99-87 win in Game 3.
4. Saturday's Worst
Indiana's dwindling hopes: The Heat's effort in coming back from an early 15-point deficit put Indy in a must-win situation for Monday's Game 4. But if the Pacers do find a way next game, then heading back to Indy 2-2 would make all Saturday's hurt go away.
6. Tweet Of The Night
I use to cheer for Ray Allen when I was in middle school. When he played for the Sonics. =3 he still got it

— Peyton Siva Jr (@PeypeySiva3) May 25, 2014
7. Quote Of The Night
"It's 100 percent going to hurt."
-- Serge Ibaka, the Thunder big man who might try to play through a calf injury in Game 3
8. Third And Goal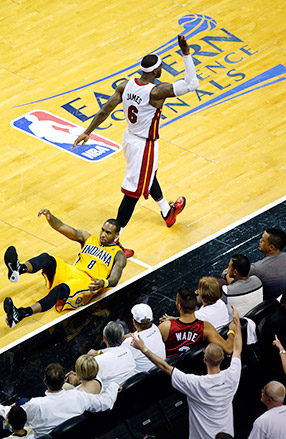 Robert Mayer/USA TODAY SportsLeBron James and the Heat rallied in Game 3, now hoping Indiana doesn't get off the floor.
9. Stat Check
The Miami Heat trailed the Indiana Pacers by 15 points in the second quarter on Saturday but outscored Indiana by 27 points the rest of the way to take a 2-1 series lead. It's only the third playoff win for Miami in the Era of the Big Three in which the Heat trailed by 15 or more points. The others were in Game 2 of the Eastern Conference finals against Boston in 2012 (down 15 in the second quarter), and Game 4 of the 2012 Finals against the Thunder (down 17 in the first quarter).
Dwyane Wade made a 3-pointer with one second to play in the third quarter and another on Miami's first possession of the fourth quarter. Wade was only 3-for-11 on 3-point field goal attempts over his previous 33 postseason games since the start of the 2013 playoffs.