1. Paul George's Impact Keeps Pacers Alive
INDIANAPOLIS -- Becoming an elite NBA player -- some call it becoming a superstar -- isn't an overnight procedure.
It's rarely even a single-season development.
It's a process that's unique to each individual, whether it's LeBron James being anointed as a teenager and needing to live up to that status, or Kevin Durant gaining physical strength and refining his skills in his early years to become a frightening offensive force.
Indiana's Paul George is very much still in process.
He was inserted into the superstar conversation not just because he won most improved player and quickly became one of the best two-way players in the league, but also because he was on one of the best teams in the league. He was willing to accept the responsibilities of becoming a superstar because he had proved to himself he was capable.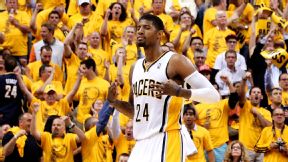 Brian Spurlock/USA TODAY SportsPaul George scored 31 of his 37 points in the second half, helping Indy avoid elimination.
But that didn't mean he was a finished product, even if the expectations for the Pacers this season practically required him to be complete. And that was made plainly evident by his late-season slide and inconsistent play throughout these playoffs.
That's why Wednesday, George had a bit of a chat with himself. It was more of a constant reminder: "Make the impact you know you can make."
Through four games in this Eastern Conference finals, George had yet to take over any significant portion of a game.
Wednesday, with his team's season on the line, he listened to the voice in his head. And he dominated Game 5 when it mattered most, scoring 21 of his 37 points in the fourth quarter -- the most points he has ever scored in a single quarter -- to cap off a phenomenal individual defensive effort that kept his Indiana Pacers alive with a 93-90 win over Miami Heat. The Heat lead 3-2.
"I felt in a rhythm, regardless of who was guarding me," George said. "I think I saw every defender from the Heat tonight. I was just in a zone. Regardless of who was guarding me, I felt like the ball was gonna go in that net. That's a great feeling."
Part of what we're learning about George in his second straight postseason as a leading man is that he's honest to a fault.
He was too forthcoming after suffering a concussion in Game 2, admitting he "blacked out" after Dwyane Wade's knee hit the back of his head.
He was too willing to toss teammate Lance Stephenson under the bus after an unnecessary and one-sided war of words with LeBron James.
And he followed that up with honesty that cost him $25,000 when he complained about Miami's "home cooking" officiating after Game 4.
Wednesday, he continued speaking his truths. Unlike most players in his position, who would rarely publicly admit doubt or sensing pressure, George flatly said he'd been thinking about how he would perform since the morning shootaround, when he was asked how he would impact Game 5.
"I was asked earlier today about having my imprint on this game, and I felt I needed to have an imprint on this game," George said. "That was always in the back of my mind, was how can I impact this game to where we can continue to keep playing. That was it.
"I knew I had to make some plays on the defensive end, get some steals, playing scrappy basketball as well as trying to contribute on the offensive end.
"That was in the back of my mind the whole night."
Through the first three games of this series, George was averaging 18.3 points but on just 38 percent shooting.
In Game 4, George managed 23 points and shot 50 percent from the floor, but it was a game where Indiana trailed by as many as 23, and afterward George's complaints about the officiating made him appear immature.
And for a half Wednesday, it looked as though George would leave this postseason with more question marks than he did after a 2-of-9, seven-point performance in Game 7 of last year's Eastern Conference finals.
But the two-time All-Star wouldn't allow that to happen. He was somewhat fortunate to have LeBron on the bench for half the game, sitting with foul trouble early and often.
But George was still effective defending any other Heat player he was assigned to, nabbing six steals, turning a few into breakaway dunks, and helping pressure Wade into a six-turnover night.
With those easy baskets getting him going, George put on a shooting performance in the fourth quarter that withstood a 33-point period from Miami.
With less than two minutes remaining and the Pacers leading by just one, Wade motioned to LeBron to defend George. Wade had already watched George shoot over him too many times in the period, and he figured LeBron could handle the assignment despite his five fouls.
At the moment, it didn't matter who was guarding George. That was made clear when he simply raised up over LeBron for another of his five 3-pointers in the game, three coming in the fourth quarter.
"[David] West kept telling me, 'Don't keep no bullets in the chamber,'" George said. "I knew I couldn't let up, because they were making plays on the other end as well."
In describing George's 21-point fourth quarter, which included a critical 3-pointer with 46 seconds left that extended Indiana's lead to 91-87, Chris Bosh used a phrase George used about himself after Game 2.
Only Bosh meant it in an entirely different way.
"He blacked out in those last few minutes," Bosh said. "He hit everything he shot. It was good defense. Just better offense."
Despite George's late-game barrage, Bosh and the Heat were one make away from leading this game in the final seconds.
James, though mere feet from the basket, passed to Bosh in the corner for a 3-point attempt that would've put Miami ahead by a point on its final possession.
Bosh missed, and Pacers center Roy Hibbert, who helped off Bosh to force LeBron's pass, suggested LeBron should've taken the higher percentage shot near the rim to tie the score.
George was asked about the play. Not surprisingly, George was brutally honest.
"LeBron's the smartest player in this league," he said. "He's going to make the right play. He thought that was the right play. They made 15 3s tonight, so obviously they were hot behind the 3-point line. He found a 3-point shooter that's been hot lately for him, in Chris Bosh. We were fortunate he missed."
It was the type of postgame dissection of a play that LeBron normally offers. But this was George, sounding a lot more mature after this game than he did after Game 4.
One breakout performance isn't going to remove all the questions about George and his inconsistencies down the stretch of this season, but it was the only place he could start.
Now comes an even more difficult Game 6 in Miami, where the Heat plan on treating it with winner-take-all intensity.
"We're going against history, but we can't feel like it can't be done," George said. "Every player in our locker room, every trainer, every coach, everybody in this organization has to feel like we can accomplish this. And we believe it."
And if they need a reminder, perhaps the voice in George's head can remind the rest of the Pacers they can impact Game 6.
Dimes past: May 9 | 10 | 11 | 12 | 13 | 14 | 15 | 18 | 19 | 20 | 21 | 24 | 25 | 26| 27
ESPN Staff Writer
Israel Gutierrez is an NBA writer for ESPN.com.
2. Around The Association
| | | | | |
| --- | --- | --- | --- | --- |
| Miami Heat | 90 | FINAL | 93 | Indiana Pacers |
---
MVP: Paul George was at his very best offensively in Game 5, and the Pacers needed every last point. While his 37 points will get the most attention, George also proved why he's one of the best two-way players in the game, adding six steals and lockdown defense on whomever the Heat sent his direction.
Turning point: Though his return in the fourth quarter made for a close game, LeBron James picking up his fifth foul in the third quarter doomed the Heat. They survived without him in the first half, but his absence in the third put the Pacers squarely in the driver's seat.
That was ... close: During LeBron's aforementioned third-quarter absence, it seemed as though Indiana would easily put away Miami. The Heat came roaring back in the fourth, but the Pacers were not to be denied. A win's a win; now, it's time to prepare for Game 6.
3. Wednesday's Best
George
Paul George, Pacers: George scored 31 of his 37 points in the second half and almost single-handedly kept the Pacers alive in the Eastern Conference finals with a 93-90 win over the Heat. George's 21 fourth-quarter points were the most ever scored in one quarter of a playoff game against Miami.
4. Wednesday's Worst
James
LeBron James, Heat: Foul trouble led to him posting a playoff-career-low seven points in Game 5 against the Pacers. He made two of 10 shots in his 24 minutes on the court. For further insult, he had to endure more shenanigans from Lance Stephenson.
7. Quote Of The Night
"I'm just trying to win. We need one more win to get to the [NBA] Finals. That's my only concern. All the extra stuff, whatever Lance wants to do, I don't really care about that."
-- LeBron James, on the Game 5 high jinks of Lance Stephenson, who attempted to listen in on one of Miami's huddles and later blew in James' ear.
8. Shard Throwback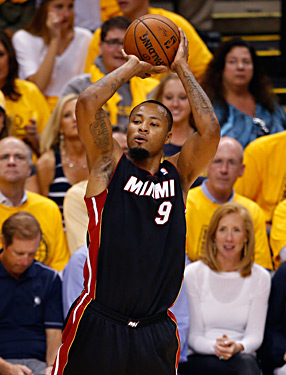 Joe Robbins/Getty ImagesRashard Lewis sank six of nine 3-point attempts in Game 5 after going scoreless in the first four games of the series, two of which were DNPs.
9. Stat Check
Paul George scored 37 points to help the Indiana Pacers stave off elimination with a 93-90 win over the Miami Heat on Wednesday night. In 46 playoff seasons since 1969, only two other players scored as many as 37 points in a game in which their teams staved off playoff elimination against the defending NBA champions. Karl Malone scored 39 points against the Chicago Bulls in Game 5 of the 1998 NBA Finals to keep the Utah Jazz alive and the Dallas Mavericks' Dirk Nowitzki registered 37 points in Game 7 of the 2006 Western Conference semifinals against the San Antonio Spurs.