1. Spurs Pick Perfect Combo In Game 5 Rout
SAN ANTONIO -- For some reason, Game 5 of the Western Conference finals had me thinking of "The Wizard of Oz."
Actually, I know the reason that movie was on my mind. It's because one of my favorite Lance Stephenson "blowing" memes that took over the Internet Wednesday night had him sending a Category F5 tornado at Dorothy Gale.
The game itself -- the San Antonio Spurs' 117-89 blowout win over the Oklahoma City Thunder -- reminded me of when Dorothy said, "If I ever go looking for my heart's desire again, I won't look any further than my own back yard."
Yeah, that was Game 5. It's not just that the Spurs returned to the AT&T Center, the only place they seem capable of beating the Thunder. After changing the starting lineup, then mixing and matching players at a rate bordering on desperation, Gregg Popovich found the most success with a very familiar group: Tony Parker, Manu Ginobili, Tim Duncan, Boris Diaw and Kawhi Leonard.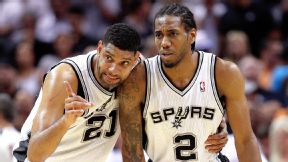 Ronald Martinez/Getty ImagesTim Duncan and Kawhi Leonard were two of six Spurs to score double figures in San Antonio's Game 5 blowout.
It's the combination that played 192 minutes this season, a number surpassed only by the usual starting five of Duncan, Parker, Leonard, Danny Green and Tiago Splitter. And it was the lineup on the court in the second quarter when the Spurs took control of Game 5, grabbing a double-digit lead that wound up staying that way for all but 18 seconds of the second half, ballooning to as many as 32 points in the fourth quarter.
It's a combination that had the Spurs looking like the Spurs again, doing things like having Parker coming off Duncan screens to hit a jumper or navigating his way through the defense, or Ginobili taking those long strides to the basket, or Duncan scoring inside.
It's not that the Spurs needed to change -- they needed to revert.
It just took them a little while to figure that out. Popovich's reaction to the two losses in Oklahoma City, in which Serge Ibaka turned into a shot-eating monster in the middle, was to start Matt Bonner, a forward who has made 736 career 3-pointers. Not only had Bonner not started all season, he wasn't even a part of any of the Spurs' 20 most-used lineups all season. This qualified as a drastic measure.
The Spurs quickly found themselves down 7-2 and trailed by one when Popovich sent Diaw and Ginobili in for Bonner and Parker with 7:19 left in the first quarter. A minute later, Parker was back in for Green. Popovich made six substitutions in the first quarter, trying to find ways to counter a Thunder team that came out running well and shooting hot. Patty Mills, Splitter and Green provided the points in the final 1:34 that enabled the Spurs to emerge from the first quarter in a 32-32 tie.
The second quarter -- and thus the rest of the game -- belonged to the usual suspects.
"I don't think it was a matter of lineups," Ginobili said. "Today, we just played well. Whoever was on the court, that was the key."
The Spurs keep insisting it's really that basic. Popovich tormented questioners who tried to pry more specific details from him.
"We hit some open people and relied on team play more than we did in OKC," was one of his few moments of description.
Later, he got a little more expansive in his overall philosophy.
"What matters in a game is execution and mental toughness," Popovich said. "You have to execute and you have to play with passion. So it's like the old Dean Smith/Larry Brown thing: play harder and smarter than your opponent. It doesn't happen all the time, but if you can do it, that's the goal."
It never happens for the Spurs in Oklahoma City; at least not the past nine times they've played there. At least they've assured themselves that if they can't break the streak in Game 6 on Saturday, they'll get Game 7 back in San Antonio on Monday. It could be enough.
Playing in their preferred environs brings out their familiar play.
"We came back to the way we were aggressive in the first two games," Diaw said. "Going good to great. That's what Pop asked all year, that's what we've been doing all year. For some reason we didn't do it as well the last two games. But we did in this game. And pretty much the whole game -- not trying to force and try shots and go to the basket and score over their big guys. We were trying to look for the open man, and it worked."
"Good to great" was exemplified by the play Diaw made when he was under the basket and passed out to Leonard in the right corner for a 3-pointer, rather than offering up a shot for Ibaka to block. Or Diaw forgoing an open 3 to whip the ball inside to Duncan for a layup. Or passing from the left side to Duncan in the middle, who threw to Leonard on the right. When the defender closed out on Leonard, he smartly drove into the lane and scored.
Every member of the "basic" lineup scored in double figures, ranging from Parker's 12 points to Duncan's 22. They combined for 17 assists.
"We came back to passing the ball to each other a little better," Diaw said. "It's definitely something we look forward to again."
Defensively, Popovich had Leonard guard Russell Westbrook, and as a result, Westbrook was just pretty good (21 points, seven assists) but not dominant, as he was in Game 4. Kevin Durant couldn't take advantage of Leonard being occupied elsewhere and scored "only" 25 points, which is below average for the 2013-14 MVP.
It turns out it wasn't a matter of getting new groups, it was a matter of slightly rearranging their best group ... and getting a better effort from them.
"The biggest thing was the aggressiveness," Diaw said. "Coming with a purpose. That's something we've got to do in Game 6."
Only now it's optional, not mandatory. The lineup from the past assured the Spurs a future, and two shots at a return trip to the Finals.
Dimes past: May 9 | 10 | 11 | 12 | 13 | 14 | 15 | 18 | 19 | 20 | 21 | 24 | 25 | 26| 27| 28
ESPN Senior Writer
ESPN.com senior writer since 2007
Around The Horn panelist
Formerly at Los Angeles Times
2. Around The Association
| | | | | |
| --- | --- | --- | --- | --- |
| Oklahoma City Thunder | 89 | FINAL | 117 | San Antonio Spurs |
---
MVP: Tim Duncan. It was a team effort for San Antonio in Game 5, and no one personified that better than Duncan. With the Spurs playing small, Duncan needed to come up big. His 22 points were nice, but the 12 rebounds he pulled down kept the Spurs in control even without Tiago Splitter on the floor.
X factor: Matt Bonner's start signified San Antonio's willingness to experiment with lineups, but such a tactical shift would have been meaningless without Boris Diaw's spectacular performance. The Spurs spaced the floor to perfection, and Diaw was largely the reason.
That was ... momentous. Momentum from one game to another might be an overrated concept, but the Spurs were unstoppable once they got rolling in Game 5. Now San Antonio just has to hope it can repeat this performance in Game 6.
3. Thursday's Best
Duncan
Tim Duncan, Spurs: The Big Fundamental came up big in Game 5 in San Antonio, leading the Spurs with 22 points and 12 rebounds as the defending Western Conference champs took one step closer to a return trip to the Finals.
4. Thursday's Worst
Ibaka
Serge Ibaka, Thunder: An X factor in OKC's two wins of the series, Ibaka managed only six points on 3-of-10 shooting with two rebounds and two blocks in the Thunder's 28-point defeat.
6. Tweet Of The Night
That was Spurs basketball again. Way to bounce back. #1More

— David Robinson (@DavidtheAdmiral) May 30, 2014
7. Quote Of The Night
"This is the craziest series I've ever been involved in."
-- Tim Duncan, on five straight home-team blowouts to open the Western Conference finals.
8. Bringing The Thunder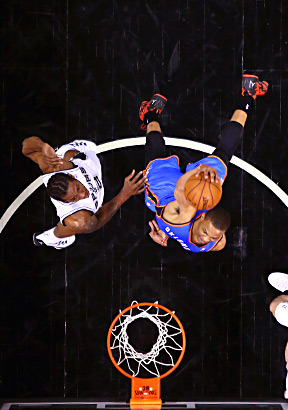 Ronald Martinez/Getty ImagesRussell Westbrook's highlight-reel dunk was one of the few high points for the Thunder in Game 5.
9. Stat Check
Westbrook
After Russell Westbrook scored half of his 40 points in Game 4 on drives to the basket, the Spurs limited Westbrook to seven points on four drives in Game 5. Westbrook's four drives mark his fewest in a game since Game 1 of the Western Conference quarterfinals.
10. Westbrook's Monster Slam