1. Spurs Earn Shot At NBA Finals Redemption
OKLAHOMA CITY -- How do we know that this year is different -- that if San Antonio Spurs get to another Game 6 with a chance to win the series, it will have a better outcome for them? Because they just had a Game 6, and this time they won it.
An NBA Finals rematch with the Miami Heat sat there for the Spurs in Game 6 of the Western Conference finals Saturday night, a chance to write a happy epilogue to that heartbreaking Finals Game 6 that slipped from their grasp last year. The Spurs had a 3-2 lead in this series and a six-point lead over the Oklahoma City Thunder when the same old problems resurfaced from that unforgettable night of June 18, 2013.
Manu Ginobili turnovers. Missed free throws. Gregg Popovich tempting fate by holding Tim Duncan out of a critical defensive possession. Even Duncan moving a television-camera cord out of the way so he'd have room on the sideline to inbound a pass, reminiscent of players tiptoeing around the yellow rope that surrounded the court in American Airlines Arena last year when the Spurs were so close to holding an on-court championship celebration.
And then, overtime.
Russell Westbrook and Kevin Durant did what they've done throughout these playoffs, erasing last-minute deficits to force an extra period for the fifth time. The Spurs went into overtime without Tony Parker, who didn't return for the second half because of what the team called left-ankle soreness. Duncan had already logged an above-average 34 minutes.
But Duncan, on those 38-year-old legs of his, stood tallest in overtime, personally outscoring the Thunder 7-6, ensuring that there would be no Game 7 in this series and signaling that there will be none of the same story in the NBA Finals.
Announcing it will be a different outcome, actually.
"It's unbelievable to regain that focus after that devastating loss that we had last year," Duncan told TNT's David Aldridge in an on-court interview. "But we're back here. We're excited about it. We've got four more to win. We'll do it this time. We're happy it's the Heat again. We've got that bad taste in our mouths still."
It was an uncharacteristically bold proclamation by Duncan, but you have to realize that the Spurs aren't the same cast of characters as in the past.
It's hard to fathom a franchise as accomplished as the Spurs having a breakthrough, but Saturday represented one. It was their first-ever playoff victory in Oklahoma City, and their first victory of any kind here in 10 tries. And it also represented the team's first back-to-back trip to the NBA Finals.
So, yes, these Spurs are not the same old Spurs. They long ago stopped relying on Duncan all the time, and now they've even shown they're not dependent on Parker, their most important player the past few seasons. They won't have the best player on the court in the Finals -- that distinction belongs to LeBron James -- but they got a dry run in beating the league's MVP in Durant.
Among the many "what-ifs" running through their minds the past year had been the hypothetical of finishing the 2013 NBA Finals with a healthier Parker. With his hamstring acting up, he shot only 26 percent in the past two games.
The Spurs were 11-3 in games Parker didn't play this regular season. They picked up this 112-107 victory Saturday night even though he played only 19 minutes and scored eight points. And with Popovich saying, "I don't know what the deal is" with Parker's ankle, it's possible the Spurs could still be confronting this issue when the NBA Finals start on Thursday.
Popovich said Parker's ankle was sprained in Game 4 of this series, aggravated in Game 5 and bothering him before Game 6 started, to the point that Popovich told Ginobili to be ready to play more point guard than usual.
"He couldn't cut," Popovich said of Parker. "He was limping on it. He couldn't cut sideways or forward, really.
"He showed a lot of guts to be out there and do what he did. But at halftime I talked to him. He stiffened up a little bit, and I just made the call. He wanted to go, and I said, 'You're not.'"
Just before the Spurs left the locker room at halftime, Popovich told Cory Joseph he would be starting the third quarter. What transpired next: the Spurs' best quarter of the series, in which they outscored the Thunder 37-20 to take control of the game.
Popovich was mixing and matching, going small if he had to, using some "funky lineups," as Matt Bonner put it.
How do they do it, succeeding no matter what five-man combinations they sent on the court?
"Playing hard, playing smart and just trying to compete every possession," Joseph said.
It's the way the Spurs have been doing things for so long. Only now there are added elements: pain and motivation.
Take Boris Diaw, who played 36 minutes in Game 6 because he emerged as the Spurs' best threat against the interior defensive presence of the Thunder's Serge Ibaka and wound up scoring a team-high 26 points. Diaw could hit 3-pointers (he made 3 of 6 Saturday) or dribble at Ibaka and then find an open teammate.
"I was really disappointed last year in the Finals when we lost," Diaw said. "I really felt that I could have helped the team more. ... When I played basketball the only thing I didn't want was to have regrets, I don't want to say, 'I didn't do that, I didn't play as hard as I could.'
"I felt I could have done more [last year], by being more aggressive, by maybe showing more all season that I could be efficient in some areas, in scoring and stuff like that, so I would have the opportunity to do that and also help the team."
Popovich began training camp by showing the team video of last year's Game 6. Since then, "It's not something I think we actively talk about," Bonner said. "But it's definitely an experience that you learn from and sticks with you and sticks in the back of your mind, your subconscious, and drives you."
It's driven them back to the Finals, back to the Heat. Another difference: The Spurs have home-court advantage again. But because of the switch to the 2-2-1-1-1 format, if there's a Game 6, it will also be played in Miami.
What's changed since the last Game 6 that helped the Spurs win Saturday's Game 6 and maybe the next one as well?
"We fixed the little mistakes," Spurs guard Danny Green said. "The minor things in the playoffs are what makes the difference. Rebounds, steals, a pass, a turnover ... the extra pass. As little as it seems, those are the plays that change the game in the playoffs." That's what the Spurs took from 2013's Game 6. That's what they applied to the latest Game 6.
Dimes past: May 11 | 12 | 13 | 14 | 15 | 18 | 19 | 20 | 21 | 24 | 25 | 26| 27| 28 | 29 | 30
ESPN Senior Writer
ESPN.com senior writer since 2007
Around The Horn panelist
Formerly at Los Angeles Times
2. Around The Association
| | | | | |
| --- | --- | --- | --- | --- |
| San Antonio Spurs | 112 | FINAL | 107 | Oklahoma City Thunder |
---
MVP: He didn't lead the Spurs in scoring, but there's no question who leads San Antonio in general. Tim Duncan makes this team go, and he once again controlled the backboard (15 rebounds) when the Spurs went with their smaller lineups. And in overtime, Duncan seized the moment and put his team on his back.
X factor: You can go so small only when Boris Diaw is on the floor, but his shooting and passing are unparalleled. When he's on the floor for the Spurs, good things tend to happen. And he led all scorers with 26 points in Game 6, demonstrating one of the overlooked facets of his game.
That was ... unusual: Perhaps it's fitting that this series would end with a team finally winning on the road. Through five games, that task seemed impossible. To make the NBA Finals, though, a team has to do some pretty impossible things. Congratulations to the Spurs, but there are four wins still to go.
3. Saturday's Best
Duncan
Tim Duncan, Spurs: In overtime, his shot from the baseline rattled in to give the Spurs a 110-107 lead with 19 seconds to go capped a big finish for Duncan, who had 19 points and 15 rebounds in the 112-107 Game 6 win over OKC that lifted the Spurs into the NBA Finals.
4. Saturday's Worst
Thunder's bench: Did not have much of an impact, managing only five points as a group, and those were all courtesy of Derek Fisher. The bench shortens in the playoffs, but the lack of threats might be part of the reason OKC's season ended Saturday.
7. Quote Of The Night
"We got four more to win. We'll do it this time."
-- Tim Duncan, after earning a rematch with the Heat
8. The Other Frenchman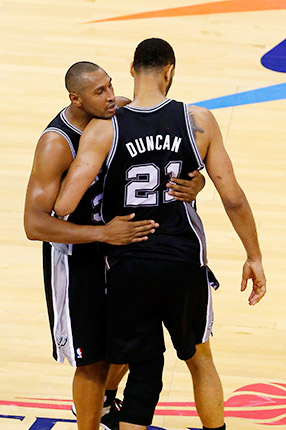 Alonzo Adams/USA TODAY SportsWith fellow Frenchman Tony Parker hobbled, Boris Diaw dropped in a team-high 26 points for the Spurs and earned a hug from Tim Duncan.
9. Stat Check
Westbrook
Lost in the shadow of defeat was a tremendous scoring effort from Kevin Durant and Russell Westbrook. Both scored at least 30 points in the same game for the eighth time in their postseason careers. That surpasses Kobe Bryant and Shaquille O'Neal for the second-most such games by a pair of teammates in NBA playoff history.
Westbrook had another stellar game in his own right. For the second time this postseason, Westbrook posted at least 30 points, 5 rebounds, 5 assists and 5 steals in the same game, joining Michael Jordan as the only players with multiple 30-5-5-5 games in a single postseason. Jordan did so twice, in 1989 (4) and 1990 (3).
10. Spurs-Heat, The Rematch