1. Neither Variety Of Heat Slows These Spurs
SAN ANTONIO -- This wasn't the epitome of San Antonio Spurs basketball, just the essence of Spurs basketball.
Twenty-three turnovers? Uh-uh, not very Spurs-like at all.
A seven-point deficit in the fourth quarter at home, where they'd won their previous seven playoff games by 15 or more points? So uncharacteristic.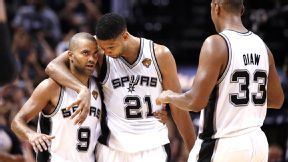 Soobum Im/USA TODAY SportsWhile LeBron cramped up, the Spurs overtook the Heat for a Game 1 win in the NBA Finals.
If you think about it, though, the Spurs might be best defined by what they don't do. They don't go away.
The Spurs might wave the occasional white flag -- most recently when coach Gregg Popovich sat his starters for the entire fourth quarter of Game 4 of the Western Conference finals -- but that's always with an eye toward saving them for another day. You will hear from them again.
They've been hanging around a good five years past the expiration date stamped on the bottle, and now here they are in June, standing closer than anyone else to the Larry O'Brien trophy thanks to their 110-95 victory over the Miami Heat in Game 1 of the NBA Finals.
"We ended up with a win that was sort of unlikely after 40 minutes," Manu Ginobili said.
The Spurs didn't outplay the Heat so much as they outlasted them on a sultry Texas night when the AT&T Center air conditioning didn't work and LeBron James missed seven minutes of the fourth quarter because of cramping in his left leg.
The Spurs stayed true to their ways, continuing to move the ball around even though many passes had gone wayward over the course of the night. Danny Green kept faith in his shot even though he missed all five of his field goal attempts in the first three quarters, then knocked down three 3-pointers in the fourth. They kept "pounding the rock" (yes, Green actually said Popovich's pet phrase).
"Guys keeping other guys in the game and keeping the passion was a huge one tonight," reserve guard Patty Mills said. "No matter what happened, we all just hung together as a group and just said little comments to keep people motivated. 'We're still in this. Keep grinding, keep grinding.' And I think we've done a great job of coming together as a group and finding ways to win."
Many of the numbers in the final box score looked like vintage Spurs fare. They made 59 percent of their shots, including 52 percent of 3-pointers (13 of 25). They outrebounded Miami 39-29. They had 30 assists. Tim Duncan made nine of his 10 shots, thanks largely to the way his teammates set him up for easy buckets (seven of his baskets were assisted).
The final margin even kept their string of 15-plus-points home victory streak alive, making it seem like business as usual.
Popovich knew better. "The turnovers are usually a killer. We feel very fortunate to have won this game tonight," he said.
Or, it's possible the Spurs benefited once again from their grand scheme. We've already discussed the way their abundance of international players fosters team cohesion. Thursday night, a few Spurs bought into the notion that they fared better than the Heat in the hot arena because they're used to playing in stuffy buildings without air conditioning when they play overseas in the summer.
"It was nothing new to us," Mills said.
The team didn't take any chances, bringing cooling fans into the locker room at halftime, and keeping the players supplied with liquids and cold towels.
"We tried to get guys in and out a little bit more than we usually do," Popovich said of his substitution pattern. "Kind of screws up the rhythm a little bit but ... it was mighty hot out there."
The Heat came out the worse for wear. It wasn't just James checking out 4 ½ minutes into the third quarter, asking for relief with eight minutes to go and then coming out for good with 3:59 remaining in the game. The Heat collectively stopped getting back on defense, stopped rotating to the 3-point shooters, and stopped hitting the boards.
The Spurs scored 16 of the game's final 19 points after James' final layup.
"Everybody was sluggish, but I'm proud of my guys that fought through it," Green said.
Yes, the Spurs won on a night when LeBron James cramped up. At first glance it might seem like the fool's gold that was the Indiana Pacers' victory in Game 5 of the Eastern Conference finals, when James was limited by foul trouble.
But the Spurs also won on a night when Boris Diaw made only one basket (yet finished with an astounding plus-minus of plus-30, thanks in large part to his 10 rebounds and six assists). They won despite all of those turnovers. That's why this game portends better for the Spurs' future than the Heat's future. The Spurs still got the win in a performance that was so uncharacteristic.
Except for, you know, the part about winning.
Dimes past: May 13 | 14 | 15 | 18 | 19 | 20 | 21 | 24 | 25 | 26| 27| 28 | 29 | 30 | 31
ESPN Senior Writer
ESPN.com senior writer since 2007
Around The Horn panelist
Formerly at Los Angeles Times
2. Around The Association
| | | | | |
| --- | --- | --- | --- | --- |
| Miami Heat | 95 | FINAL | 110 | San Antonio Spurs |
---
MVP: Tim Duncan kept cool as the temperature rose in San Antonio, leading the Spurs with his usual steady hand. He led San Antonio with 21 points, and he controlled the paint on both ends of the court.
X factor: The climate control problems inside the AT&T Center undoubtedly had an impact. And while it affected everyone, LeBron James felt its effects more than anyone. His absence in the fourth quarter coincided with a Spurs run that put this game out of hand.
That was ... hot. At some point in the second half, the outcome of this game almost became superfluous. The story will be the failure of the air conditioning, and any reaction to Game 1 will invariably incorporate that detail. It's a shame; this was a fantastic game before it was played in a sauna.
3. Thursday's Best
The Spurs' Big Three: Tim Duncan, Tony Parker and Manu Ginobili all had major contributions in the Spurs' 110-95 Game 1 NBA Finals win over the Heat. Their 56 points combined accounted for over half of the team's scoring output.
4. Thursday's Worst
AT&T Center's heating/cooling system: Turning a modern basketball game -- an NBA Finals game no less -- into a hot yoga class is a travesty. These were good conditions for smoking hams, not scorching nets. Time for a Game 2 promotion: all HVAC repair experts and electricians admitted free.
6. Tweet Of The Night
"It sucks not being out there for your team, especially at this point in the season." - LeBron James after Game 1. #NBAFinals

— NBA on ESPN (@ESPNNBA) June 6, 2014
7. Quote Of The Night
"Hopefully we can pay our bills."
-- Gregg Popovich, after the Spurs won Game 1 in sauna-like conditions caused by the AT&T Center's air conditioning failure.
8. Cramping Trip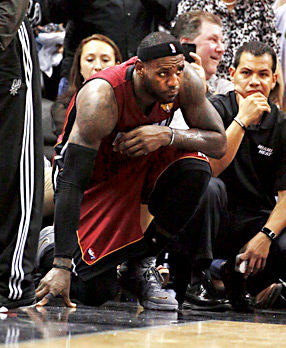 Soobum Im/USA TODAY SportsLeBron James was overcome by cramps in the fourth quarter of the Heat's Game 1 loss to the Spurs.
9. Stat Check
Duncan
Tim Duncan, 38 years of age, is the oldest player to lead his team in scoring in a Finals win since Kareem Abdul-Jabbar did so on June 14, 1987 at age 40. Duncan had 21 points in the Game 1 win over the Heat.