1. Farewell To Cramps: LeBron Lets Loose
SAN ANTONIO -- Late Thursday night, LeBron James took a long seething ride out to the Miami Heat's distant resort in Texas' Hill County.
He was furious that he'd just lost an NBA Finals game because of a stupid case of cramps. Of all the things that could cost his team a game, all the mistakes and decisions and bad luck that have cost him past Finals games, how in the world could he be derailed by cramps triggered by an air conditioning failure? This went through his mind again and again.
How in the world, James raged, could something as common as an HVAC unit on the fritz in sweltering San Antonio break and not be fixed? Everyone heard a report on the ABC broadcast that the arena temperature reached 90 degrees in Game 1. The reality was that one of the gauges fetched midgame showed a reading of more than 100 degrees in the fourth quarter when James was carried off the floor.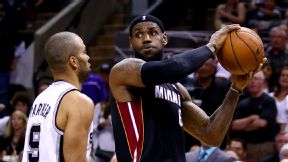 Andy Lyons/Getty ImagesNo longer in the grip of cramps, LeBron James dropped 35 points and 10 rebounds on the Spurs.
You did not want to be around James that night. Or, for that matter, the next day.
When he first played in the Finals in San Antonio back with the Cleveland Cavaliers in 2007, his team made the mistake of staying in downtown along the Riverwalk. He was kept up half the night after losing Game 1 that June because of Spurs fans' long-running tradition of stalking the streets and honking their horns deep into the night after playoff victories.
Now he was up most of the night again, beating a path across the plush carpet in his suite to the bathroom -- the fallout of taking about a gallon of saline in his veins after the game. This is about the time he learned he was getting killed in some corners for supposedly not being tough enough to play through cramps. James was too sore to hop but if he could've he would've. He was spitting fire.
"I've got a great supporting cast around me that allows me to vent at times, I try not to hold it in," James said Tuesday. "I also understand at this point in my life what's important and what's not important."
After a few days of overkill he was over it by the morning of Game 2. He showed up for an 8 a.m. yoga class at the resort, no doubt surprising the other three people who signed up. He was mellow. He would not be eating pickles or swallowing spoonfuls of mustard or the other home remedies. Yes, he knows to eat bananas to prevent cramps; he has been eating them every game day for years.
James didn't score 35 points in the Heat's 98-96 victory because he was driven by anger. He didn't feel like the AT&T Center was due some sort of vengeance. OK, maybe there was a little of that, but he didn't arrive feeling like he needed to even a score. Other than, of course, the score in the series.
He's so far past petty retribution by now, the kind of stuff that cluttered his mind when he was younger and more vulnerable. On Sunday, he just knew the Heat badly needed a win, and he knew the consequences of falling down 0-2. The only way to protect against that was to have one of his trademark playoff performances.
"Look, he's the best player in the game," Heat coach Erik Spoelstra said. "He has an incredible way to put his fingerprints on a game."
Throughout the postseason, the Heat have started a new tradition of watching old playoff games. Earlier in the postseason, for example, there was a game from a series between the Toronto Raptors and Orlando Magic in 2008, which featured current Heat players Chris Bosh and Rashard Lewis playing against each other, on the screen.
It's one of the little things that Pat Riley and now, by proxy, Spoelstra has learned to do to create spontaneous motivation.
Before Game 2 against the Spurs, the Heat watched parts of Game 2 of the 2012 Finals. They were down 0-1 on the road that year to the Oklahoma City Thunder and needed a win on the road then, too. That night James was fantastic from start to finish, scoring 32 points and leading the Heat to a victory that proved to be the pivot point for that series.
As if James didn't already know what he needed to do, that little memory was the type of refresher that put him in the right frame of mind. He didn't need to come out and play a power game to show critics that he wasn't weak in the knees. He needed to do it because that is what needed to be done.
That is what James does in the playoffs now -- what needs to be done -- and for the past 11 series and counting, he's gotten it done. As if the Spurs needed to be reminded, to pry the trophy away from him they're going to have to contend with his full force, a side case of cramps or not.
James spent the first half in full interior attack mode. The Spurs were fortunate he missed a few simple attempts in the early going because once he started finding the touch, he was vicious.
San Antonio is too good to be overwhelmed, but the Spurs are not good enough to stop James from imposing his will when he's so engaged. Over the past four Finals games against the Spurs, James has racked up 32, 37, 25 and now 35 points. The 25 came in the cramp game over 32 minutes, had there been A/C who knows what James puts up that night.
Of course having James guarantees nothing, but what a card to have in the hole. When James extended himself to the perimeter and began draining jumpers in the second half, it was almost assuredly curtains for the Spurs. They cannot handle him when he's got his full array of skills working, not in these prime years. No one can.
Not even All-Defensive Team member Kawhi Leonard could deal with James' under-control aggression and mix of attacks and pull-ups. James fouled him out. Boris Diaw, the Spurs' versatile weapon who defended James well in the past, was rendered useless.
It ended up being a two-point game after a meaningless 3-pointer at the buzzer, but watching James stalk around the court in the second half and make heat-check jumpers, the outcome seemed almost inevitable during the stretch run.
In what is perhaps the most remarkable statistic of this Heat run over the past four years, they have now won at least one road game in all 16 playoff series they've played together since 2011. Right behind that is the now 13 consecutive times they've followed up a playoff loss with a playoff win. That's some uncanny, historical stuff right there, no matter who you want to toss into the argument from Michael Jordan to Bill Russell to Magic Johnson.
But James can do something none of those greats could -- answer social media criticism in the most meta way possible: Get buddy Johnny Manziel a courtside ticket to the game.
As for the traditional critics, like those who target him for dishing the ball in end-of-game situations, he took care of that with his whip pass to a wide-open Bosh for a 3-pointer with a minute left that gave the Heat the lead for good.
This time James left the arena with that wry smile and those faux glasses that matched his bright blue suit. The ride to the airport probably felt shorter than ever.
"I just try to impose my will in some kind of way, either scoring or rebounding or assisting or defending," James said, leaving out his fun mind games. "I put myself and my teammates in a position to succeed, and I was happy in the fact that I was able to make some plays to help us get the victory."
Dimes past: May 19 | 20 | 21 | 24 | 25 | 26| 27| 28 | 29 | 30 | 31 | June 5
ESPN Senior Writer
ESPN.com NBA writer since 2010
Covered Cleveland Cavs for seven years
Author of two books
2. Around The Association
| | | | | |
| --- | --- | --- | --- | --- |
| Miami Heat | 98 | FINAL | 96 | San Antonio Spurs |
---
MVP: It's amazing what happens when LeBron James can unleash the full fury of his game. These Spurs are amazing, yet James was on another level in the second half of Game 2. His 35 points and 10 rebounds leap off the page, but his ability to always make the right play is what truly sets him apart.
X factor: For most of the game, Chris Bosh was simply solid, as he kept Miami in the game in the early going. When it came down to crunch time, though, Bosh shifted into another gear, becoming the perfect complement to the dominance of LeBron. A big 3-pointer and a big assist to Dwyane Wade from Bosh sealed the victory.
Defining moment: With 6:43 remaining in the fourth quarter, Mario Chalmers elbowed Tony Parker in the midsection, drawing a flagrant foul call. San Antonio missed four consecutive free throws on the possession, and neither Parker nor the Spurs looked the same the rest of the way. What was a two-point Spurs lead spiraled into a Miami victory.
3. Sunday's Best
James
LeBron James, Heat: The bounce-back King had 35 points and 10 rebounds in the 98-96 victory over the Spurs in Game 2 that evened the NBA Finals. He personally erased a 62-56 San Antonio lead by scoring eight points in less than a minute. Next stop: Miami.
4. Sunday's Worst
Spurs' untimely free throw slump: Tony Parker and Tim Duncan combined to miss four free throws and what could have been a 91-85 Spurs lead with 6:33 left. Instead, LeBron James sank a 3-pointer and the Heat had an 88-87 lead with 6:03 left.
7. Quote Of The Night
"Obviously, having No. 6 in the game at the end was a plus for us."
-- Dwyane Wade, whose Heat won Game 2 after being routed in Game 1 after LeBron James (No. 6) left with cramps.
8. The Essential Bosh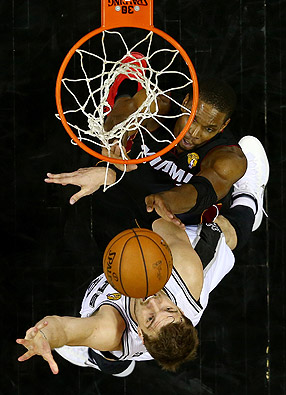 Andy Lyons/Getty ImagesChris Bosh made his mark on Game 2 with some big jams. He also made the go-ahead 3-pointer with 1:18 remaining for the Heat.
9. Stat Check
Duncan
The San Antonio Spurs made only 12 of 20 free throw attempts in losing Game 2 by two points on Sunday night. The most recent team to shoot 60 percent or poorer from the line in an NBA Finals game that it lost by two or fewer points? The Spurs, in Game 2 of the 2003 Finals against the New Jersey Nets, when Gregg Popovich's team made only 14 of 25 free throw attempts (56 percent) in an 87-85 loss. As was the case in this year's Finals, San Antonio's loss evened the series at one win apiece; in 2003, Popovich's squad eventually won the championship in six games.
The Spurs' most obvious failure from the line on Sunday night came when Tony Parker and Tim Duncan each missed two free throw attempts within a 10-second stretch of the fourth quarter, with San Antonio holding a two-point lead. The last team to miss four consecutive free-throw attempts in the fourth quarter (or overtime) of a Finals game, when the score was within 10 points? The Spurs, in that same game against the Nets in 2003, and the players who missed the free-throw attempts were none other than the Parker (one) and Duncan (three).