1. Kawhi Leonard Gives Spurs Leading Edge
MIAMI -- We got a projection of Kawhi Leonard becoming the future of the San Antonio Spurs by watching him calmly bury the past.
The Spurs have dredged up memories of the 2013 NBA Finals by choice and by force over the past year.
But at the moment, the most relevant topics pertain to Tuesday's 111-92 Game 3 victory, how the Spurs played, how the Miami Heat will respond. Every once in a while it's the start, not the finish to an NBA game that stands out, and in this case Leonard's 16 points in the midst of San Antonio's sizzling 85 percent shooting in the first quarter grabbed everyone's attention.
Leonard wound up outscoring LeBron James 29-22. It was a podium game performance in every sense -- except an actual trip to the podium. Leonard's still too shy to face a large room of reporters, so even though it was initially announced that he would go to the interview room, he wound up taking questions while still in uniform in the Spurs' locker room.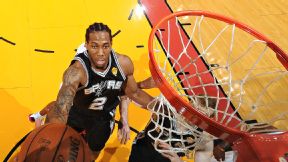 Andrew D Bernstein/NBAE/Getty ImagesKawhi Leonard dropped 29 points on the Heat, spurring San Antonio to a 2-1 series lead.
"I just was in attack mode," Leonard said of his scoring outburst. "Trying to be aggressive early. Just knocking down a couple of shots got me going. My teammates found me. They did a good job of getting me involved."
If the Spurs were going to complete their redemption for last year's NBA Finals, they had to perform a ritualistic cleansing here in American Airlines Arena, the scene of their biggest heartbreak. We don't hear Leonard's angst about his role in Game 6 of the 2013 NBA Finals, mostly because we rarely hear Leonard's views on anything. Last week a reporter showed him a picture of Spurs players dressed in Halloween costumes and asked Leonard to pick his favorite outfit. Leonard asked the reporter which one he liked best, then agreed with it. That's as close as I've heard Leonard come to sharing an opinion or emotion.
Leonard didn't even seem fazed in the immediate aftermath of that Game 6. He stood in the middle of the visiting locker room and stoically recounted the free throw he missed that allowed the Heat to stay within three points in the final minute -- in other words, within Ray Allen range. He said he felt fine shooting the first, he just missed. He noted that he wasn't too rattled to make the second one. And it should be noted he scored San Antonio's first four points in overtime.
What wasn't discussed that night was how a quicker reaction on his part could have prevented Allen's 3-pointer. Tony Parker had the right idea. Parker saw things unfold, from James' missed free throw to Chris Bosh's rebound. His basketball savvy anticipated what was about to happen and his speed allowed him to do something about it. Parker raced from the left 3-point arc to the right corner to contest Allen's shot.
Leonard began the sequence in the paint, much closer to Allen, but he was slower to respond. He was behind Parker, too far away for his long arms and huge hands to deter Allen's shot. Had Leonard had a few more years and a bit more wisdom could it have been him closing on Allen?
Game 6 has been so deeply woven between these two franchises. It's everywhere. Just a few agonizing seconds changed everything. As Bosh told Tom Haberstroh in this excellent profile: "Would we feel different about it, would we have a different hunger if Kawhi Leonard makes a free throw? If Manu boxes me out?"
They're hypothetical questions for Bosh. They're anguish-inducing reality for the Spurs.
Manu Ginobili's memory is so clouded by his calamitous play late in Game 6 that he disputed the notion that the Spurs played well in their games in Miami last year when it came up in a question.
"I don't think we played well in Game 6," Ginobili said. "I think we both [teams] played pretty bad."
Tim Duncan's 30 points in that game would beg to differ. So would Leonard's 22 points and 11 rebounds. Leonard was so good he managed to impress even amid his gaffes.
Watching him that night, it was easy to envision Leonard eventually leading the Spurs to the NBA Finals on his own, after Duncan and Parker and Ginobili are gone. We keep hearing about how he's the future of the franchise ... then he keeps postponing the arrival date. He scored only nine points in each of the first two 2014 Finals games, and fouled out of Game 2.
The Spurs think Leonard's still learning, still figuring out when to assert himself among a team full of veterans, still grasping how to cope with foul trouble. Spurs coach Gregg Popovich decided it was time to accelerate the learning curve this week. He had a chat with Leonard, but said that was "family business."
Popovich did give an indication of what he told Leonard he wanted from him: "He's got to be one of our better players on the court or we're not good enough. That's just the way it is. He's got that kind of talent where -- you know, it's the NBA Finals. You can't just be mediocre out there if you want to win a game, and everybody's got to play well, and he did that."
"He just wanted me to play the game and go out there and be aggressive," Leonard said. "Don't think so much."
Leonard took the ball to the hoop. He drained 3-pointers. In the second half, one of his least productive possessions might have been his most impressive. He got the ball with James guarding him, late in the shot clock. He dribbled to the middle, turned his back to the basket, made a windshield-wiper back-and-forth move like Dwyane Wade, then leaned into James before launching a fallaway jumper that drew a foul. He made only one of the free throws, but it was still a point manufactured out of nothing, the type of task best left to superstars.
Of course, superstars do it again and again, a matter of routine not surprise. Superstars have to go to the podium, win or lose (James was reluctant, but the NBA dragged him in; that was considered a bigger priority than convincing Leonard). Leonard escaped the podium, but he couldn't dodge one last question about 2013. Here's how he replied:
"That's why we're here again," he said. "We knew we threw away the game. And we're back at it. We're not really thinking about last year like that. It's a new year and we're trying to get this series."
Dimes past: May 19 | 20 | 21 | 24 | 25 | 26| 27| 28 | 29 | 30 | 31 | June 5 | June 8
ESPN Senior Writer
ESPN.com senior writer since 2007
Around The Horn panelist
Formerly at Los Angeles Times
2. Around The Association
| | | | | |
| --- | --- | --- | --- | --- |
| San Antonio Spurs | 111 | FINAL | 92 | Miami Heat |
---
MVP: Those asking for more out of Kawhi Leonard had their wishes answered in Game 3. Leonard was everywhere and dominated both ends of the court. His career-high 29 points will get the lion's share of the attention, but don't overlook his phenomenal defense on LeBron James specifically and the Heat in general.
X factor: Though the Spurs weren't yet desperate, coach Gregg Popovich made the bold decision before Game 3 to start Boris Diaw in place of Tiago Splitter. The added space made all the difference for San Antonio and was a big part of the Spurs' incredible first quarter.
That was ... out of reach. The Heat did everything they could to chip away at San Antonio's lead, closing to within seven points in the third quarter. Yet even when Miami made this a game, it felt as if the Spurs would eventually crush the resistance. In the end, they did just that.
3. Tuesday's Best
Leonard
Kawhi Leonard, Spurs: Goes for career-high 29 points on 10-for-13 shooting, all the while leading the charge on the defensive end. Leonard had fouled out of Game 2 and had yet to hit double digits in the first two Finals games.
4. Tuesday's Worst
Chalmers
Mario Chalmers, Heat: Still waiting for that Finals performance where 'Rio totally redeems himself. His slump slunk forward, going 0-for-5 from the field in 22 minutes. "Mario is a big piece of what we do, and we're missing that piece right now," said Dwyane Wade.
6. Tweet Of The Night
Coach Popovich made a great coaching decision starting Boris Diaw, who plays like a "Point Forward".

— Earvin Magic Johnson (@MagicJohnson) June 11, 2014
7. Quote Of The Night
"I don't think we'll ever shoot 76 percent in a half ever again."
-- Spurs coach Gregg Popovich said, after his team made 19 of its first 21 shots and finished 25-of-33 in the first half.
8. Routing Number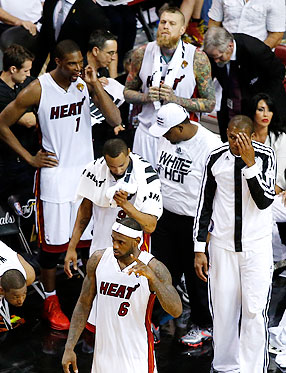 Robert Mayer/USA TODAY SportsThe Heat were left to pick up the pieces after the Spurs finished 25-of-33 from the field in the first half, bettering the 75 percent shooting by Orlando against the Lakers in the 2009 finals.
9. Stat Check
The only players to score more points in a NBA Finals game than Kawhi Leonard's 29 at the age of 22 or younger are Kobe Bryant, Magic Johnson, Alvan Adams, and Tommy Heinsohn.