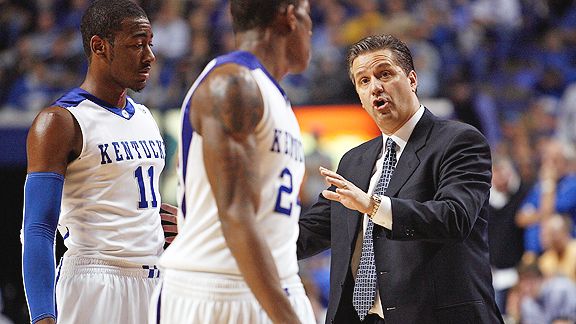 Andy Lyons/Getty Images Could hiring Coach Calipari away from Kentucky really impact the free-agent chase of 2010? Read on.
Marc Stein
ESPN.com
The first hint actually surfaced some two years ago, back when the New York Knicks won a head-on battle with the Chicago Bulls to nab Mike D'Antoni as their new coach.
That was the initial sign that coaching hires, perhaps more than they ever have, would factor into free agency once we got to the long-awaited Summer of 2010 bonanza.
D'Antoni's ability to connect with Team USA stars as a national-team assistant made him more than a mere coach to then-new Knicks president Donnie Walsh. Hooking up with D'Antoni meant Walsh would be partnered with a top recruiter, too, for the Knicks' 2010 crusade to sign LeBron James.
Similar thinking is being referenced on a daily basis now, with the Summer of 2010 just 70 days away and a few of the Knicks' rival big-bidders -- such as Miami, Chicago and New Jersey -- looking for their next coach at the same time.
The latest in ESPN.com's series of Free Agency Dimes looks at five teams whose coaching decisions are most closely married to their free-agent interests, starting with the Bulls:
---

With apologies to Miami and New Jersey, no team has more potential to make the coach/free-agent dynamic more interesting than Chicago.
That became apparent when the University of Kentucky let the world know how seriously it views the threat of losing John Calipari to the Bulls. UK announced that it had immediately opened negotiations to sweeten Calipari's contract almost as soon as word spread that Chicago had ousted Vinny Del Negro.
Calipari's Kentucky bosses clearly give credence to the theory that his history with Derrick Rose at Memphis, friendship with LeBron James and shared status with James as a Creative Artists Agency client gives the Bulls legit hope of stealing LeBron away from Cleveland as long as they hire Coach Cal.
Chances are, furthermore, that Calipari won't be the only big name linked to the Bulls in a search that's just starting. As a big-market team with a championship pedigree, as well as considerable salary-cap room this summer and the irresistible little-and-big tandem of Rose and Joakim Noah already in place, Chicago is going to appeal to top-shelf players and coaches everywhere. One marquee addition -- such as Dwyane Wade or Chris Bosh or even LeBron for Bulls fans who dare to dream -- is seemingly enough to pitch this team straight into title contention.
Yet there is also the very real (and equally newsworthy) possibility that none of the above materializes, which would be fascinating unless you're a Bulls fan.
Recent history reminds us that there are no givens when it comes to the post-Jordan Bulls, no matter how rosy things appear. Under team chairman Jerry Reinsdorf's rule, Chicago has been branded as a team that doesn't want to pay top dollar for coaches, most recently during its failed pursuit of Mike D'Antoni in the spring of 2008. The Bulls will also have to convince prospective free-agent targets that the front office's shabby treatment of Del Negro isn't the overt proof to support long-held claims that this management team, headed by the detached Reinsdorf and the volatile John Paxson, is too dysfunctional to return to title contention.
Just like Dwane Casey, whose coaching stock actually went up when Minnesota fired him with a record of 20-20 halfway through the 2006-07 season, Del Negro has mostly generated sympathy since his dismissal because of the way his bosses handled Del Negro's brief two-season tenure.
The safest assumption now is that the Bulls are apt to move slowly in the hunt for Del Negro's replacement, since Reinsdorf always prefers a deliberate approach and because they've got the longest list of prospective candidates to sift through while weighing which tier of candidates to choose from.
Lawrence Frank, Mo Cheeks, Kevin McHale, Byron Scott, Avery Johnson and Casey are among the coaching vets who have already been linked with the job … after Phil Jackson took the unexpected step of ruling out a Windy City return by declaring before a recent playoff game that Lakerland is the only place he can see himself coaching at this stage of his life.
Free Agency Dimes past: LeBron James | Dwyane Wade | Chris Bosh | Playoffs

With the possible exception of the Knicks, who went so hard after Mike D'Antoni in the spring of 2008 partly because they believed he could recruit some of the players in the Team USA program who have grown so fond of him, no team has factored coaching into its free-agent thinking as much as Miami.
We know that because Pat Riley admitted as much earlier this week in an end-of-season sit-down with the local media.
Back in early April, when we examined the prospect of coaching changes for more than half of the league's teams, one scenario introduced was the possibility that a marquee free agent -- or Dwyane Wade himself -- could ask Riley to return to the bench.
At the time, though, even league insiders who were acknowledging that talk of such a scenario had begun to circulate questioned whether Riley, at 65, could legitimately bring himself to come back to coaching one last time.
Those same insiders are asking different questions now. As in: How soon does Riley take over? September? August? July, even?
It's not quite that inevitable. Wade or a free-agent target such as Amare Stoudemire or Chris Bosh has to make the request first ... and there are plenty of mixed signals out there about whether Wade wants that sort of reunion or prefers working with Riley from a distance.
The inescapable reality, though, is that Riley absolutely has to go back downstairs if one (or more) of those guys asks him, no matter how much grief he'll get for doing to young Erik Spoelstra what he did to Stan Van Gundy.
Spoelstra, 39, couldn't have done more with the Heat than what he achieved over the past two seasons, posting a record of 90-74 and getting to the playoffs twice with a crew that had Wade and little else because the franchise has been saving all its roster flexibility for this summer. But the fact remains that he never would have become the league's youngest coach without Riley's backing. So he'd be forced to accept his cold-blooded fate if the possibility Riley acknowledged Monday does materialize, because the franchise has no choice but to adopt an at-all-costs mentality when it comes to capitalizing on salary-cap space no one else in the league can match.
"Don't say I won't ever do it or I can't do it," Riley offered. "If some free agent were to say, 'I will come here but you must do this' ... well, hell, if that happens that day, I might have to give it some thought.''
Unlike last time with Van Gundy, when Riley still hadn't won a championship since 1988 and was seen to be jumping on an opportunity to finally end that painful drought, coming back now wouldn't be about Riley's wanting to make sure that Miami's 15-67 record in 2007-08 wasn't his last in the coaching profession. This return would be because the Heat simply can't afford to miss in July, at a time when no other team on the NBA map has the cap room to target a top-tier free agent and another above midlevel range of $6 million annually in addition to bringing Wade back.
It's hard to imagine the Heat could miss with what is regarded leaguewide as the best cap situation for the summer of 2010, but Riley's stance could turn out to be a powerful bonus plan.
Marc Stein
ESPN.com

The Nets have been ultra-patient since acknowledging that interim coach Kiki Vandeweghe won't be back on the bench next season -- so patient that team president Rod Thorn, unlike his counterparts with openings in Philadelphia and New Orleans, has yet to schedule a single interview.
Yet sources with knowledge of the Nets' thinking insist the wait, in this case, isn't really aimed at keeping their coaching seat open as part of some grand free-agent plan. Thorn has clearance from incoming owner Mikhail Prokhorov to start the process, but sources say he's holding off partly out of courtesy until the Russian billionaire is formally approved as New Jersey's new boss, which is finally expected before the May 18 lottery.
He's also presumably holding off because New Jersey doesn't need to rush. Let's face it: Prokhorov's riches and determination to make a big splash -- with his first coaching hire as well as in free agency -- virtually guarantee that the Nets will be choosing from a different field of candidates than the other four teams (Sixers, Hornets, Clippers and Bulls) that currently have openings, no matter how long they wait. Although Mike Krzyzewski has insisted that not even an offer of $12 million to $15 million annually will tempt him to leave Duke, you'll note that New Jersey is the only team out there believed to have a shot at convincing ESPN's Jeff Van Gundy to leave the comforts of television.
The impression Prokhorov left during his recent "60 Minutes" appearance -- international playboy with bottomless pockets -- is sufficiently powerful to put the Nets high on the list of any free agent, no matter who is coaching and even if the Nets have to spend a couple seasons in Newark waiting for the long-proposed move to Brooklyn. The fact remains that free agents have always chased money and (championship) opportunity above all else.
The promise of what Prokhorov can spend in his first Jersey summer and then keep spending -- along with the strong possibility of landing Kentucky's John Wall with the top pick in the draft -- has quickly made folks forget that the Nets just lost 70 games.

In our research on this topic -- Which coaches might be heavily in demand or made vulnerable to free-agent demands? -- only one rival team executive threw out Mike Brown's name.
But that exec makes a worthy point, given the stories in circulation this week about John Calipari's desire to not only return to the NBA someday but also to coach LeBron James someday … and Cleveland's unexpected struggles in its second-round series with Boston.
The exec asked: "What if Cleveland doesn't win this series? If LeBron is a Calipari fan, why wouldn't Cleveland go after him?"
Indeed. Why wouldn't the Cavs try to enhance their odds of keeping LeBron by hiring Calipari if it's ultimately proven that the Bulls really can improve their own hopes of signing LeBron by hiring Coach Cal?
Rest assured that those questions will be asked loudly if the Cavs, no matter what's going on with LeBron's elbow, fail to get past the Celtics in Round 2.
It's actually an option the Cavs have already explored, as Sam Amick of FanHouse.com reminded us this week, referencing past reportage from ESPN.com correspondent Brian Windhorst of the Cleveland Plain Dealer regarding the Cavs' informal talks with Calipari in 2005. One loose idea back then had Calipari -- who shares William "Worldwide Wes" Wesley as a close confidant with LeBron -- coming in as Cavs coach when they flirted with hiring Larry Brown as team president.
6.

Coach Approach: Clippers

The Clips were this season's original poster team for the suggestion that a club would actually keep its coaching job vacant until July to make an unprecedented invite to a free agent -- Pick your coach, LeBron -- part of its pitch.
Such talk, though, has faded in recent weeks, largely because of the rampant skepticism that the Clippers have any shot at a top-tier free agent. Reason being: No one rational thinks LeBron or anyone else in the top tier is going to commit his future to the whims of Clippers owner Donald Sterling, despite the considerable cap room Sterling can offer along with the presence of a quality supporting cast: Chris Kaman, Eric Gordon, Blake Griffin and Baron Davis.
The current prevailing wisdom in NBA coaching circles is that the Clippers' search is proceeding slowly because Sterling is insisting on taking an active role in the process alongside longtime team president Andy Roeser and new general manager Neil Olshey -- which almost guarantees a slow pace and considerable mystery.
That should also explain why the Clippers have been linked with high-profile vets such as Larry Brown and Byron Scott and another showy name from TV land (Clippers alumnus/ESPN analyst Mark Jackson) in addition to veteran assistants such as Dallas' Dwane Casey. Sterling has always coveted big names that he thinks will resonate in a Lakers town and excite his beaten-down fans, but as one source close to the situation said: "That's until he sees the price tag."
Among the few additional dribbles of speculation that this opening has generated to date are rumbles that popular assistant coach John Lucas (whose relationship with James stretches back to LeBron's high school days in Akron when Lucas was still coaching the Cavs) and former interim coach Kim Hughes (who was fired shortly after the season but then told to keep his office through the end of his contract on June 30 to help with the draft and player development) will get consideration for Mike Dunleavy's old job.
As for Brown, two sources insisted this week that the likelihood of Sterling's coach for a season and a half in the early 1990s to stay with the Bobcats is rising sharply, despite all the talk in circulation about Brown and Michael Jordan wanting to part ways.
The Sixers and Clippers, for starters, don't appear nearly as excited about the prospect of a Larry reunion as once believed. Another factor: Brown is said to have little interest in a return to Philadelphia unless he gets front-office control as well, which is something Philly is clearly reluctant to give him.
Jordan, meanwhile, knows that keeping Brown -- no matter how intrusive he is on personnel matters -- is Charlotte's best chance to stay in the East's top eight, as suggested here in April. The Bobcats' roster, remember, was assembled for Brown specifically to coach, with little-to-no payroll flexibility for easy roster tweaks in the offseason.

Riley
"I'll do whatever is in the best interest of building the team here. Period. Whatever it takes, OK? I'll let you fill in the blanks. ...
"If some free agent were to say 'I will come here but you must do this,' well, hell, if that happens that day, then I might have to give it some thought."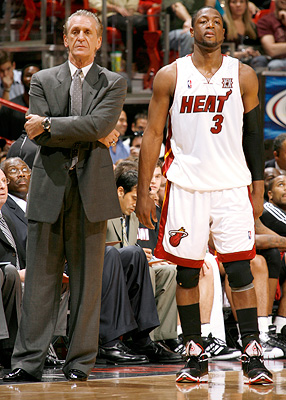 (Issac Baldizon/NBAE/Getty Images)
Will the prospect of playing for Pat Riley and teaming up with Dwyane Wade tempt a top free agent to come to South Beach this summer?