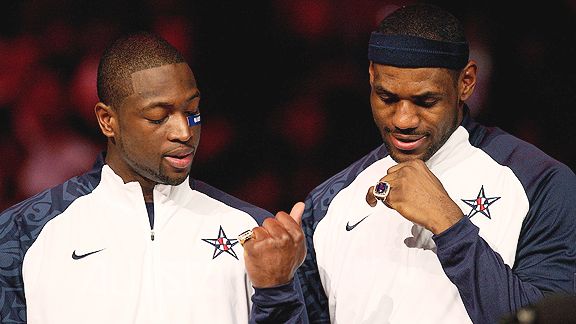 Getty Images LeBron won a gold medal alongside D-Wade. Is his best chance at an NBA title ring with him, too?
1. Top 10 LeBron Combos
By Kevin Arnovitz
ESPN.com
Dwyane Wade made headlines last week when he suggested that several of this summer's marquee free agents would convene (at Apalachin? in the conference room at CAA?) to discuss how the signing season should play out. In addition to LeBron James -- the obvious guest of honor -- Joe Johnson and Chris Bosh have supposedly been extended invitations as well.
The idea to have a confab (who wouldn't want to be a fly on the wall for that event?) speaks to questions about James' future that became much more salient when the Cleveland Cavaliers sputtered in the Eastern Conference semifinals. In many ways, the Cavs' failures changed the conversation from a discussion of where James might go to the more important variable of with whom he should go.
The Cavs' meltdown proved that even a transcendent talent like James needs some help. And if we've learned anything from the Lakers' ascension since Pau Gasol's arrival in Los Angeles, it's that help means more than just "a supporting cast." Just as Kobe Bryant needed a multifaceted partner with Gasol's breadth of skills, James requires a complementary force greater than Antawn Jamison or Mo Williams.
There are plenty of big names to play alongside James wherever he lands this summer. The reigning MVP is the game's most versatile player, and each potential match would accentuate some of his strengths while possibly minimizing others. At the same time, James' dominance would have a major impact on whomever he's playing beside. Both LeBron and his sidekick would have to sacrifice offensive possessions and potential glory.
John Hollinger has performed a comprehensive examination of potential pairings with LeBron at ESPN Insider. Here's a further look at 10 possible player combinations for James, ranked in order of how potent they would be.
In addition to examining the specific floor dynamics between James and his partner, we're looking at a three-year term, something to consider when we look at older guys (Dirk Nowitzki, Kobe Bryant) and younger ones (Blake Griffin, Derrick Rose):
1. LeBron James-Chris Bosh
Much of the hand-wringing in Cleveland over recent seasons has concerned who should play power forward. Is James best suited to play alongside a traditional post player who will draw defenses in and free up James to initiate on the perimeter, or does he need the fashionable "stretch 4" to spread the floor?
The correct answer: Yes.
Bosh is the rare breed of power forward who embodies the inside-out versatility a James-led team should deploy. Lift Bosh to 18 feet, where he can drill face-up jumpers, and James can storm the rim. Feed Bosh inside, and he can drive one-on-one, kick to James out of the double team or step back and tickle the twine. Don't feed him at all, and Bosh is selfless enough to defer, an attribute whose importance can't be overstated when sizing up playmates for James.
2. LeBron James-Joe Johnson
There isn't a more deadly perimeter shooter on the free-agent market. Johnson took a pounding for the Hawks' crash landing in the conference semifinals, but he was more of a symptom than a cause of Atlanta's troubles.
Johnson shouldn't be the focal point of an isolation attack. Playing the 2 alongside James, he wouldn't have to be. Under Mike D'Antoni, Johnson was an active pick-and-roll player, a smart passer and, most important, a weak side menace. Situate Johnson on the opposing wing, and defenses will have limited options when James penetrates or posts up (a part of James' game he'd want to refine to best maximize Johnson).
Johnson's handle would give a James team a third virtual point guard, something that will prevent the standing around that has plagued the Cavs from time to time. Finally, Johnson's low-key persona would seem to be a sensible fit alongside the King.
3. LeBron James-Dirk Nowitzki
Any companion to James will naturally see his usage fall, and Nowitzki -- who will be 32 on opening night 2010-11 -- could benefit from the effect as he ages.
Imagine this sequence: LeBron James rebounds a long miss on the defensive glass, then races the ball up-court with the defense quickly backpedaling. As the transition defense converges on the ball, the best trailing big man in a generation spots up at the arc, where James delivers him the pass for a wide-open 3-pointer.
In the half-court, Nowitzki would be an ideal collaborator with James on a 3-4 pick-and-roll. And though they wouldn't be able to get away with it for 48 minutes a night, a LeBron-Dirk small-ball unit would be exhilarating, as the Mavs have had some of their best success in recent seasons when Nowitzki was holding down the 5.
4. LeBron James-Dwyane Wade
A James-Wade combination is fraught with all kinds of peril. Both players are aggressive alpha dogs who dominate the ball. Given Wade's limitations as a jump shooter, James might actually be the guy who has to sublimate some of his instincts. Want to be the coach who asks him?
Still, despite whatever issues might surface, there are plenty of reasons for these two supernovas to team up. The most persuasive might be on the defensive end, where a wing tandem of James and Wade would grind perimeter attacks to a screeching halt.
The offensive benefits are obvious and were on full display with Team USA. International opponents had their heads on swivels trying to account for both sides of the floor. With the ball in Wade's hands, James would not only tease help defenders, but also use his size and strength to crash the offensive glass off Wade's misses. With the ball in James' hands, Wade would buzz around the floor off curls where James would hit him on the move to the basket.
Count the baskets ... and the fouls drawn.
5. LeBron James-Blake Griffin
Looking for a big man with a high ceiling to pair with James? As difficult as it might be to project Griffin's trajectory, James should give the redshirt rookie a long look. Griffin is a young, super-athletic, hyper-competitive forward who would develop his game around James' talent. And as a guy often tagged as "a coach on the floor," James would unquestionably be the senior partner of the tandem.
Here's what we know about Griffin: He has the explosiveness and hands to be the most devastating roll man since Amare Stoudemire. But unlike Stoudemire, Griffin has a voracious appetite for the glass and had already emerged as the Clippers' traffic cop on defense before he went down with a knee injury.
Once Griffin refines his jumper (already in progress), the James-Griffin pick-and-roll could emerge as the most unstoppable force in basketball. Most important, Griffin's speed, size and athleticism would finally give James a true "running 4" -- but one who could body up in the half-court on both ends when the tempo necessitated.
Wildcard: LeBron James-Kobe Bryant

Bryant's not a free agent and there's no indication that LeBron's a Laker-to-be, but let's imagine for a moment that the wildest speculation comes true.
Picture this: A corner set in the confines of the triangle offense with James as the trigger man on the wing, Gasol situated at the pinch post in front of James, and Bryant to James' left in the corner. Now draw up something to defend that.
Could a James-Bryant combination work? In theory, yes. The schematics present few problems, particularly in a system that could utilize the collective skill set of Kobe and LeBron as well as the triangle.
The overriding question for both James and Bryant: How much would each superstar be willing to defer? Would each tolerate playing off the ball in crucial game situations? If so, the results would be fascinating, because the talents of James and Bryant are more complementary than we realize. If not, the dramatic tension would offer stellar entertainment value.
6. LeBron James-Carlos Boozer
LeBron's former teammate Boozer is generally regarded as a consolation prize for the teams that miss out on Bosh and Stoudemire, but whoever lands James shouldn't overlook Boozer's assets in the post. Boozer is a master practitioner of the pick-and-roll, something he's demonstrated with Deron Williams in Utah. Boozer knows how to apply a screen and has sticky mitts that can handle bullet passes, a soft finishing touch, a strong passing game out of the double team and rebounding prowess.
Above all, Boozer is a heady player who -- even more than Bosh and Stoudemire -- understands how to work off the ball as an effective decoy for a ball-dominating scorer. Now if only Booz could more adequately defend.
7. LeBron James-Amare Stoudemire
Stoudemire-to-the-Cavs is the great counterfactual of the 2010 postseason. Watching James' teammates struggle to help him find good looks against Boston, it was hard not to imagine what a multi-dimensional offensive player like Stoudemire might have opened up for James.
Steve Nash and LeBron James might not be natural analogues, but playing alongside Stoudemire would render James as a transition point forward running the types of devastating early sets we witness with the Suns. Then again, Stoudemire seems to need a big, hulking 5 to do the dirty work on the defensive end and the boards, something that would hamper James' ability to ignite a faster-paced game.
8. LeBron James-David Lee
Break out pick-and-roll stats and Lee's numbers jump off the page. No big man rolled more proficiently and more frequently in 2009-10 than Lee did.
What makes Lee so efficient? Unlike Stoudemire, who moves with brute force off the action, Lee is a master of finding pockets of space off the screen where he can launch a quick shot with either paw -- the closer to the rim, the better. Lee can get out in transition and also saw his shooting accuracy leap this past season from midrange.
But he doesn't compromise defenses with his back to the basket, which limits the range of half-court sets you can run in an offense where Lee anchors the front line. And as much temptation as there would be to play James at the 4 with Lee at the 5 -- particularly under D'Antoni -- Lee's inability to defend the post or challenge shots would demand another big body in the mix.
9. LeBron James-Derrick Rose
Speed has been, far and away, James' most underutilized asset in Cleveland, and there isn't a better player on James' list of potential running mates to leverage that attribute than the Bulls' point guard -- a James-Rose team would zip up and down the floor.
But could they be more than an NBA variation AAU squad? Because James is such a capable passer, the ideal point guard on his squad should have the capacity to seamlessly trade roles with him in an instant. Right now, Rose needs the ball to be effective (though he isn't a great distributor) and doesn't perform the kind of off-the-ball tasks James' accomplice in the half-court rightfully should.
On the other hand, the 21-year-old Rose figures to improve virtually every piece of his game and, as they say on the diamond, you can't teach speed. His soft-spoken, camera shy nature would be another plus in the partnership.
10. LeBron James-Brook Lopez
Lopez has a bright future ahead of him as a traditional pivot man is a league with few of them. He will make a strong case to be on the Eastern Conference All-Star squad season in and season out. Among his strong suits are being a good screener and knowing how to get a clean shot in the basket area.
As James peruses the menu of big men, here's the pressing question: Should the second-best player on a James-led team be an orthodox center with limited range and athleticism, or should James cast his lot with someone who can stretch defenses, win every race to the rim and challenge defenses with a more varied skill set?
Free Agency Dimes past: Wade | Bosh | Playoffs | Coach Approach | LeBron | Lottery Effect
2. Finding The Perfect Mate
By John Hollinger
ESPN.com
LeBron James can hit free agency on July 1, and we've read a lot of tea leaves about which landing spots would work best for him. But it's time to turn the analysis on its head: Which players would benefit most from teaming up with LeBron?
For the purposes of brevity and sanity, I'm restricting the debate to star players who could plausibly team up with LeBron next season. Sure, Kobe Bryant would make a great teammate for King James, but I don't see that one as being terribly realistic.
Instead, let's look at what, statistically, might make a player a good fit with LeBron and then work backward to determine which ones possess the most positive attributes.
In order, here are the most important criteria:
1. He will not hog the ball. LeBron ranked second in the NBA last year with a 32.2 usage rate, which doesn't leave a ton of possessions for another ball-hungry player. The fact is, LeBron's teammates will be playing off the ball most of the time, and anyone doing his own thing is just taking the ball out of LeBron's hands.
Additionally, James' strength and stamina enable him to play 40 minutes 80 times per season, so there are relatively few opportunities for a ball-needy player to operate while LeBron is on the bench. This is one reason many question how a LeBron-Dwyane Wade partnership would work -- Wade led the league in usage rate last year.
2. He will space the floor. The ideal James teammate will play on the outside, not on the inside, because that creates maximum space for James to complete his freight train drives to the rim. The best complements are players who both take and make a large percentage of their shots from the perimeter. To rate this for our purposes, I used a player's shooting percentage on long 2-pointers this season, courtesy of NBA.com.
3. He will finish what he starts. A high-usage player is going to have trouble pairing with LeBron, but a high-efficiency player should thrive. We're looking for players with a high true shooting percentage -- a player's shooting percentage adjusted for 3-pointers and free throws -- since those players can take best advantage of the shot opportunities LeBron creates for them.
4. He will crash the boards. Wherever he goes, James is likely to lead the team in shot attempts ... and in misses. That's why an Anderson Varejao-type who crashes the boards can be so successful as one of his teammates. While few star players fit this profile, there are a couple who supplement their scoring with offensive boards, and they'd make better complements for James.
• Find out who rates the highest in Hollinger's "LeBron Rating"


Wade
"[Free agency] has been three years coming. We've discussed it prematurely, at different times. [But] you don't know what guys are thinking and where they're going. I think we'll all sit down, and before one of us makes a decision, all of us will have spoken to each other and [listened to the] thinking.
"A lot of decisions [will be based on] what other players are willing to do and what other guys want to do. So it's not just a 'me' situation here. We all have to look and see what each other is thinking."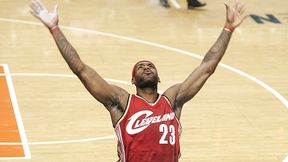 Getty Images
COUNTDOWN TO FREE AGENCY
Where will LeBron land? We're keeping tabs on the King. Here's the latest. LeBron Tracker »
6.

Fan To Knicks: Say No To LBJ
By Mark Simon
ESPNNewYork.com

I've followed the Knicks since Red Holzman's final season as coach, 1981-82, and became a big fan of the Hubie Brown and Rick Pitino teams of the 1980s. I reached an obsessive level in the early '90s, when my father and I had a mini-plan that netted us 20 games a year as well as tickets to every home playoff game in 1993 and 1994. Then came college and a slow, steady decline in my interest, with a brief uptick when the Knicks miraculously beat the Heat and Pacers en route to the 1999 NBA Finals. The hiring of Isiah Thomas to run the Knicks, and the repeated horrendous decisions by ownership, served as a near-death blow to my fanhood. The damage wasn't irreparable, but it was pretty close.
Now, by the miraculous managerial maneuverings of Walsh, the Knicks are in position to make moves that will be game-changers, and will impact the direction of the franchise for the next 10 years.
Yet I can't get excited about it. And that has to do with a crisis of conscience taking place inside my brain.
See, I don't want the Knicks to sign LeBron James.
How in the world can a Knicks fan say that? It's heresy, right?
Fit For King James?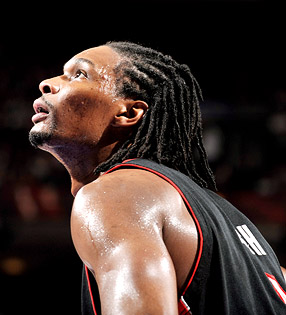 (Getty Images)
Would a low-post presence like Chris Bosh be the best running mate for LeBron? (See Box 1)

James
The Knicks are projected to have about $34 million in salary-cap space, which should allow them to sign two free agents at max dollars -- with the second star being Bosh, ideally, according to a source.
And if LeBron says no, the Knicks will make exactly the same case to Wade, according to the source.
Therefore, Plan A would be to pair James and Bosh, Plan B would be Wade and Bosh, and Plan C would be James and Wade.
Why is Bosh part of Plan A and Plan B? Wouldn't the Knicks rather have megastars LeBron and D-Wade?
While the Knicks greatly admire Wade and are very interested in him, the source said the Knicks believe that Bosh would be the ideal partner for James (or Wade), allowing New York to pair an elite playmaker with an elite big man with shooting range.
Said the source, "I'm sure LeBron and Wade would figure out a way to play together, but it's not an ideal fit. Bosh would be a perfect complement to both of those guys because of his ability to stretch the floor."
Of course, the Knicks realize that acquiring Bosh is no sure thing. But if he doesn't stay in Toronto, Bosh will want to work out a sign-and-trade with the Raptors and another team, with the Knicks a top candidate -- as I reported, New York is one of five teams on Bosh's wish list.
Even if Bosh does decide that New York is his top choice, that doesn't mean it will be easy for the Knicks to execute their plan. Knicks free agent David Lee would almost certainly have to be involved, meaning he would need to agree on contract terms and a move to Toronto.
• Read the rest of New York's game plan

8.

March Of The Clippers Fans
By Kevin Arnovitz
ESPN.com
Clippers fans want you to understand that their devotion to their team isn't an expression of irony, even if it might seem that way from the outside looking in. The emotional investment in the Clippers is serious even if the organization has done little over the years to earn it.
What do Clippers fans derive from that investment? The faith that things will get better next season. That hope carries particular meaning this summer because the Clippers are sitting on a mound of cap space as the most heralded class of free agents in NBA history hits the open market.
When Clipper fans say they want LeBron James in Los Angeles as a Clipper, they're entirely sincere. They'll recite the salient points of their argument with passion: A solid supporting cast for a superstar small forward, an impressive home arena and training facility, a city with an alluring lifestyle, a large stage where James can propel his status as a global icon.
If James likes storybook romance, there's an unprecedented opportunity to rebrand a sports franchise. Clippers fans are a fatalistic bunch. They realize the odds are stacked against them, but feel obliged to make the case.
• Read more about the march at TrueHoop, ESPN.com's NBA blog
9.

Complete 2010 Free-Agent List