5.

Coaching Carousel: Bulls

I've always viewed the theory with a healthy dose of skepticism, even before I was so advised by sources with knowledge of the Bulls' thinking.
Hiring Tom Thibodeau as coach puts the Bulls in prime position to sign LeBron James?
Just because both Thibodeau and James are either represented or advised by CAA's William Wesley?
Provocative (and convenient) theories. I'll go as far as conceding that hiring a fellow CAA client certainly won't hurt the Bulls in their LeBron pursuit.
But the Bulls know it's no guarantee. They didn't spin all the LeBron/John Calipari package-deal talk into the idea that substituting Thibodeau for Coach Cal would promise a similar outcome.
Wouldn't Thibodeau have held out for more than a three-year deal worth a reported $6.5 million, with only the first two seasons guaranteed, if his arrival clinched a package deal with LeBron?
It was inevitable that Chicago's seemingly sudden interest in Thibodeau, after New Orleans offered its coaching vacancy to Boston's defensive guru, sparked suggestions that the Bulls had free-agency motives for flying into L.A. on the eve of the NBA Finals to convince Thibodeau to turn the Hornets down.
But the Bulls -- still stinging from how they lost out to New York on Mike D'Antoni in May 2008 because they moved too slowly -- privately insist that it was merely the Hornets' offer and the prospect of missing out on a top target again that made them so frantic to intercept Thibodeau before a pre-Finals deadline New Orleans had imposed.
ESPN.com's Chad Ford reported earlier this week that the Bulls -- though they did research the matter to make sure LeBron wouldn't be turned off by Thibodeau's presence -- have no expectations of a quid pro quo arrangement with CAA's Wesley and James. Ford also reported that the Bulls "were willing to settle for a LeBron-neutral approach and that LeBron neither endorsed nor rejected Thibodeau."
So what kind of coach, with or without James, can the Bulls expect? Although Thibodeau has never been a head coach in the NBA, many of his peers already look at him that way, acknowledging his work ethic and experience on top of his well-chronicled impact on the Celtics' defense as Doc Rivers' associate head coach. He's also known for connecting well with players, as seen by the response he gets from Boston's veterans … as well as the admiration Kobe Bryant has for Thibodeau after years of having to deal with his schemes.
Given that team chairman Jerry Reinsdorf has been reluctant to pay top-tier coaching money since Phil Jackson's departure in 1998 -- which is another reason Chicago moved slowly when D'Antoni was available -- it would appear that the Bulls got the best available coach in their preferred price range.
It also looks as though Reinsdorf clearly believes that the presence of Derrick Rose and Joakim Noah as future teammates, along with the lure of a big market like Chicago and the Bulls' championship history, is more important to the Bulls' ability to impress prospective free agents than splashy coaching selections. We'll see.
6.

Coaching Carousel: Clippers

The long-suffering loyalists who willingly call Clipperland home were getting understandably frustrated by the slow (non-existent?) pace of the Clippers' coaching search … until something happened this week that turned frustration into full-blown exasperation and outright fury.
It emerged Tuesday, through Peter Vecsey's original report in the New York Post, that billionaire entertainment mogul David Geffen wants to buy 51 percent of the Clippers from Donald Sterling … with Geffen also reportedly promising that LeBron James will sign with the Clips in free agency if Sterling sells.
In other words? Forget the bench.
The mere fact that Geffen is interested -- whether or not LeBron could really be roped in -- would have been enough to whip Clippers diehards into a frenzy. They've longed for Sterling's exit for years, not unlike certain higher-ups in the league office who secretly harbor the same dream, but never imagined that someone with Geffen's connections and reputation would make a bid.
The problem, of course, is that Sterling won't budge from his decades-long vow to never sell anything, let alone the NBA franchise that ranks as the only asset in his portfolio that keeps him relevant. It doesn't bother Sterling at all that his customers are openly begging him to surrender a 51 percent stake to Geffen. Or that his relevance around town is Sterling's well-earned reputation as the league's most bumbling owner.
Sterling would indeed rather keep the Clippers and operate them as he always has rather than sell a controlling share. He apparently won't even consider keeping up to 49 percent along with his courtside seat, which would keep him involved and potentially re-brand him as a local hero … provided that the combination of a takeover by a major power broker in the entertainment business, L.A.'s significant salary-cap space, proximity to all things Hollywood and the Clips' promising roster could actually tempt James away from Cleveland.
A source close to the situation told ESPN.com this week that one proposed scenario has Geffen trying to convince Sterling to sell at least 49 percent of the Clips, as long as Geffen also receives first right to buy majority control when Sterling's ownership reign finally does end. A similar arrangement just played itself out in Washington, where Ted Leonsis completed his purchase of the Wizards from the estate of the late Abe Pollin, which is the transition Pollin essentially arranged back in 1999 when he sold the NHL's Washington Capitals and 44 percent of the Wizards to Leonsis.
But there has been no indication yet that Sterling is willing to part with even a fraction of his franchise.
As team president Andy Roeser told the Los Angeles Times this week: "Mr. Sterling has never expressed a desire to sell any part of his team. Because it is an asset of remarkable value, it's true that there have been countless inquiries over the years. But the Clippers have never been for sale."
They will, though, eventually have a coach. We promise. But for now we refer you to our pre-Finals update from the coaching carousel, since little has changed in the past week, with the Clips convinced they have no reason to rush.
Cleveland was the only other team in the league with openings as of Friday, but the Cavs were down to a final two: Tom Izzo and Byron Scott. L.A. has shown interest in Scott, but another of its potential targets -- Dallas Mavericks assistant Dwane Casey -- is still available after the Atlanta Hawks choose longtime assistant Larry Drew as Mike Woodson's successor.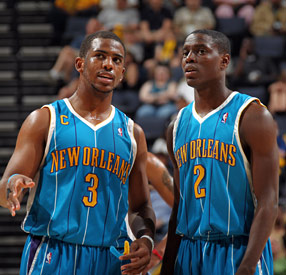 (Joe Murphy/NBAE/Getty Images)
Will the Hornets have to ship either Chris Paul or Darren Collison out of town? (See Box 4)
8.

Coaching Carousel: 76ers

The Sixers have had a new coach for 21 days. They filled their vacancy faster than anyone. That was the easy part.
Philly pulled off what Milwaukee, Chicago and Detroit have tried and failed in recent years by convincing Doug Collins to leave television for one more bench gig, which makes senses on multiple fronts. Collins (A) is a hugely popular Sixers alumnus whom local media types (and thus fans) have been clamoring for, and (B) has a history of getting more out of young players than most coaches and improving his team's win total dramatically in Year 1.
Examples? The Bulls won 10 games more in Collins' first season than they did in the previous season. The improvement rose to 18 wins in his respective first seasons with the Pistons and Wizards.
It's going to take more than Collins' arrival, though, to get the city excited about this team again. Even the combo of Collins and the No. 2 overall pick in the forthcoming draft probably can't do it.
The starless Sixers have sadly slumped to fourth in town in the relevance standings, with the Eagles forever locked into the top spot and the Phillies and Flyers either winning or contending for championships. Unless Evan Turner is an instant smash -- or unless Sixers general manager Ed Stefanski can pull off the (highly) improbable by shedding the contract of Elton Brand (or perhaps the more-movable Andre Iguodala instead) for some payroll flexibility -- Collins will be asked to revive Brand's career and/or nudge Iguodala to a level of consistency he's never maintained.
How easy do those requests sound?
9.

Complete 2010 Free-Agent List