4.

Prepare The 'Bulls Win!' Cut?
By Melissa Isaacson
ESPNChicago.com

Speculation on Thursday night was that the Bulls might get a second-round pick in return from the Wizards or, according to the same ESPN report, possibly Sacramento. But that hardly matters as moving Kirk Hinrich and his $9 million contract, and dumping their draft pick, would fatten the Bulls' free-agent budget from $20 million to $30 million, nearly enough to pay two max-salary free agents.
In Chicago, this news is met with unabashed glee because now we get LeBron James and Chris Bosh.
Seriously, anything less and you sense poor Bulls GM Gar Forman will have some significant explaining to do.
Too bad because it's a no-lose for the Bulls. And yes, that's even if, horrors, James stays in Cleveland or goes somewhere other than Chicago. Even if he takes Bosh with him.
After Bosh, and assuming Dwyane Wade stays put, Joe Johnson reportedly is frothing to come to the Bulls, so much so, according to the Tribune, that he would be willing to sign early. At off guard, Johnson would form a dream backcourt with Derrick Rose. Carlos Boozer would complete that picture nicely.
• For the full Isaacson story, click here.
5.

Bosh: Winning Priority
6.

Getting LeBron For A Song
By Mary Buckheit
Special to ESPN.com
In Ohio, Gov. Ted Strickland joined Sen. Sherrod Brown and other Buckeye State celebrities for the singing of "Please Stay LeBron," performed as a parody of the 1985 charity music video single, "We Are The World."
Since that ballad hit the intrawebs, a veritable anthology of anthems has poured out from home computers in every hopeful metropolis, all of them imploring LeBron to make the move to their ZIP code (i.e. Dayeezy's "LeBron To Chicago").
One evening, in his Dallas home, Ben Rogers wrote and recorded the "Bron Bron Song" on the Mac in his kitchen. The track now auto-plays on the website LeBronToTheMavs.com.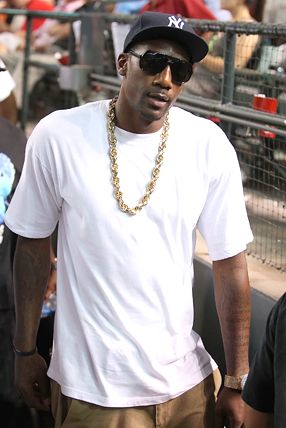 Christian Petersen/Getty Images
Free agent Amare Stoudemire sports a Yankees cap while watching New York play the Diamondbacks at Chase Field on June 22.
8.

Buyers' Guide: Rudy Gay
Tom Haberstroh
Special to ESPN Insider

Gay
The Memphis Grizzlies will try their best to keep Rudy Gay, but there will be a long line for his services, especially if LeBron James and Joe Johnson get snagged early.
One logical destination for Gay would be the Los Angeles Clippers, where he could join forces with Blake Griffin and Eric Gordon.
• For the full story, click here.
9.

Complete 2010 Free-Agent List