1. How many max players can each team afford?
By Larry Coon
Special to ESPN.com
We're in the midst of an arms race. Teams have spent as much as two years preparing for this week -- for example, Knicks president of basketball operations Donnie Walsh's first order of business upon taking the reins in 2008 was to circle Thursday, July 1, 2010 on his calendar. Every move he's made since then has been with an eye on this week.
With this year's banner crop of free agents about to hit the open market, teams are racing to get as lean as possible -- trying to shed any extra salary in order to wave a maximum offer at LeBron James, Dwyane Wade or Chris Bosh. Perhaps two of them. Dare they hope for all three?
The race picked up at the February trade deadline. The Knicks sacrificed Jordan Hill and future draft considerations for the chance to remove Jared Jeffries' expensive contract from their books. With a deal that extended through the 2010-11 season, Jeffries was a liability. The Clippers moved Al Thornton for Drew Gooden's ending contract. The Bulls did the same with John Salmons, acquiring the ending contracts of Hakim Warrick and Joe Alexander.
This month's draft saw a final flurry of activity before the free-agent gates open. The Heat gave away the 18th pick -- point guard Eric Bledsoe -- and Daequan Cook to the Thunder. The Bulls dumped Kirk Hinrich and first-round pick Kevin Seraphin for a future second-round pick from the Wizards.
These teams are now lean and mean, and ready to go shopping.
No fewer than eight teams are within striking distance of having the ability to offer a maximum free-agent contract. Four of them are imagining life with two new superstars in their fold. But some of these teams still have work to do if they want to see their plans come to fruition.
We'll adopt a new unit of measure for this review -- the MC. Just as "grand" is common parlance for $1,000, an MC refers to a specific dollar amount. In fact, a very specific amount -- $16,568,908. This is the maximum salary to which LeBron James, Chris Bosh or Dwyane Wade can be signed. One MC equals $16,568,908; two MCs equal $33,137,816. When we refer to a team having two MCs, it means it has enough cap room to sign two of the premier free agents to maximum salary contracts.
But this science is inexact -- for one, players have different maximum salaries. A player can sign for up to 105 percent of his previous salary, even if it's above the league-wide maximum. This is how the $16,568,908 value of the MC was derived -- James, Bosh and Wade each made $15,779,912 in 2009-10. But some players like Amare Stoudemire had higher salaries in 2009-10, so their 2010-11 maximum salary is also higher. Stoudemire's maximum salary is $17,197,241, so a franchise hoping to land the former Sun might need to clear extra cap room. Dirk Nowitzki and Paul Pierce have a maximum of $20,785,500; Yao Ming's is $17,197,241.
Teams in the hunt for two maximum free agents are helped a little bit by the cap holds associated with empty roster spots. If a team has fewer than 12 roster spots accounted for by a player, an unsigned first-round draft pick or free-agent Bird rights, then it incurs a cap hold equivalent to the rookie minimum salary -- $473,604 -- for each spot fewer than 12. If a team has two MCs -- $33,137,816 -- then it actually has slightly more than enough to sign two maximum free agents. One cap hold is released when the team signs its first free agent, freeing $473,604 from its cap and giving it a little extra spending power.
With all that said, here are the players in this summer's free-agent hunt.
New York Knicks
Maximum cap room: 2.06 MCs
What needs to happen to get to this amount? Renounce all free agents. The Knicks also have the ability to hang on to David Lee's Bird rights, which would leave them with about 1.5 MCs -- they can't sign two maximum free agents and keep Lee.
What can they do to get more? As expected, Eddy Curry invoked his contract option and his $11.3 million salary remains on the Knicks' books. There isn't much hope of getting to three MCs.
New Jersey Nets
Maximum cap room: 1.81 MCs
What needs to happen to get to this amount? Renounce all free agents.
What can they do to get more? The Nets cleared additional cap space on Tuesday by sending Yi Jianlian to the Wizards for Quinton Ross. But their hopes of entering free agency with two max contracts were thwarted when Kris Humphries opted-in for 2010-11. Mikhail Prokhorov's team has to explore the trade market again if they want to land two maximum free agents -- and potentially upstage the neighboring Knicks.
Chicago Bulls
Maximum cap room: 1.76 MCs
What needs to happen to get to this amount? The Bulls did most of the hard work in February and June. All that's left is to renounce their own free agents, such as Brad Miller.
What can they do to get more? Contrary to recent reports, the Bulls do not have enough cap room to sign two maximum free agents. To get to the elusive two-MC threshold the Bulls would have to clear another $3.5 million from their books. Their best -- albeit unlikely -- bet would be to try to find a taker for Luol Deng's enormous contract, hoping to slide LeBron James into his vacated spot.
Dumping James Johnson, Taj Gibson, Chris Richard and Rob Kurz would not generate the needed cap room -- the cap holds associated with the four vacated roster spots would consume much of the cap room that would be freed by their departure.
Miami Heat
Maximum cap room: 1.67 MCs (with Wade re-signed); 2.64 MCs (if Wade leaves)
What needs to happen to get to this amount?: This may be counterintuitive, but the Heat gain more cap room if Wade becomes a free agent than if he invokes the option in his contract to stay with the team through 2010-11. Wade needs to become a free agent. The Heat already have declined the team option on Kenny Hasbrouck. They also released James Jones, whose $4.65 million salary was guaranteed for just $1.86 million -- clearing an additional $2.79 million from the team's books.
What can they do to get more? There's not much left to trim from their roster. To keep Wade and go after both James and Bosh, they'd need to convince at least one of the free agents to take less. Even moving Michael Beasley and Mario Chalmers for nothing wouldn't create enough cap room to sign all three star free agents at the full maximum.
Los Angeles Clippers
Maximum cap room: 1.02 MCs
What needs to happen to get to this amount? The Clippers did most of their work at the February trade deadline, and have just enough cap room to sign one maximum free agent (but not a player with a higher maximum such as Amare Stoudemire). But will players come?
What can they do to get more? It's no secret that the Clippers aren't enamored with Baron Davis' contributions over the last two seasons, and would welcome a reasonable deal to unload his expensive contract. But even dumping Davis for nothing wouldn't be enough to get the Clippers to two MCs.
Sacramento Kings
Maximum cap room: 0.93 MCs
What needs to happen to get to this amount? Renounce all free agents.
What can they do to get more? The Kings lost their ability to sign a maximum free agent when they traded for Samuel Dalembert earlier this month. Another $1.21 million needs to come off the books to clear enough cap room. This could be accomplished by removing Omri Casspi's $1.25 million salary.
Milwaukee Bucks
Maximum cap room: 0.92 MCs
What needs to happen to get to this amount? Renounce all free agents.
What can they do to get more? To get to one MC the Bucks need to trim another $1.37 million from the payroll. Waiving Carlos Delfino -- signed for $3.5 million but guaranteed for just $500,000 -- would get the job done.
Boston Celtics
Maximum cap room: 0.61 MCs
What needs to happen to get to this amount? Paul Pierce has to follow through on opting out of his contract, and the Celtics need to renounce all free agents.
What can they do to get more? They'd have to clear another $6.5 million to get to one MC. If Rasheed Wallace follows through on retirement -- and forgoes his salary -- then the Celtics are less than $1 million away. They could get excruciatingly close -- only about $55,000 away -- by waiving the non-guaranteed contracts of Tony Gaffney and Oliver Lafayette.
Washington Wizards
Maximum cap room: 0.45 MCs
What needs to happen to get to this amount? Decline Josh Howard's team option, renounce all free agents.
What can they do to get more? By acquiring Kirk Hinrich and the rights to first-round pick Kevin Seraphin from the Bulls, the Wizards took themselves off the market for a maximum free agent. Trading Quinton Ross for Yi Jianlian further cemented their role as a team that will not be swinging for the fences this summer.
Larry Coon is the author of the NBA Salary Cap FAQ. Follow Larry at Twitter.
Free Agency Dimes past: Wade | Bosh | Playoffs | Coaches | LeBron | Lottery | Sidekicks
2. NBA Free-Agency Summit
3. Trio Talks Free-Agency Scenarios
By Chris Broussard and Marc Stein
ESPN.com

A modified version of the ballyhooed free-agent summit that was initially suggested and then downplayed by Dwyane Wade has indeed taken place, ESPN.com has learned.
Sources close to the situation said Monday night that three of the biggest names in basketball -- Wade, Chris Bosh and LeBron James -- met over the weekend in Miami to seriously discuss their futures, with a focus on the increasingly plausible possibility of those three teaming up with Wade's Heat.
Yet sources with knowledge of the meeting stressed to ESPN.com that James, while clearly intrigued by the possibility of forming a star-studded Miami trio with Wade and Bosh, has not yet committed to leaving his hometown Cleveland Cavaliers for South Beach.
One source did label Miami as the new front-runner to land James in a package deal with Bosh and a re-signed Wade but also cautioned that James was "noncommittal" with the start of free agency fast approaching.
4. Daily Dime Live Recap
ESPN.com writers and TrueHoop Network bloggers chatted with fans and gave their opinions about free agency -- all in Daily Dime Live.
5.

2010 Free-Agency Watch

James
LeBron James, Dwyane Wade and Chris Bosh headline what should be one of the greatest free-agent classes ever.
Though historically, most big free agents don't change teams, this year could be different.
LeBron's Cavs have, once again, come up short in the playoffs. Wade's Heat haven't gotten past the first round since they won the title in 2006. Bosh's Raptors failed to make the playoffs again this year.
If each player wants to get serious about a title, he might have to look elsewhere. Given the number of high-profile teams -- the Knicks, Heat, Bulls and the soon-to-be Brooklyn Nets -- with lots of money, things could get very interesting.
The plotlines are dramatic, and in many ways, intertwined. Can the Cavs hold on to their hometown star? Can the Knicks score a superstar or two in an effort to bring some honor back to the Garden? Can the Nets -- now led by a Russian billionaire -- remake the team into a premier destination in Brooklyn? Will friends like James, Wade and Bosh decide to hook up together to create a permanent NBA dream team?
Here's our latest take on who could be available July 1, plus a look at where they might land:
7.

Nets Trade Yi To Wizards

Yi
The New Jersey Nets traded Yi Jianlian to the Washington Wizards for Quinton Ross on Tuesday.
The Nets sent the Wizards $3 million to complete the deal, according to league sources.
The move allows the Nets to clear another $3 million in cap space to spend on free agency this summer.
Yi is scheduled to make $4.1 million next season. Ross is set to make $1.1 million. The Nets should now have roughly $30 million in cap space to spend after the move, according to sources.
They will have to clear even more cap space, however, to sign two free agents to league-maximum deals. LeBron James, Dwyane Wade and others are projected to earn $16.6 million in first-year salaries. So a team would need to be $33.14 million under the cap to sign two max-contract free agents. The Nets are close, but they aren't there yet.
The trade is the latest in a series of moves in which the Wizards are using potential salary-cap space to acquire assets instead of free agents. Last week, the Wizards agreed to acquire Kirk Hinrich from the Bulls for the draft rights to Kevin Seraphin.
Yi is expected to compete for a starting position with forward Andray Blatche, who broke his foot this summer and will be out of basketball-related activities for the next three months.
"I think we're concerned about our own situation, and this fits in with our plan of adding young players, players that can be part of a core going forward," Wizards president Ernie Grunfeld said. "We've got a player who's had success in the NBA and at the same time is only 22 years old."
8.

Dallas A Good Fit For King?
Just after midnight Eastern time (11:01 p.m. Central time) on Wednesday, the free-agent frenzy will begin officially, and starting Thursday, six teams reportedly will make their pitches to persuade LeBron James to sign with them.
So far, the Dallas Mavericks are not said to be on that list, in part because they don't have any cap space and would have to try to work out a sign-and-trade with LeBron and the Cleveland Cavaliers. But in any case, as ESPN NBA writer Marc Stein has reported, LeBron has respect for the Mavs and their owner, Mark Cuban. Therefore, the team might get a hearing.
In recent weeks, I've detailed how the New York Knicks, Chicago Bulls, New Jersey Nets, Miami Heat and Los Angeles Clippers will make their respective pitches to LeBron when July 1 arrives.
Now it's the Mavericks' turn, and the Mavs are unlike every other team we've profiled. They have not spent months or years getting rid of players for the chance at LeBron. They've been doing the exact opposite, actually. The Mavs spent the trade deadline improving their team, taking on money and trying to win a championship. The team fell short again this season, but because of its strong roster, Dallas does find itself uniquely prepared to make a pitch to LeBron.
Although the Mavs don't have cap space, that doesn't mean they haven't planned and strategized to get LeBron. In November, Marc Stein examined the possibility that the Mavs could get into the LeBron chase.
LeBron Tracker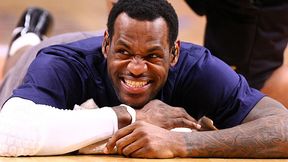 Getty Images
COUNTDOWN TO FREE AGENCY
Where will LeBron land? We're keeping tabs on the King. Here's the latest. LeBron Tracker »
9.

Handicapping LBJ's Free Agency
By Chad Millman
ESPN The Magazine

James
All this talk about LeBron James and where he will go is fascinating. At its core, do you know what the speculation is?
Handicapping.
From my ESPN The Magazine buddies Ric Bucher and Chris Broussard to the guy I see at my local swimming pool who can't stop talking to me about it, everyone is doing the same thing professional bettors do when they make their picks: reading everything possible, talking to experts and running scenarios. In other words, they're gathering information. They're handicapping.
The LeBron-watching world has been in a particular tizzy this week, thanks to that New York Times article that quoted a league exec saying King James to Chicago was a done deal. The market in the offshore sports books for where LeBron will go became so volatile, with different teams leading the way seemingly every minute, that popular bookmaker Bodog stopped taking bets on the sweepstakes completely.
Bodog bookmaker Richard Gardner e-mailed me a statement that read, in part, "It is not worth the risk as a book manager to throw something like this up. ... Calculating odds on something like this is like trying to run live odds on the 100[-meter] dash at the Olympic games and is definitely one of the toughest things I have had to deal with in my years in bookmaking."
Before any of this happened, I had been looking for ways to accurately predict LeBron's final destination. After all, if this is nothing more than handicapping, there should be a wise guy system for it, because no one is better at reading tea leaves than sharps. I decided to construct an algorithm using bettor's logic and math.
Now how do I do that?
Complete 2010 Free-Agent List

Chris Broussard says that a meeting definitely took place between LeBron James and other free agents, but everyone will deny it because of possible tampering charges. Broussard thinks James will make a quick decision and sign with Chicago.
• Listen: Broussard with Van Pelt