1. What To Watch For As Free Agency Begins
We asked our NBA experts to give us three things to watch for as free agency begins. Here are their answers:
Henry Abbott, TrueHoop:
LeBron James, Dwyane Wade and Chris Bosh.
The key thing is: Are they intent on playing together? If so, Miami is the favorite. On the other hand, if each just wants to maximize his own chances of winning a title, the threesome could split up, in which case the Chicago Bulls are the most likely destination for James. The other key is whether or not somebody will take Loul Deng's contract from the Bulls in a sign-and-trade for a superstar. If so, the Bulls become the heavyweights.
---
Kevin Arnovitz, TrueHoop:
1. Sign-and-trades take over the process after a few top names choose their destinations.
2. A slew of salary dumps as teams stretched for cash trade capable players with large deals to teams with cap room to absorb those contracts.
3. More teams at the bottom of the standings will exercise restraint, preferring to adopt the Oklahoma City model of developing young talent and preserving financial flexibility.
---
John Hollinger, ESPN.com:
1. Cap moves by teams that still need to clear space. Several teams are close to but not quite at the threshold where they could offer two (or in Miami's case, three) max free-agent contracts. One or two small trades can get them to that point. If they make one of those deals it's a good sign they've been tipped off that their player is coming. Either that, or like the Clippers with Kobe Bryant a few years ago, it's a sign they've been duped.
2. Teams without cap space working sign-and-trade possibilities. Dallas and Houston will be the two most active teams on this front, but Cleveland should be, too, and others (Toronto, Phoenix, Boston) could also get in on the game. Since players have an incentive to work sign-and-trades rather than sign a straight free-agent deal, the teams with cap space don't necessarily have the upper hand.
3. LeBron. Let's face it, he's still the first domino. It's unlikely anything else happens until he makes a decision.
---
Chad Ford, ESPN.com:
1. A long queue forming behind LeBron. I don't expect any team with serious cap room to make a major signing until LeBron indicates where he's going. If he's indecisive, the whole process and all of the top free agents in it are in limbo until he decides.
2. Lots of pairing up. With so many teams clearing space for two free agents, I think we'll see pairings in Chicago, New York, New Jersey and Miami. Given that there are roughly eight great free agents out there … that's going to take care of most of the marketplace.
3. The other shoe to drop. We've had some minor trades as teams try to get more room under the salary cap. I expect that we'll see a flurry of trades once the free-agent landscape is clearer. There are a lot of teams looking to improve, and a lot of teams with cap room who will be shut out of a top free agent. I think we could see an extraordinary amount of dealing after July 8.
---
Chris Sheridan, ESPN.com:
1. Does David Lee take the money and run? Lee is the Knicks' primary sign-and-trade asset, but if a team presents him with a take-it-or-leave-it offer on the first or second day of free agency, especially if it is worth behemothian bucks, he's probably going to have to take it, which will adversely impact the Knicks' chances of getting Chris Bosh.
2. When is LeBron James going to say something publicly? At a certain point, perhaps July 3 or 4, it will behoove everyone for him to state where he stands. Otherwise people will be making decisions off misinformation or disinformation. And if he truly wants to be a global icon, one who is revered, he can't leave the public uninformed for too long.
3. Where does the salary cap come in? Back in mid-April, NBA commissioner David Stern said it was projected to be at $56.1 million. But in July, the league said it could be as low as $50 million. If it comes in at $57-58 million, the players' union could have a stronger case if they charge the owners with collusion.
Free Agency Dimes past: Wade | Bosh | Playoffs | Coaches | LeBron | Lottery | Sidekicks
2. Latest On LeBron; Carmelo Trade?
3. Expert Roundtable: Who's Going Where?
How will it all go down? We asked our experts for their best guesses on where the top 10 free agents will land this summer.
Where will LeBron James sign?
Henry Abbott, TrueHoop: Chicago Bulls. Though if playing with Wade and Bosh trumps all, he'll end up in Miami. More likely than 50/50? No.
Kevin Arnovitz, TrueHoop: Chicago Bulls. They are the only team in the field that features youthful assets (Derrick Rose, Joakim Noah) and the cap space required to sign an additional max contract to play alongside James. More likely than 50/50? No.
Larry Coon, special to ESPN.com: Chicago Bulls. Big city, a team that's clearly his to lead, and a nucleus that can be competitive right away all add up to the biggest free-agency defection since Shaq in 1996 -- but nobody really knows the mind of LeBron. More likely than 50/50? No.
Chad Ford, ESPN.com: Chicago Bulls. They offer the best combination of a huge market and a chance to win now with a young supporting cast. More likely than 50/50? No.
John Hollinger, ESPN.com: Chicago Bulls. I see Chicago and Cleveland as slight favorites, but Miami, New York and New Jersey are very much in the game. More likely than 50-50? No, not even close.
Chris Sheridan, ESPN.com: New York Knicks. He has done some of his best flirting at Madison Square Garden. (I was a witness.) More likely than 50-50? No.
• Find out where our experts predict other top free agents will land here.
4. Daily Dime Live
ESPN.com writers and TrueHoop Network bloggers are chatting with fans, giving their opinions about free agency -- all in Daily Dime Live.
5.

Why LeBron Could Stay Put

Can the Cleveland Cavaliers keep LeBron James? It's the flip side of the hottest question in sports: Where will LeBron go?
In recent weeks, I've detailed how the New York Knicks, Chicago Bulls, New Jersey Nets, Miami Heat, Washington Wizards, Los Angeles Clippers and Dallas Mavericks will make their respective pitches to LeBron when July 1 arrives.
Today, June 30, it's Cleveland's turn to have its case heard.
It's not the option with the most sizzle, but the Cavs have a number of built-in advantages -- thanks to the collective bargaining agreement and LeBron's personal story -- that still make them the team to beat. LeBron has said the Cavs have "the edge" in keeping him, although he's been careful not to signal that his return is a sure thing. The Cavs will need to persuade LeBron to return.
Here's a look at the Cavs' pitch to LeBron:
• To read the full column, click here.
6.

NY, NJ To LBJ: See The Future
By Chris Sheridan
ESPN.com
Mikhail Prokhorov and Jay-Z get to go first, and they can personally deliver the news that workers started pouring concrete this week at the site of the New Jersey Nets' new arena in Brooklyn.
The New York Knicks' Jim Dolan and Mike D'Antoni get to go second, selling the notion of being the greatest superstar ever to call the Mecca of Basketball his home -- a home that has already been built and is undergoing a three-year renovation.
The pitches will come Thursday in or around the city of Akron, Ohio, and it remains to be seen whether there will be news helicopters hovering over the limousines as they make their way from the airport to the designated meeting site (that's what happened in San Antonio in 2003 -- a few days after LeBron James was drafted -- when Jason and Joumana Kidd came to town to be wooed by the team Jason had just lost to in the NBA Finals.)
The fact that the Nets are being allowed to speak to James first, on Thursday morning, would seem to be a gesture of respect from James toward his hip-hop mogul friend, Jay-Z, who retained his small ownership share in the New Jersey franchise when a majority stake in the team was sold this spring by Bruce Ratner to Prokhorov.
• To read the full column, click here
.
7.

Shaq Was In LeBron's Shoes

If there's one person who can provide some perspective on what LeBron James and his advisers are about to go through, it's Leonard Armato. Armato was Shaquille O'Neal's agent during the 1996 free-agent derby that resulted in O'Neal's leaving the Orlando Magic to sign a seven-year contract with the Los Angeles Lakers that was worth more than $120 million. It became the most momentous free-agent move in NBA history, as O'Neal went on to win three championships and one Most Valuable Player award during his stay in Los Angeles. I gave Armato a call on the eve of the most significant free-agent marketplace since that summer 14 years ago.
"First thing I would say is, it's not over until it's over," Armato said. "There's always tons of speculation about what's really happening.
"Usually when there's a decision of this magnitude, the free agent would always try to be logical and make a well-reasoned decision. They're going to say, 'I have an open mind.' It's what happens during that period when the mind is open.
"I'm sure LeBron hasn't 100 percent decided yet. It's going to be influenced by those meetings he decided to take."
• To read the full column, click here
.
8.

Free Agent Slot Machine

The ESPN Free Agent Slot Machine results are based on the likelihood of each potential scenario for each player and team, as provided by ESPN.com NBA experts.
• Click SPIN for another possible outcome
LeBron Tracker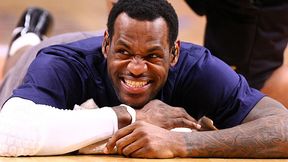 Getty Images
COUNTDOWN TO FREE AGENCY
Where will LeBron land? We're keeping tabs on the King. Here's the latest. LeBron Tracker »
Complete 2010 Free-Agent List
9.

What Knicks Bring To The Table

Although Donnie Walsh has long gone to great lengths to make clear that his 2010 strategy does not revolve around any one player, to Knicks fans there's nothing like the idea of getting LeBron James. On Thursday, they will get their opportunity to make that pitch.
When they do, they will have a lot of things to sell that are widely known: A very rich owner, perhaps the best local market in the world, and a coach who's famously fun to play for.
But there are three less-discussed elements to their pitch -- some that make the Knicks look good, and one less so.
• Read the full blog entry, click here