---
Jamison, Cavs Ready For Celtics
Last Hurrah For Big Three?
By Peter May
Special to ESPNBoston.com

When the Boston Celtics take the floor for Game 1 of their Eastern Conference semifinal matchup with the Cleveland Cavaliers, they will be doing so (A) as consensus underdogs for the first time in three years and (B) without home-court advantage for the first time in three years.
Which raises the question: Will this also be the last time we see the new Big Three together?
Regardless of what happens in the series, the times they are a-changin' in Celtic Nation. Ray Allen will become a free agent. Doc Rivers may decide he's had enough. Paul Pierce could become a free agent if he opts out of his current deal. Tony Allen, Nate Robinson and Marquis Daniels also will be free agents, along with Brian Scalabrine, Michael Finley and Shelden Williams. Daniels and Robinson were supposed to be key reserves, but Rivers clearly has lost faith in both of them, and their futures in Boston look dim.
The only players with firm commitments for 2010-11 are Kevin Garnett, Kendrick Perkins, Rajon Rondo, Glen Davis and, ahem, Rasheed Wallace.
Everyone's attention now is on what Rick Pitino used to call "the precious present," so talk of a potential diaspora is a bit premature. But it's going to happen. Regardless of what happens in this series, or in future series should the Celtics unexpectedly advance, there will be a new look at TD Garden next season. How new is the big unknown. The Cavaliers and LeBron James are prohibitive favorites not only to win Game 1 on Saturday (7½-point favorites) but also to flush the Celtics in the series. The 10 esteemed gents who make predictions for ESPN have all picked Cleveland to advance, with only two thinking the series will go the full seven games.
Schedule: Saturday, May 1
A King's Pain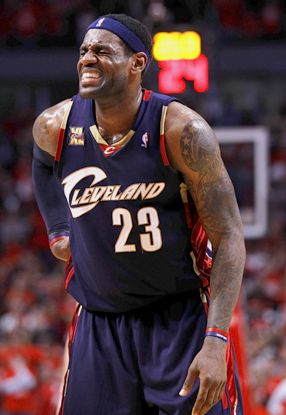 (Mike DiNovo-US PRESSWIRE)
Cavaliers forward LeBron James hopes to put any reason for grimacing behind him against the Celtics.
James Ready And Able
By Brian Windhorst
Special to ESPN.com

James
INDEPEDENCE, Ohio -- This summer, LeBron James will go into production on his first feature film, a buddy comedy set in Las Vegas. Even though he's playing himself, he may be brushing up on his acting a tad in preparation.
There's no doubt that James is hurting right now. He's got a bit of a cranky right elbow, and that is a rather important joint when it comes to scoring for a right-handed shooter. As for potential doomsday scenarios that are getting cooked up in the wake of his bizarre finish to Game 5 against the Chicago Bulls and Saturday's Game 1 against the rival Boston Celtics, well, that may be a bit scripted.
James played the part Thursday, making sure to do just light and mostly left-handed shooting in front of the numerous television cameras at Cavs practice. He didn't take part in all of the workout under doctor's orders after an exam Wednesday night diagnosed James with a strain and bone bruise in his elbow.
The team says he'll be ready to play Saturday.