---
Back In The Swing Of Things
By J.A. Adande
ESPN.com

Without any grandiose fanfare, the Lakers have arrived. They're back to their regularly scheduled programming, using the same method that made them the league's best team back in November. They are the only team with two 7-footers in the starting lineup and the only team with Kobe.
And Kobe is finally close to being Kobe Bryant again. He has scored at least 30 points in each of the past four games and is shooting 54 percent in that span. He's looking like the guy who was on track for the highest field goal percentage of his career until he broke a bone in his finger, until he sprained his ankle and until his knee started bothering him.
Bryant says he won't be back to 100 percent, but he can get to 90. The three days off between Games 2 and 3 did him a world of good, and if the Lakers finish off the Jazz on Monday night they won't start the conference finals until the weekend.
The Jazz will put up a fight -- "They're a trench team," Lakers coach Phil Jackson said -- but even with Andrei Kirilenko back in Game 3, they just don't have enough to beat the Lakers.
Sweep Dreams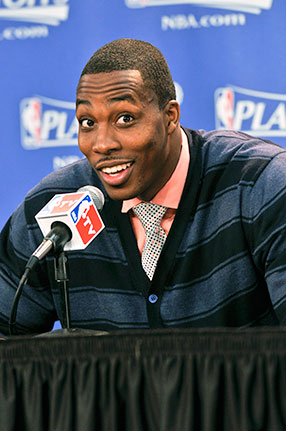 (Getty Images)
Dwight Howard and the Magic go for their second sweep of the playoffs in Atlanta on Monday.
Average Joe

Johnson
ESPN.com experts explain why Joe Johnson is the playoffs' most disappointing player:
J.A. Adande: "The postseason is when players are made in this league. … The best players step up."
Who said that? Joe Johnson, before the playoffs started. Who hasn't stepped up? Joe Johnson, the further the playoffs have gone. So far he's shooting 29 percent and averaging 12.3 points per game in the second round.
He was supposed to be a non-LeBron Plan B in free agency this summer. After this performance, why would anyone plan to spend big money on him?
Chris Sheridan: He hasn't looked like anything approaching a max player, which is what Johnson has been described as heading into this summer's free-agent market. And he disrespected Hawks fans by saying he didn't much care what they thought.
Marc Stein: I don't buy that JJ has cost himself a ton of money with his postseason struggles because too many teams will have cap space this summer, virtually assuring that he'll get paid by somebody. But I'd argue that free agency would have been far more interesting if Johnson was playing well -- and not following up bad games by dissing Hawks fans to the media -- to attract a wider range of suitors.