---
Daily Dime TV: Game 6 Preview
LeBron's Legacy At Stake
By Ian O'Connor
ESPNNewYork.com

James
LeBron James is a comic-book figure stripped of his cape, an emperor stripped of his clothes. He has more to prove in Boston than any enemy force since the '85 Lakers hit the parquet floor after their Memorial Day emasculation in Game 1 of the NBA Finals.
The Lakers took Game 2, won the title, ended decades of Celtics dominance and left Red Auerbach to light an exploding cigar. So here are the defining questions confronting James on Thursday night:
Can a superstar who played a timid and indifferent brand of basketball in Game 5 unleash the fury of his otherworldly powers in Game 6?
Or will the Chosen One remain the Frozen One on the perimeter and stand there as all of his hometown dreams slowly bleed to death?
Schedule: Thursday, May 13


Boston 94, Cleveland 85
Preview | Series Page
GAME 6 CHAT LINEUP
12 ET: Marc Stein, ESPN.com
1 ET: Brian Robb, Celtics Hub
2 ET: Henry Abbott, TrueHoop
3 ET: David Thorpe, Scouts Inc.
4 ET: John Hollinger, ESPN.com
5 ET: Chris Sheridan, ESPN.com
6 ET: J.A. Adande, ESPN.com
7 ET: Kevin Arnovitz, TrueHoop
8 ET: In-game chat
11 ET: Postgame chat
No 'Mo' Room For Error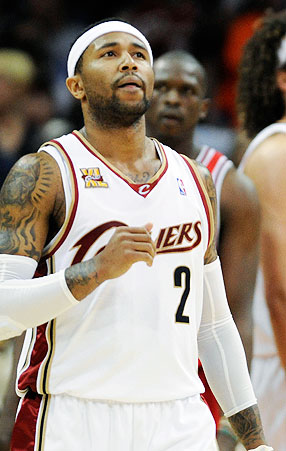 (Getty Images)
LeBron isn't the only Cav under fire. Mo Williams has faced criticism for his D (or lack thereof) on Rajon Rondo. Can he adjust in Game 6?
Playoff Talk
The B.S. Report: 5/13
Bill Simmons breaks down the Cleveland Cavaliers-Boston Celtics series with Celtics announcer Sean Grande and Cavaliers beat writer Brian Windhorst.
Pregame Primer


• In the history of the NBA playoffs, only 16.9 percent of the teams that have lost Game 5 of a best-of-seven series that was tied 2-2 have come back to win the series.
But the Cavaliers face a tougher road than that. Cleveland is the 13th team to lose Game 5 of a best-of-seven series that was tied 2-2 by at least 25 points. None of the previous 12 teams in that situation came back to win the series.
• This is the 34th time the Celtics have led a best-of-seven series 3-2. Boston went on to win 32 of the previous 33 series in this situation (97.0 percent). That is the highest percentage for any franchise that has been up 3-2 in a best-of-seven series at least eight times.
• There has been only one team in NBA history that has won 60-plus games in consecutive seasons but failed to reach the NBA Finals in either of the seasons. The Milwaukee Bucks won 63 games in 1971-72 but lost to the Lakers in the Western Conference finals and followed that up with a 60-win season in 1972-73 only to lose to Golden State in the Western Conference semis.