Tweet Of The Night
There's the "Beat LA" chant with 6:32 to go.less than a minute ago via Twitter for iPhone
Chris Forsberg
ESPNForsberg
Sheed's Back Remains Balky
By Chris Forsberg
ESPNBoston.com

• Rasheed Wallace continues to be bothered by a balky back, which remained so stiff he couldn't sit to watch film Thursday.
• "Rasheed had been doing better, but he's not moving well at all today," said Rivers. "He felt a little better, but we watched film before getting on the plane as a group and he couldn't sit down. He stretched the whole time. He's feeling better, but he'll be a game-time decision."
• Rivers also said that Rajon Rondo, who experienced muscle spasms in Game 4, is feeling fine and does not expect to be further limited. Boston's coach sounded less enthusiastic about Tony Allen and his injured ankle, noting that it's really affecting his play and that the team might have to consider going in another direction for Game 6. Boston is already thin on guards, and the options at the position would be more minutes for Nate Robinson and Michael Finely, or activating former NBDL standout Oliver Lafayette.
Schedule: Friday, May 28


Celtics 96, Magic 84
(ESPN)
Celtics win series 4-2
Preview | Series Page

• Tonight's Magic-Celtics game is also available on ESPN3.com, ESPN Radio and ESPNRadio.com.
GAME 6 CHAT LINEUP
2 ET: J.A. Adande, ESPN.com
3 ET: Brian Robb, Celtics Hub
4 ET: Eddy Rivera, Magic Basketball
5 ET: Peter Newmann, ESPN Stats & Info.
6 ET: Chris Sheridan, ESPN.com
7 ET: Zach Harper, Hardwood Paroxysm
8:30 ET: In-game chat
11:30 ET: Postgame chat
Holding Up Baby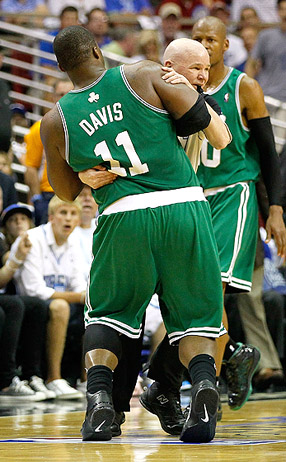 ( Kevin C. Cox/Getty Images)
Referee Joey Crawford holds up Glen Davis, who suffered a concussion from a Dwight Howard elbow. Davis is expected to play in Game 6.
Perkins' Reversal Issues

After the NBA rescinded one of Kendrick Perkins' two technical fouls from Game 5, the Boston center will be in uniform but on thin ice for Friday night's Game 6 of the Eastern Conference finals. His next technical will be his seventh of the playoffs, and will trigger an automatic suspension for the next game.
The Celtics lost Game 5 by 21 points. It was not close.
However, it was close when Perkins was playing. During his 16 minutes of first-half play, the Celtics were outscored by just a single bucket. Perkins was ejected just before halftime, with the Celtics hanging around, down eight.
I'm not saying the Celtics would have won had Perkins played. I'm saying we shouldn't have to wonder.
My complaint, which I have made several times before, is that in this day and age there's simply no reason it should take a whole night and most of a day for the NBA to review a five-second play.
The NBA has rescinded Perkins' second technical, which means the very call that banished him from the second half of the game last night was a mistake, for which the Celtics have already been punished mightily.
•
For the full blog, click here