Triple-Double Trouble: Rondo And Magic
Celtics Now In Must-Win Mode?
By Chris Sheridan
ESPN.com

Recent history is on the Celtics' side -- they trailed the Cavs 2-1 in the second round but came back to win the next three games -- but a broader historical outlook does not bode well for them.
Since the Finals went to a 2-3-2 format in 1985, there have been 10 previous instances of a series being tied 1-1. In all 10 cases, the Game 3 winner went on to win the title. If you go back even deeper into the history books, the Game 3 winner of a series that was tied 1-1 has gone on to win the Finals 28 of 32 times.
But if anything in those two preceding paragraphs was referenced by Doc Rivers when he addressed his team after Game 3, it was not the long-term history.
"What really stuck in my head?" Tony Allen said of Rivers' postgame speech. "Stay together, staying together and knowing we can beat this team. Just pretty much confidence, and staying together."
And even before Rivers spoke, the players spoke among themselves and voiced much of the same.
• To read the rest of Sheridan's column, click here.
---
NBA Finals Schedule: June 10


Game 4: Celtics 96, Lakers 89

Box score | Series | City Brawl
More live coverage: Bill Simmons Live
• Thursday's Celtics-Lakers game is also available on ESPN Radio and ESPNRadio.com.
GAME 4 CHAT LINEUP
1 ET: Chad Ford, ESPN.com
2 ET: Zach Harper, TrueHoop Network;
Brian Kamenetzky, ESPN L.A.
3 ET: David Thorpe, Scouts Inc.
4 ET: Peter Newmann, ESPN Stats
5 ET: J.A. Adande, ESPN.com
6 ET: John Hollinger, ESPN.com
7 ET: Chris Sheridan, ESPN.com
8 ET: Kevin Arnovitz, TrueHoop
9 ET: In-game chat
12 ET: Postgame chat
Go, Fish!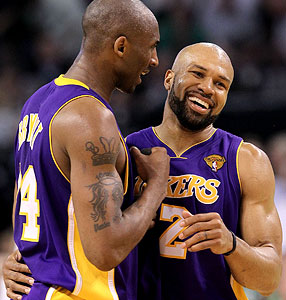 (AP Photo/Chris Carlson)
Derek Fisher had the hot hand in Game 3, scoring 11 of his 16 points in the fourth quarter. Can he keep the Lakers rolling in Game 4?
Odom Back On The Ball
By Arash Markazi
ESPNLosAngeles.com

Odom
The success of the Lakers' bench and of the team many times during this postseason has hinged on Lamar Odom. If he is able to come off the bench and give the team a solid contribution, the Lakers are almost impossible to beat. Far too often, however, Odom has disappeared, which has led to the Lakers getting little to nothing from their bench and relying far too much on their starters.
As the Lakers found themselves down 12-5 with 7:41 left in the first quarter of Game 3, coach Phil Jackson called a timeout and told his team to slow the game down. About two minutes before the timeout he had put Luke Walton into the game for Ron Artest, who had picked up two quick fouls, and about two minutes after the timeout he brought Odom into the game for Andrew Bynum. The tandem helped spark a 32-8 run for the Lakers.
"We were playing so poorly it was just a necessity to call a timeout to slow things down and get us back in defense," Jackson said. "We seemed to gather some strength and change the course of the game right there and they made a really good effort in the last six minutes of the quarter."
To read the entire column, click here.