Game 5: Halftime Highlights
Kobe: I'm No G.L.O.A.T.
By Andy Kamenetzky
ESPNLosAngeles.com

Back on June 3, Brian wrote about a Land O' Lakers poll asking whether Kobe Bryant needed to beat the Celtics for a title to be considered the greatest Laker of all time (G.L.O.A.T.). In a surprising response, a whopping 71 percent of Lakers fans said Kobe can't take the crown without downing the Greenies. Honestly, neither of us expected this specific criteria to matter so much to Lakers fans.
Not that Kobe as the G.L.O.A.T. was a given. For example, I noted in January the tall order it could be for Kobe to pass Magic in the eyes of many. But I was referring to the emotional attachment many have toward Magic -- which reaches well beyond what he accomplished on the court -- as opposed to pure basketball credentials. Frankly, the idea that Kobe's career could maintain its present course yet still fall short based on one omission never dawned on me or Brian.
Well, Kobe was asked about this topic during Saturday's practice, and his answer runs counter to the majority opinion.
• To read the rest of the Land O' Lakers blog entry, click here.
---
NBA Finals Schedule: June 13


Game 5: Celtics 92, Lakers 86 (Celtics lead 3-2)
Box score | Series | City Brawl
More live coverage: Bill Simmons Live
• Sunday's Celtics-Lakers game is also available on ESPN Radio and ESPNRadio.com.
A Time To Bray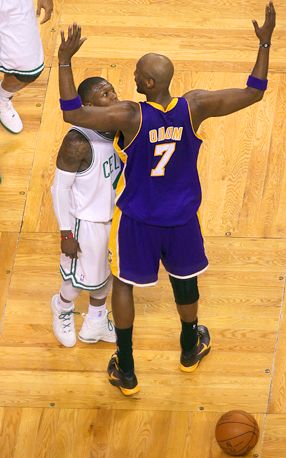 (Photo by Jim Rogash/Getty Images)
Lamar Odom and the Lakers look to regain the edge in Game 5 after Nate Robinson and the C's bench took over in Game 4.
Doc And The Flop
By Chris Forsberg
ESPNBoston.com

Rivers
BOSTON -- After a whistle-happy Game 3 in which the Lakers excelled in part thanks to Derek Fisher's ability to draw a charge, Celtics coach Doc Rivers came out with strong words about Fisher as a flopper.
During Saturday's media access, Rivers was asked how he would feel if Fisher said he learned how to flop by watching Rivers during his playing days. Rivers smiled and said he would be happy. When a follow-up question asked about his generation and whether flopping was as prevalent, Rivers continued to have fun.
"I never flopped as a player; I was the cleanest player ever," Rivers said to laughter. "In our generation, we all did. We were all good at it. And I do think that's part of the game. It's funny, what I was saying about Fish the other day, I said he flops, he's good at it. I think guys, they understand that, and there's certain guys who have perfected it. To be a great flopper you have to be a great charge taker, too. Do you know what I mean by that? They do both, and that's what makes it so difficult.
"Fish and me and John Stockton, you can go through the list, they took charges and flopped on half of them, too. It's tough. It's a tough call. He's good."
Frustrated by the calls going against his team, Rivers sounded off after Game 3. And when a reporter asked about Fisher's ability to fight through screens, Boston's coach suggested it was flopping at times.
To read the entire blog entry, click here.