---
NBA Draft: June 24, 7 p.m. ET

Live on ESPN, ESPN3.com
Watch: Preview | 2010 Draft
• Ford's Mock Draft

| Buzz
More coverage: Players chat
Cat Scratch Fever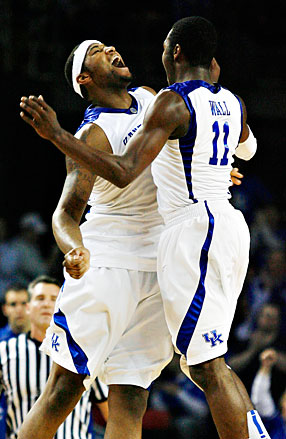 (Mark Zerof/US Presswire)
With DeMarcus Cousins and John Wall leading the charge, Kentucky has a chance to see five of its players taken in Round 1 of Thursday's draft.
Draft Debate: Who's No. 2?
By Chad Ford, Bill Simmons
ESPN.com

Chad Ford and Bill Simmons ran a live mock draft on Wednesday. After Ford selected John Wall No. 1, Simmons was on the clock for the Sixers …
Bill Simmons: No. 2 pick for Philly: Evan Turner, G/F, Ohio State. Not crazy about the fit and I think him an Iguodala are kind of a weird match. I'd actually rather see Wall on Philly and Turner on the Wiz. But the odds of Ernie Grunfeld and Ed Stefanski pulling off a lunch date, much less a trade, are about 20-to-1. So Turner to Philly.
Chad Ford: I agree about the fit. It's nothing against Turner. Just not in love with him in Philly. I do believe they're taking him. But I think they may regret passing on Favors long-term. In Year 1 and Year 2, Turner's the better player.
Simmons: If I were Philly, I'd try to move that No. 2 pick and move down to Minny's spot (who is pulling out all the stops to get a swing in this draft). They could end up with Favors/Cousins at No. 4 plus dump a salary on Minny plus pick up a couple of extra late No. 1s. Feels like Kahn would overpay to get Turner, and Favors or Cousins might be better than him anyway.
• To replay the whole chat, click here