Free-Agency Frenzy: NY, NJ Meetings
Don't Count Out Cleveland Just Yet
By Melissa Isaacson
ESPNChicago.com

James
CHICAGO -- Bulls fans think they're nervous waiting to hear LeBron James' decision?
Remember this: You can't miss what you never had.
Cleveland, on the other hand …
Well, what about Cleveland? Almost overlooked in the crush of rumors covering everything -- from what James will decide to where he will decide it and what he will be wearing when he does -- is that Cavs fans, longtime Clevelanders say, are divided.
There is the "for the love of God, let's just get this over with" contingent; those cursed by an instinctive pessimism that James is a goner; and the true believers who can't imagine that he would turn his back on home, family, his team.
Mavericks' Chase Of Dirk Is On
By Jeff Caplan
ESPNDallas.com

Nowitzki
DALLAS -- As if Wednesday's strange communication/travel gaffe was needed to hint at what a wild free-agency period awaits.
As Dallas Mavericks president Donnie Nelson stood in line at the ticket counter, about an hour before he was to board a plane bound for Germany to put the full-court press on unrestricted free agent Dirk Nowitzki, Holger Geschwindner, Nowitzki's lifelong personal coach, mentor and de facto agent, rang Nelson's cell phone.
For whatever reason, at the 11th hour, Nowitzki and Geschwindner decided they were coming to Dallas.
Why Nowitzki hadn't planned to be in Dallas in the first place is bewildering in itself.
Questions Abound In Boston
By Chris Forsberg
ESPNBoston.com

News that Doc Rivers will return to the Boston bench next season sends the Celtics into free agency with renewed confidence that they can reassemble and strengthen a championship-caliber roster.
But unless the 48-year-old Rivers plans to dust off his high-tops, he's going to need bodies -- as many as 11 players to fill the voids left by free agency and (potential) retirement -- in order to make a run at another world title. So there remains a great deal of uncertainty about how exactly the Celtics' offseason will play out.
Can Boston bring back the core that's made the team so successful the past three seasons? And is that the best course of action moving forward?
---

DIME LIVE CHAT LINEUP
1 ET: John Hollinger, ESPN.com
2 ET: Chad Ford, ESPN.com
3 ET: J.A. Adande, ESPN.com
4-8 ET: Zach Harper,
TrueHoop Network
8 ET: Kevin Arnovitz, TrueHoop
9 ET: David Thorpe, Scouts Inc.
10-12 ET: Harper
LOCAL CHATS
Noon ET:
Chris Sheridan, ESPN New York
1 ET:
Chris Forsberg, ESPN Boston
1 ET:
Nick Friedell, ESPN Chicago
5 ET:
Dave McMenamin, ESPN LA
LeBron Tracker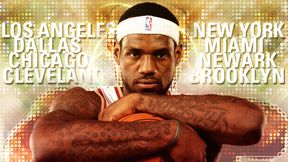 Getty Images
Where will LeBron land? We're keeping tabs on the King. Here's the latest. LeBron Tracker »
To Free Agents, From Baron

Davis
ESPN Los Angeles' Ramona Shelburne asked for Baron Davis' perspective on free agency. The Clippers guard responded almost immediately with a message to the 2010 free-agent class:
An open letter to free agents:
I'm writing this from Africa, a far cry from the 24-7 media updates on what's known as the biggest and best free agency class in the history of the NBA. I can't help but think about two summers ago, when I was making the decision to stay or leave from the Warriors. I came to LA to make an impact on the city, to help change the shape of another organization. I took the road less traveled. I left a team that was one win shy of the playoffs. I left a city that I had made a home. I left fans that were amazing. All to cause change, to start over again. I came to Los Angeles, hoping to rebuild and reignite a franchise.
It takes a lot of luck, talent, money, and strong leadership to have continued success in the NBA. I can say without a doubt that we're on the right track. The franchise is moving into a younger more vibrant direction. The negative mindset is gone. I definitely don't think I need to pitch anyone on the benefits that Los Angeles has to offer.
Complete 2010 Free-Agent List
Lee Lines Up Visits

Lee
David Lee lined up four visits in the hours after midnight, and look who's going first: Chicago and Miami, two of the Knicks' biggest competitors in the pursuit of LeBron James.
Lee also plans to travel to Minnesota (which has been listening to trade offers for Al Jefferson) on Saturday, and then meets next with the New Jersey Nets. More meetings could follow, as agent Mark Bartelstein said eight or nine teams inquired about the only player in the New York locker room (aside from Eddy Curry, who hasn't been seen there for the better part of the past two years) who endured all of the past five brutal seasons, logging 368 games and becoming the team's first All-Star since 2001.
It has been noted here that the timing of Lee's decision could have huge implications on the Knicks' pursuit of Chris Bosh, with a lot riding on whether some team puts an offer on the table for Lee and tells him to either take it now, or it's gone.