---
LeBron Meets With Clippers, Heat
Knicks' Billion-Dollar Pitch
By Henry Abbott
TrueHoop

James
Experts seem to be fuzzy on one of the most important issues of free agency: Can a player earn more, on and off the court, if he plays in a top market like New York?
Michael Jordan earned the most of any player ever, and he was in neither New York nor Los Angeles. On the other hand, the NBA has seen a string of role players -- from Charles Oakley to Derek Fisher -- become national household names after connecting with the extraordinary number of wealthy fans of those big-city teams.
Advertising on a local TV broadcast costs a lot more in New York than in, say, Cleveland, because that audience is bigger and more valuable. Wouldn't the same principle apply?
Not really, according to Michael Jordan's agent, David Falk, who spoke to WFAN the other day (via Sports Radio Interviews). "As big as New York is," he explains, "this is not '96 anymore. Twitter, Facebook and all of the social media, I think you can be on Neptune and be a brand if your name was LeBron James. … New York offers New York. I think it is a really nice place, but I don't think the marketing advantages like you had 10 or 15 years ago area as relevant as today."
So which is it? Can LeBron James earn more in New York, compared to Chicago, Cleveland, Miami and the like? Aren't there armies of marketing geeks out there somewhere who can look into this?
Indeed there are.
Forbes reports the Knicks hired the consultants at Interbrand -- "the world's largest branding consultancy" -- to answer the question in a presentation the team made to James in Ohio on Thursday.
Dirk's in Dallas; Mavs poised to deal
By Marc Stein
ESPN.com

Nowitzki
Free-agent forward Dirk Nowitzki arrived in Dallas after all Thursday night, after changing his travel itinerary for the third time in a 48-hour span.
As the Dallas Mavericks announced earlier Thursday, Nowitzki did detour to New York after leaving his native Germany, which allowed him to pay a quick visit to the offseason home of former teammate and close friend Steve Nash.
But Nowitzki's longtime adviser and personal coach Holger Geschwindner insisted that the trip changes stemmed solely from a "tight" schedule to plan the trip, as opposed to claims that Nowitzki preferred to avoid the hoopla of a fan rally at the airport that had been arranged for him.
"We came in today like we always planned and this was the only schedule that worked," Geschwindner told ESPN.com after he and Nowitzki landed at D/FW Airport after 10 p.m. local time. "We flew into New York because we have to go back through New York for a [sponsor commitment] in Hamburg when we go back to Germany."
---
LeBron Tracker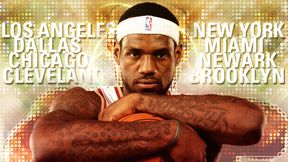 Getty Images
Where will LeBron land? We're keeping tabs on the King. Here's the latest. LeBron Tracker »
Grading The Grizzlies' Deal

Gay
So the first of the big free-agent dominoes has fallen, and surprisingly, it's Memphis' Rudy Gay. Even more surprising, he's staying a Grizzly. With a five-year, maximum deal worth more than $80 million that no suitor could match, the Grizzlies comfortably won the rights to retain Gay's services.
Gay's return comes as a surprise because of the penny-pinching ways of Memphis owner Michael Heisley, but there's always been a madness to his method. This is the same guy who traded Pau Gasol in a pure salary dump and yet has paid the same money to visibly inferior players in Zach Randolph and now Gay. In this instance, keeping Gay now rather than matching another offer prevented the likely outcome of having to match a heavily front-loaded offer sheet from another club for similar overall dollars.
Nonetheless, Gay is now grossly overpaid. No other Grizzly besides Randolph will make more than $5 million this year, but Gay is on the books for more than double that despite the fact that he's probably only the team's third-best player. While he's an impressive scorer, his game is completely one-dimensional and he's shown no improvement whatsoever in the past two seasons.
It's certainly possible he could do more -- Gay is only 23 and has enviable physical talents that could allow him to improve his game in several directions. But the thing he seems to need most is a change of scenery and a winning environment where more is demanded from him. That's the one thing he won't be getting for the next half-decade.
• Hollinger on more free-agent moves

Complete 2010 Free-Agent List