---
Free Agency Update: Latest Buzz
Waiting For LeBron Could Prove Costly
By Chris Sheridan
ESPN.com

James
The latest word from Ric Bucher is that LeBron James could take until Tuesday or later to decide where he's going to play.
That is going to have implications for David Lee and the Knicks.
Fresh off his Saturday visit with the Minnesota Timberwolves, who do not have the cap space to sign Lee but could get it by trading Al Jefferson, Ramon Sessions and/or Ryan Hollins, Lee could meet with the New Jersey Nets in the near future. (Lee's agent, Mark Bartelstein, has said there likely will be a meeting, but Nets president Rod Thorn said Sunday that nothing has been scheduled.)
Lee has now met with Chicago, Miami and Minnesota, but he has been proceeding with the understanding that the Toronto Raptors could be his ultimate destination if Chris Bosh decides to go to New York. The Raptors are amenable to such a deal, and the salaries would not have to match because Toronto would be trading Bosh into open cap space. If they got Lee at an $11 million starting salary, the Raptors would also gain a $5.5 million trade exception, and Bosh would get a sixth year on his deal and 10.5 percent annual raises, increasing the value of his contract by $30 million.
The key to everything is James, of course, and the Knicks have told James he can bring along whichever big man he chooses, be it Amare Stoudemire, Bosh, Lee or Carlos Boozer.
---
Together Again?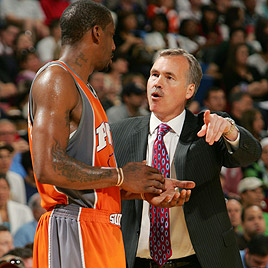 (Photo by AP Photo/Phil Long)
Amare Stoudemire and Mike D'Antoni, who clashed often on the Suns, cleared the air Sunday before a possible reunion on the Knicks.
Mavs Still Have Work To Do
Tim MacMahon
ESPNDallas.com

Nowitzki
As Dirk Nowitzki took the scenic route from Germany to Dallas, the Mavericks' brass never sweated, at least not in public. President of basketball operations Donnie Nelson declared complete confidence that they'd sign their superstar to a four-year contract sooner than later.
That deal got done a few days into free agency, with Dirk agreeing to give the Mavs a hometown discount with a four-year, $80 million contract that he'll sign when permitted on July 8.
Now comes the difficult part: increasing the chances that the best player in franchise history will win a championship. Expect plenty of perspiration, because the pressure is on the Mavs' front office to follow through on its promise.
All A-Twitter
I wish I could help w/all the free agent speculation but only the free agents themselves know what they are planning &even they may not knowless than a minute ago via UberTwitter
Daryl Morey
dmorey
Free Agent Slot Machine

The ESPN Free Agent Slot Machine results are based on the likelihood of each potential scenario for each player and team, as provided by ESPN.com's NBA experts.
• Click SPIN for another possible outcome.