---
Free Agency Update: Latest Buzz
'Things Are Getting Very Interesting'
By Chad Ford
ESPN.com

Wade
Dwyane Wade began the free-agency period in Chicago, holding meetings with the Bulls and Nets on Thursday and the Knicks on Friday. But it was a second meeting with the Bulls on early Friday evening that has everyone reassessing where Wade stands.
Wade met with the Bulls for a second time on Friday, but left the meeting without making a formal commitment to the Bulls.
The 2½-hour meeting included the Bulls' front office, Wade and his agent Henry Thomas.
"Things are getting very interesting," Wade said after the meeting.
The same source told ESPN.com earlier on Friday that Wade went into the meeting leaning toward committing to the Bulls. After the meeting, Wade still had not committed, according to the source. The source said Wade was still torn between Miami and Chicago and was waiting to see what LeBron James and Chris Bosh would like to do. Wade would prefer to play with Bosh in either Miami or Chicago and is also open to playing with LeBron.
• Read the rest of the story in the Free Agent Reports section of TrueHoop.
---
Summer League Schedule: July 5
AT RDV SPORTSPLEX, ORLANDO


Bobcats 85, Jazz 83




Pacers 86, Magic 77




Thunder 87, Celtics 82




Sixers 84, Nets 74


---
FREE AGENCY CHAT
4-6 p.m. ET: Larry Coon, ESPN.com
6 p.m. ET: Kevin Arnovitz, TrueHoop
Turning The Page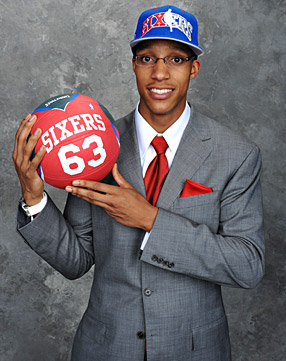 (Photo by Jennifer Pottheiser/NBAE/Getty Images)
Evan Turner will hit the NBA court for the first time as the Sixers open Summer League play against Derrick Favors and the Nets.
The Waiting Game

James
New York Knicks
president of basketball operations Donnie Walsh is a patient man.
The Knicks completed their presentation to free agent LeBron James on Thursday and followed it up with presentations to Dwyane Wade and Chris Bosh on Friday.
As of Sunday night, the Knicks still weren't sure where the players stood.
"I have no idea," Walsh said in a telephone interview. "I think that almost all of these guys have been tight about what their intentions are. All the meetings we had were really good. They were informative. But I didn't get an indication in what their interest was. The agent would say they're interested. And that's where we are. We are waiting to hear. With those guys you can afford to be a little patient."
All A-Twitter
CHI says to LBJ owner Jerry Reinsdorf willing to spend $ when opp to win titles...says proved it with MJ's $30 mill contract & w/White Soxless than a minute ago via web
Chris Broussard
Chris_Broussard