---
Jazz Score Big With Jefferson Trade
By John Hollinger
ESPN.com

Jefferson
OK, let's start right from the top: Would you trade Carlos Boozer for Al Jefferson?
You'd at least have to think about it. Jefferson is three years younger and had better numbers over the past three seasons. He can play center -- Boozer cannot -- which allows the Jazz to paper over Mehmet Okur's expected absence and move Andrei Kirilenko up to power forward in stretches, where he's more effective anyway.
Jefferson's not a great defender, but neither was Boozer. Yes, he's probably worse than Boozer in this respect, but last season's particularly lead-footed performance could be partially attributed to the fact that he was still recovering from knee surgery.
• Read the rest of Hollinger's analysis.

Chandler gives Mavs Flexibility
By John Hollinger
ESPN.com

Chandler
I'd like to congratulate Michael Jordan on being the first executive in history to avoid saving money in a salary dump. Tyson Chandler and Alexis Ajinca have one year left at a combined $14.1 million, while Eduardo Najera and Matt Carroll are owed a combined $17.1 million over the next three years. Throw in cash (presumably the maximum allowable $3 million) from Dallas, and the Bobcats managed to break even while giving away their starting center for two guys who will occupy seats 11 and 12 at the end of the bench. Strike up the band.
For those who haven't heard, Charlotte traded Chandler and Ajinca to Dallas on Tuesday for two of the deadest-weight contracts in the league (Najera and Carroll), cash and the nonguaranteed contract of Erick Dampier. I still have no idea why.
• Read the rest of Hollinger's analysis.

---
VEGAS SUMMER LEAGUE


Rockets 82, Nuggets 75




Raptors 102, Knicks 89




Spurs 89, Hawks 84




Bulls 79, Clippers 50




Cavs 93, Suns 82




Kings 79, Wolves 78




Heat 93, Pistons 82


Off And Running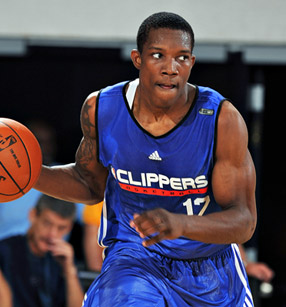 (Photo by Garrett W. Ellwood/Getty Images)
John Wall isn't the only Kentucky PG making headway in Vegas. After dropping 17 points on the Wizards Monday, Eric Bledsoe leads the Clippers against the Bulls on Wednesday.
Ford's Top Free Agents

O'Neal
1. Shaquille O'Neal, Cavs
Potential destinations: Mavs, Spurs, Cavs, Hawks
In Cleveland, Shaq had to play second fiddle to LeBron to try to prove he could still win a title. Ultimately, the experiment failed. Shaq is clearly slowing down and, at times, it seemed that he hindered more than helped the Cavs. He turned 38 years old in March and has played more games than any other active player in the league.
Still, there's probably a GM or two willing to offer him millions on a two- or three-year contract. The Hawks seem to have shown the most interest so far. Shaq has also coveted playing for the Mavs for a long time.
• Check out Ford's full list

Complete 2010 Free-Agent List