---
Beaubois vs. Wall
By Jeff Caplan
ESPNDallas.com

Beaubois

Wall
The Dallas Mavericks' Summer League team is down to its final two games and tonight's 8 p.m. ET matchup against the Washington Wizards could be a special showing.
The Mavs' big hope, Roddy Beaubois, goes head-to-head with No. 1 draft pick John Wall, who has Washington dreaming of a renaissance.
Beaubois' summer has been inconsistent, sometimes sloppy and sometimes splashy. He ranks ninth in the Summer League in scoring at 18.3 points per game, but he's shooting just 42.0 percent from the floor and he's dishing out only 4.0 assists in 32 minutes a game as he tries to learn how to lead a team as the point guard.
Wall has been pretty darn good, ranking second in scoring at 23.8 points on 44.4 percent shooting. Now, get this -- he's averaging 9.0 assists handling point guard duties. Wall is also averaging 3.5 steals a game.
---
VEGAS SUMMER LEAGUE


Spurs 80, Lakers 71 (ESPN3)


Warriors 86, Suns 76 (ESPN3)


Wizards 88, Mavs 82 (ESPN3)


Hawks vs. Bucks, 8:30 ET

Clips vs. Blazers, 10 ET (ESPN3)


D-League vs. Grizzlies, 10:30 ET
Hot Roddy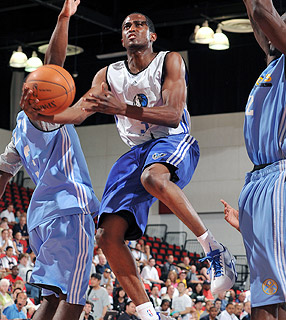 (Photo by Garrett W. Ellwood/Getty Images)
Dallas PG Roddy Beaubois has averaged 18.3 points over three games in Vegas, but he'll have his hands full with John Wall on Thursday.
Lakers Find Round 2 Steals?

Derrick Caracter
Caracter looks to be on his way to a great NBA body, and he's got some agility and nimbleness, too. While struggling some in the post against taller and longer guys, he consistently beats them to rebounds. Great attitude, humble demeanor; this guy can help the Lakers in spots next season. That's incredible for a late second-rounder.
Devin Ebanks
Ebanks has shot much better than his reputation suggested while still slashing off post entries. His motor ran from super-hot to warm, something he needs to work on.
• Check out more from Thorpe.

Complete 2010-11 Free-Agent List