---
Pierce, Celtics Stand Tall Against Heat
By Chris Forsberg
ESPN Boston.com

Pierce
BOSTON -- The Celtics' locker room had just about cleared out when Eddie House's familiar mug popped out of the team's training room, where he had spent some time catching up with old friends following Boston's 88-80 triumph over the new-look Miami Heat on Tuesday night at TD Garden.
For a fleeting moment it seemed like 2007-08 again, which was fitting because that's a sentiment Paul Pierce has offered on numerous occasions already this season, suggesting there's a certain magic in the air similar to when Boston's Big Three first united.
And in what many dubbed a "Battle of the Big Threes," it was the old guard of Pierce, Kevin Garnett and Ray Allen that ultimately outplayed Miami's much-ballyhooed combination of LeBron James, Dwyane Wade and Chris Bosh.
In true Pierce fashion, the Celtics' captain shrugged off an injury to score 11 of his 19 points in the fourth quarter and prevent Miami from rallying. Allen poured in a team-high 20 points, drilling a dagger of a 3-pointer from in front of the Miami bench with 49.8 seconds to play. Garnett showed old-school explosiveness while producing a double-double (10 points, 10 rebounds) over 35 minutes.
• Click here to read the rest from Forsberg at ESPNBoston.com.
Riled Up: What's In A Nickname?
Ring Of Success For Lakers
By J.A. Adande
ESPN.com

Blake
LOS ANGELES -- That other team -- you know, the two-time champions -- started the season as well Tuesday night with a low-key ring ceremony consisting of one teammate introducing the next, followed by a victory produced by some low-wattage players.
The first step of the Lakers' title defense, a 112-110 victory over the Rockets, belonged in part to Steve Blake, one of the less spectacular (albeit fully logical) signings of the summer. Blake hit back-to-back 3-pointers that pulled the Lakers from 11 points down to within five in the final minute of the third quarter.
Then Blake delivered the two biggest moments of the game, hitting a go-ahead 3-pointer with 18 seconds remaining and deterring Aaron Brooks' attempt at a game-tying reverse layup on the final play.
The night also belonged to Shannon Brown, one of the free agents for whom the cash register did not toll this summer, whose steals and jump shots of his own allowed the Lakers to take the lead in the fourth quarter. He had four steals and 16 points and made 4 of 5 3-point attempts, the byproduct of a summer spent working on his game. Brown re-signed with the Lakers for a two-year contract that will pay him $2.2 million this season, less than he expected for a player coming off two championships.
"It's a business, man," Brown said. "I definitely had to realize that."
• Click here to read the full Adande blog entry at TrueHoop, ESPN.com's NBA blog.
Starting Lineup: Oct. 27
WEDNESDAY CHAT LINEUP
12 p.m. ET: Chris Broussard, ESPN The Mag
1 ET: Spencer Hall, Salt City Hoops
2 ET: Jeremy Wagner, Roundball Mining Co.
3 ET: Larry Coon, ESPN.com
4 ET: John Hollinger, ESPN.com
5 ET: Nick Friedell, ESPN Chicago.com
6 ET: Michael Wallace, ESPN.com
7 ET: Zach Harper/TrueHoop Network
---


Cavs 95, Celtics 87
Box score | Conversation


Nets 101, Pistons 98
Box score | Conversation


Heat 97, 76ers 87
Box score | Conversation


Knicks 98, Raptors 93
Box score | Conversation


Hornets 95, Bucks 91
Box score | Conversation


Kings117, Wolves 116
Box score | Conversation


Thunder 106, Bulls 95
Box score | Conversation (ESPN)


Hawks 119, Grizzlies 104
Box score | Conversation


Mavs 101, Bobcats 86
Box score | Conversation


Spurs 122, Pacers 109
Box score | Conversation


Nuggets 110, Jazz 88
Box score | Conversation


Warriors 132, Rockets 128
Box score | Conversation

Blazers 98, Clippers 88
Box score | Conversation (ESPN)
Rose Rising On Screen
By John Greenberg
ESPN Chicago.com

Derrick Rose has kept his promise so far.
"I think you'll be seeing me [doing] a lot on TV this season," he promised during the Bulls' media day.
Rose has already been featured prominently in two adidas commercials with comedian Ken Jeong for Rose's newly designed shoe.
Rose is silent in his commercial, while shoe buddy Dwight Howard sings and hams it up in a music video featuring both of them.
"That ain't me," Rose said when the first commercial debuted. "I'll probably give the little wink or something, but that ain't me."
So, obviously, the next step for Rose is a speaking role. He's comfortable joking around in viral videos for NBA 2K11, and Rose already has made headlines for proclaiming his goal to be considered the best player in the NBA.
Thunder Baller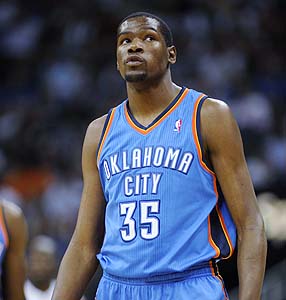 (Peter G. Aiken-US PRESSWIRE)
Kevin Durant kicks off his season Wednesday night as the MVP favorite, in our experts' minds.