Thibodeau Preps For C's Reunion
By Peter May | ESPNBoston.com

He's coming back, but, honestly, is Boston any more of an emotional reunion for new Chicago Bulls coach Tom Thibodeau than Houston or New York? After all, he spent only three seasons alongside Celtics coach Doc Rivers in Boston. He spent 11 seasons with the Rockets and Knicks.
So is Boston really that big of a deal?
"It's going to bring back a lot of fond memories,'' Thibodeau said by phone this week, before his Bulls met the Knicks on Thursday night. The Bulls meet the Celtics on Friday night in Boston on ESPN (8 p.m. ET). "What that [Celtics] organization did for me, from ownership to [director of basketball operations] Danny [Ainge] to Doc -- it put me in the position that I'm in today. There's a great appreciation of that on my part."
Have You Seen D-Rose's Monster Jam?
How Good Can The Lakers Be?
By Dave McMenamin | ESPNLosAngeles.com

The Los Angeles Lakers' commanding 5-0 start to the season has even the most guarded fan bouncing numbers around his head like John Nash in "A Beautiful Mind."
The New York Knicks' NBA record 18-game winning streak to start the 1969-70 season? It's on the table.
The 33 in a row by the 1971-72 Lakers? Sure, why not?
The single-season record of 72-10 by the 1995-96 Chicago Bulls? Hey, Phil Jackson already did it once ...
After the Lakers dismantled their latest victim in Sacramento on Wednesday, Lamar Odom sounded down-right Jeff Van Gundy-like when talking about what the Lakers are striving for this year.
"Being perfect is like a realistic goal for us," Odom said. "It's a way of thinking. It's a thought process."
Van Gundy put his reputation as an ABC/ESPN NBA analyst on the line this summer when he predicted the Miami Heat would win 72-plus games and go the entire season without dropping two games in a row.
"We try not to get numbers on it," Jackson said after practice Thursday. "Last year I said if we didn't win 60 I'd be disappointed in the season as far as their effort, but we had extenuating circumstances with injuries last year and those things happen."
The Lakers stumbled to just 57 wins last season, losing seven of their final 11 games including a 2-3 mark on a five-game road trip when Jackson set the bar of expectations to go 5-0. In Jeanie Buss' new book, "Laker Girl," she reveals that Jackson often looks at the slate of Lakers games for the upcoming week and writes a goal on the board in the locker room, perhaps 3-1 if the team is playing four games, for instance, to give a team a number to focus on. So Jackson does use numbers even though on Thursday he said "numbers aren't important."
"What's important is getting out ahead of the rest of the pack and somehow or other putting them in the back so that you have that home-court advantage that looms important at certain times in the playoffs," Jackson said.
Starting Lineup: Nov. 5


Bucks 94, Pacers 90
Box score | Conversation


Magic 105, Nets 90
Preview | Conversation


Cavs 123, 76ers 116
Box score | Conversation


Bobcats 97, Pistons 90
Box score | Conversation


Knicks 112, Wizards 91
Box score | Conversation


Celtics 110, Bulls 105 (OT)
Box score | Conversation


Hornets 96, Heat 93
Box score | Conversation


Hawks 113, Wolves 103
Box score | Conversation


Suns 123, Grizzlies 118 (2 OT)
Box score | Conversation


Nuggets 111, Clips 104
Box score | Conversation


Golden State 85, Jazz 78
Box score | Conversation


Lakers 108, Raptors 103
Box score | Conversation
What Should Melo Do?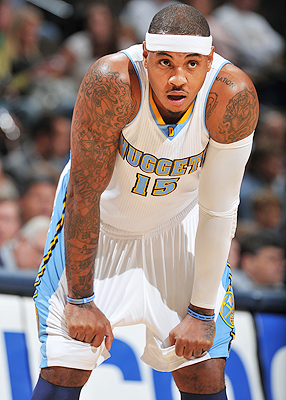 (Garrett W. Ellwood/NBAE/Getty Images)
Scoop Jackson explores
Melo's innermost thoughts
through the filter of LeBron's ad.
Inside Heat's Offense
By David Thorpe
Scouts Inc.

The Heat hit teams with a full arsenal of sets and actions and attack defenses both in the interior and on the perimeter. It's clear that the coaching staff spent a lot of time this summer devising a game plan for Dwyane Wade, LeBron James and Chris Bosh to excel as both primary and secondary options.
It's still early in the season, and chemistry issues may be holding them back from their fullest potential as of today, but here's what Miami is looking to do on offense right now:
• Thorpe breaks down Miami's offense

Love Not Feeling Love
By Chris Broussard
ESPN The Magazine

Lucas
Hardly anyone seems to understand what's going on in Minnesota with Kevin Love. Timberwolves coach Kurt Rambis continues to limit the double-double machine to reserve's minutes, and most everyone is baffled by it.
After Love played just 24 minutes in Minnesota's season-opening loss to Sacramento, the Timberwolves received roughly 100 e-mails and phone calls from angry fans complaining about Love's lack of playing time, according to sources.
The typically media-friendly Love was clearly frustrated after that game and left the locker room without speaking to reporters. After practice the next day, Love and Rambis said they're on the same page, but sources tell me that privately, Love is still very frustrated.
After Minnesota traded Al Jefferson to Utah last summer, GM David Kahn sold Love on the idea that he was now the franchise's cornerstone player. Love bought it and entered the season expecting big minutes, which has only added to his bewilderment about what's transpired over the first five games.
Love's not the only one who's confused. Some members of the Timberwolves' organization are baffled that Rambis has limited Love to just 26.4 minutes a game, according to sources, and many executives and scouts throughout the NBA are stunned by Love's lack of playing time.
"You have to be on crystal meth not to give Love more minutes on that team," one scout told me. "It makes no sense."