Trend Watch: Jefferson Spot-On From 3
By Kevin Pelton
Basketball Prospectus

Jefferson
The Spurs re-signed Richard Jefferson to a four-year, $40 million contract when he opted to become a free agent over the summer, hoping that he would be more comfortable in his second year in the system. Jefferson showed his commitment by working over the summer to return to peak form. So far, the results have been remarkable.
Jefferson has been nearly automatic from the spot Bruce Bowen made a staple in San Antonio, knocking down nine corner 3-pointers in 14 attempts -- including four in the fourth quarter of a win over the Phoenix Suns on Wednesday. While he's unlikely to remain that hot, Jefferson has shown impressive accuracy from the spot before. He made 45.8 percent of his corner 3-pointers in 2008-09 in Milwaukee before slipping to 36.0 percent last season.
Beyond that, Jefferson has also increased his involvement in the Spurs' offense, upping his usage rate to an above-average 20.6 percent of the team's plays while on the floor. Jefferson has been getting to the rim on a more regular basis, allowing him to knock down 67.0 percent of his 2-point attempts in the early going. San Antonio has started 4-1 with Jefferson scoring at least 15 points in all five of the team's games -- something he did just twice all of 2009-10.
• Click here to read the rest of Pelton's weekly "Trend Watch"

All A-Twitter
Melo on the possibility of staying with Denver if they continue to win: "Sure, why not? I don't see why not."less than a minute ago via web
Nick Friedell
ESPNChiBulls
Starting Lineup: Nov. 8


Magic 93, Hawks 89
Box score | Conversation


Warriors 109, Raptors 102
Box score | Conversation


Spurs 95, Bobcats 91
Box score | Conversation


Bulls 94, Nuggets 92
Box score | Conversation


Grizzlies 109, Suns 99
Box score | Conversation


Mavs 89, Celtics 87
Box score | Conversation
Melo Sight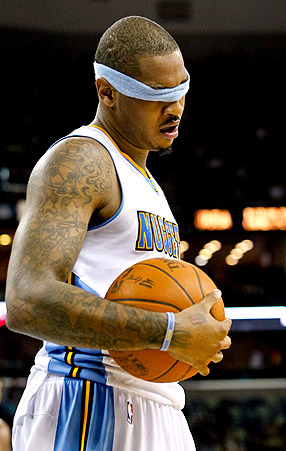 (Derick E. Hingle-US PRESSWIRE)
Can Carmelo Anthony see the future, no matter how unclear it seems right now? How about the Bulls, who host Denver on Monday?
Nick Friedell »
Shaq Sends Cuban A Message
By Jeff Caplan
ESPNDallas.com

O'Neal
Shaquille O'Neal has been out since Oct. 29 because of a right knee bruise sustained when he collided with New York Knicks center Amare Stoudemire. Shaq got off to a pretty good start with his latest team through three games. Starting all three, he averaged 8.7 points and 5.3 rebounds in 20.7 minutes.
If he doesn't play tonight, it's too bad since the big man is always fun to see on the court and he loves to clown around with Mavs owner Mark Cuban. That doesn't mean Shaq won't have his fun. In fact, he already has. Shaq took to his Twitter account Sunday night and sent a tweet to Cuban that included an attached video.