Fantasy Focus: Grab Bledsoe
By Neil Tardy
Special to ESPN.com

Bledsoe
An urgent get for fantasy owners is Eric Bledsoe. The 20-year-old rookie (he turns 21 in a month) took over for an injured and out-of-shape Baron Davis and is looking increasingly like a long-term solution for the Los Angeles Clippers. In his first four starts, Bledsoe is averaging 13 points, 7 assists, 4 rebounds, 1.8 steals, 1.0 3-pointers and 1.0 blocks. You think that about covers it?
Bledsoe is still unrostered in more than 90 percent of ESPN.com leagues. Look for that number to drop by at least half in the next few days. Bledsoe and the Clippers have a tough matchup against the resurgent New Orleans Hornets on Tuesday, but don't sweat that. Bledsoe could be the fantasy find of the season.
• Click here to read more fantasy basketball news and notes.
Who's In First? Legler's NBA Rankings
LeBron James Growing Comfortable
By Michael Wallace
ESPN.com

James
MIAMI -- Perhaps it was the playful barbs he shouted at Miami Heat teammate Dwyane Wade during Wade's interview session with reporters after Monday's practice. Or maybe it was the way he sat in a corner hounding rookie center Dexter Pittman about his poor passing ability during a drill. By the time LeBron James started to loudly complain about the falling temperatures in Miami, it was obvious.
King James seems to be finding his comfort zone again -- on and off the court.
Privately, James hasn't had an easy transition in his move to Miami after he spent the first seven seasons of his NBA career with the Cleveland Cavaliers. But publicly, James is finally starting to let his headband down and loosen up a bit. And it's beginning to show on the basketball court, too.
After opening the season mired in a turnover-riddled slump through his first five games, James has strung together consecutive outings in which his turnovers were relatively down while his assists -- and overall productivity -- were up.
Bee Cool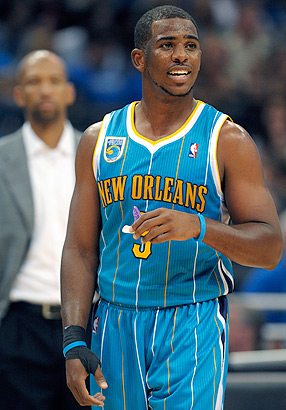 (AP Photo/Phelan M. Ebenhack)
Chris Paul and the Hornets put their franchise-record unbeaten streak on the line at home on Tuesday against the Los Angeles Clippers.
Lakers D: Inside The Numbers
By Brian Kamenetzky
ESPNLosAngeles.com

Perhaps the most repeated criticism of the Lakers' defense is the 101.4 points per game they've allowed. Toss out the 83 points surrendered to Golden State and the best the Lakers have done is Sunday's 96. The other numbers: 110, 106, 105, 100, 103. Points allowed, though, isn't really the best figure to measure team defense, particularly this early in the season when the schedule can skew things rather dramatically.
Six of L.A.'s seven opponents (all but Portland) are in the top half in the NBA in pace (average number of possessions over 48 minutes). Five of seven (Phoenix, Houston, Sacramento, Portland, Golden State) are in the top half for offensive efficiency (number of points scored per 100 possessions). In a nutshell, the Lakers have seen a lot of high speed and high efficiency offenses over the first seven games, sometimes in the same night.
Hollinger's Power Rankings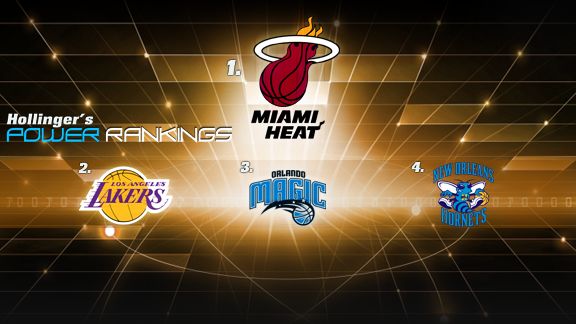 (ESPN Illustration)
Are the Heat or Lakers on top of the league? John Hollinger unveils his 2010-11 Power Rankings.
Rankings | PER Diem | ESPN LA | Haberstroh