Injuries Testing Lakers' Depth
By Brian Kamenetzky
ESPNLosAngeles.com

The available joke goes like this: Had Lamar Odom hurt his right hand, he could keep playing and never know the difference.
His right foot, though, is another matter. Doesn't matter how left-hand-dominant a guy might be, he still needs both feet to run. After complaining of sharp pain in his foot after Sunday's loss to Phoenix, Odom underwent an MRI on Monday. The results: a bone bruise, not insignificant but also not expected to force him to the sideline for Tuesday's game in Milwaukee.
Losing Odom would have been a huge blow, even before this season's All-Star0caliber play. That he'll likely suit up versus the Bucks is top-shelf news. Still, bone bruises are painful and can linger. It would, particularly while Andrew Bynum is on the sidelines, benefit the Lakers to figure out ways to limit Odom's minutes until the injury heals, because the Lakers don't have much depth up front should the problem worsen.
It's also important given the other half of Monday's injury news: Theo Ratliff will require arthroscopic surgery to relieve the pain in his left knee. There's currently no timetable set for his return.
Big Love: Wolves Forward On 30/30 Night
Noah Faces Old Mentor 'Duck'
By Nick Friedell
ESPNChicago.com

Noah
HOUSTON -- Joakim Noah and Brad Miller don't appear to have much in common.
Noah is a free spirit who has long, curly hair, enjoys wearing beads and outlandish clothing and grew up shuffling between New York City and Paris. Miller is a gun-toting country boy from the Midwest who enjoys hunting, wears overalls and enjoys a good dip.
When Miller was traded back to the Bulls in 2009, all those superficial differences seemed to go away rather quickly. Noah and Miller became fast friends because, among other reasons, they respected the way each other played. Miller enjoyed the energy that Noah brought to each game. Noah admired the way that Miller, the grizzled veteran, used other facets of his game to succeed. Over time, the pair became so close that it even surprised Noah a little bit.
"It's going to be tough," Noah said of facing off against Miler. "I never knew that I could have a redneck as a best friend. Brad is probably my best friend in the league. Somebody I learned a lot from. And I miss that Duck."
NBA SCOREBOARD
REGULAR SEASON
TOP PERFORMERS
- 10/21/21
Under Siege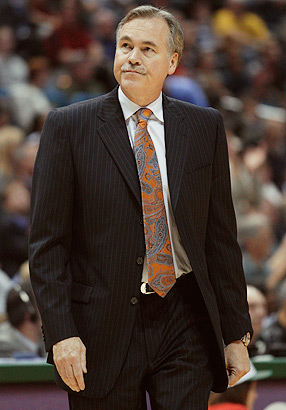 (AP Photo/Morry Gash)
The groans are growing louder in the Garden. Is Mike D'Antoni's job in jeopardy?
ESPN N.Y. »
Fantasy Focus
By Neil Tardy
Special to ESPN.com

Arenas
• A number of high-profile players could sit on Tuesday, starting with John Wall (foot). If Wall doesn't go against the Toronto Raptors, Gilbert Arenas owners should get a boost. Arenas broke out of his early slump with 30 points versus the Bulls on Saturday night.
• The Cleveland Cavaliers could be without both Mo Williams (groin) and Anderson Varejao (ribs) against the Philadelphia 76ers. Ramon Sessions, who's scored in double figures in his past three games (albeit without great percentages), is worth a look in deeper leagues as long as Williams is sidelined.
• Darren Collison injured his ankle in practice Monday. The injury didn't sound serious, but details are sketchy. Check for updates on Collison.
• Brandon Roy (knee) won't play against the Grizzlies. Although Roy says the knee has improved since he took himself out of Saturday's game with the New Orleans Hornets, this is looking like a long-term issue. Wesley Matthews is likely to move into the starting lineup and could emerge as a realistic fantasy option while Roy is sidelined.