Knicks On A Roll
By Chris Sheridan
ESPNNewYork.com

GREENBURGH, N.Y. -- When Monday's final scrimmage ended, the New York Knicks ran for the exit door as a unit.
Apparently, it was time for them all to take a deep breath, get every extra second of extra rest they could and take stock of themselves after returning home from their first Western road trip, which concluded with a three-game winning streak after they had previously lost six in a row.
They are clearly a better, more well-oiled machine than they were when they left New York a week ago, and the next two to three weeks will go a long way toward showing whether their positive turn is going to have any permanence.
Fantasy Focus: What's The Rush?
By Neil Tardy
Special to ESPN.com

Rush
• Not sure whether Brandon Rush will stick in the Pacers' starting lineup. Apparently he got the nod on Monday because head coach Jim O'Brien wanted him guarding D-Wade. (Needless to say, that was a good move.) Regardless of his role for Tuesday, Rush will face a Cleveland Cavaliers team that yields the fifth-most 3-pointers. He seems like a good bet to reach double figures in scoring for the fourth straight game.
• The Philadelphia 76ers-Washington Wizards matchup could have its full complement of marquee talent, as both Andre Iguodala (Achilles) and John Wall (foot) could return for their respective teams.
Go For One More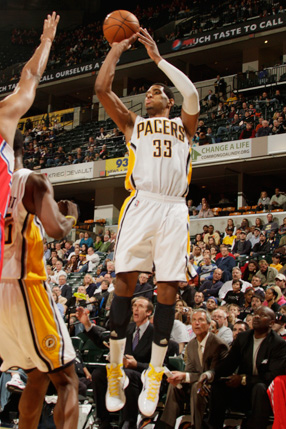 (Ron Hoskins/NBAE/Getty Images)
Can Danny Granger and the Pacers follow a win in Miami with another against Cleveland?
Pregame Notebook: Nov. 23
By Elias Sports Bureau

• The Bulls have a 1-7 (.125) record against the Lakers in the past five seasons (since 2006-07). That ties New Jersey and Washington for the worst record against the Lakers by any Eastern Conference team during that time.
• John Wall scored 29 points and recorded 13 assists against the 76ers three weeks ago. No player has posted two 25-point/10-assist games against Philadelphia in the same season since Tim Hardaway in 1991-92.