Fantasy Focus: Start Lakers' Barnes
By Seth Landman
Special to ESPN.com

Barnes
• The Lakers are going to be seriously thin up front if Pau Gasol can't go because of his strained left hammy; either way, it should be a good night to get Matt Barnes into your lineup, since he can play in almost any lineup, big or small.
• Two things were clear the last time the Celtics and Bulls matched up. First, the Celtics had no answer for Joakim Noah's quickness in the paint, as Noah finished with 26 points and 12 rebounds. Second, the Bulls were similarly at a loss when forced to deal with Ray Allen on the perimeter, as he finished with 25 points on some seriously hot shooting. If both those things happen again, I certainly won't be surprised.
• It should be a great night for Trail Blazers starter Wesley Matthews, as I don't think the Wizards have anyone in their backcourt with the size to deal with Matthews effectively. He is averaging four 3-pointers and better than 23 points in his past three games, and he's still available in a few leagues out there.
• To read the entire fantasy blog entry, click here.
The Association: Glimpse Into Celtics
Another Fast Start For Boston
By Chris Forsberg
ESPNBoston.com

For the fourth consecutive season, the Celtics are off to a fast start at 14-4 overall. But if you believe what Shaquille O'Neal and Glen Davis have said recently, Boston should be undefeated. Many in the Celtics locker room truly feel as if no team has beaten them; Boston simply beat itself in those four defeats.
And although it's way too early to start dreaming about the playoffs, consider this nugget from ESPN researchers: Heading into Thursday's action, the Celtics boasted the second-easiest remaining schedule in the NBA, with their opponent's combined winning percentage currently at 47 percent.
The one team in front of them? The Chicago Bulls (46.9 percent), who visit the TD Garden on Friday night (ESPN, 8 ET) for another early-season showdown of two teams that could find themselves near the top of the Eastern Conference by season's end.
The Bulls rallied to force overtime in their first visit to Boston last month, but Kevin Garnett forced Joakim Noah to commit a turnover late in the extra session, allowing the Celtics to escape with a 110-105 triumph.
• To read the entire blog entry, click here.
NBA SCOREBOARD
POSTSEASON
TOP PERFORMERS
- 06/13/19
Can Dallas Stay Hot?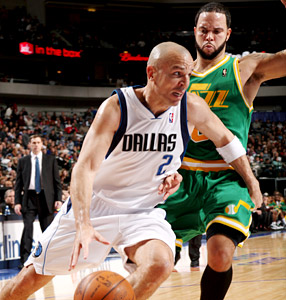 NBAE/Getty Images
Jason Kidd and the Mavericks will try to extend their winning streak to eight games when they travel to Utah to take on Deron Williams and the Northwest Division-leading Jazz.
Learning To Play Together
By Nick Friedell | ESPN Chicago

Boozer
DEERFIELD, Ill. -- Chicago Bulls point guard Derrick Rose said he is still adjusting -- and, in some cases, deferring -- to new teammate Carlos Boozer.
"When you've got a great player like that on the court, you tend to go to him," Rose said Thursday, a day after Boozer's debut in a Bulls uniform, a 107-78 loss to the Orlando Magic. "You got to because that's what he do -- score the ball and rebound for us. [And] on the offensive end, try to put him in, but I guess it was a little bit too soon to try and work him in that early. But he's been great. We know that when he gets it going, we're going to be all right."
• To read the entire blog entry, click here.