Shaq An All-Star?
By Tom Haberstroh
ESPN Insider

For the fourth year in a row, the Boston Celtics have jumped out to a sizzling start, winning 16 of their first 20 games and earning a spot atop the Eastern Conference. This wasn't supposed to happen. Not with Kendrick Perkins sidelined until after the All-Star break, Rasheed Wallace retired and no real backup point guard without Delonte West. The Celtics were supposed to be hurting, not surging.
The biggest difference-maker? Shaquille O'Neal.
If you tuned in to Friday night's TV broadcast of the Celtics-Chicago Bulls game, you might have heard ESPN analysts Mark Jackson and Jeff Van Gundy discussing the 38-year-old's candidacy for the All-Star team. Actually, the two weren't discussing his candidacy as much as they were flat-out campaigning for Shaq's selection to the team. This despite only playing a shade over 20 minutes per game.
Blasphemy? Well, consider the facts. Despite the stellar efforts of Rajon Rondo, Paul Pierce and Kevin Garnett, who could well earn All-Star bids on their own, it is Shaq who boasts the team's highest player efficiency rating (21.2). In fact, when it comes to centers in the East, only Al Horford and Dwight Howard have been more productive on a per-minute basis. With an absurdly high .684 field goal percentage, we haven't seen someone this money from the floor since the days of Wilt Chamberlain.
However, individual accomplishments mean little if they get lost in translation on the team level. But after looking at plus/minus numbers, we can see that's certainly not the case with Boston's 15-time All-Star. The Celtics are scoring 120.2 points per 100 possessions with Shaq on the floor this season. How good is that? That's the highest rate for any player in the league, according to basketballvalue.com.
• Haberstroh: Meet the new Shaq

Preview: Lakers Versus Clippers
Western Conference: Best, Worst Storylines
By Beckley Mason
TrueHoop Network

Which upbeat story deserves more attention?
In the world of NBA coaching, different is risky and risky is bad. But Gregg Popovich's and Rick Carlisle's teams are threatening the Lakers' playoff supremacy by adding new tricks. The Spurs' permitting Tony Parker to push the pace exploits the Lakers' one defensive weakness (remember Russell Westbrook lapping Derek Fisher in April?) and Dallas' commitment to developing the league's best zone defense could wrong-foot L.A. like last season's Suns.
What downbeat story deserves more attention?
It's depressing to see Steve Nash's organization failing his loyalty. I'm not quite ready to count the Suns out of the playoffs -- their style is too hard to handle -- but the days of contending left with Amare. Unquestioningly the franchise's most beloved player ever, Nash appears prematurely entombed by an inept front office that has its greatest asset sealed up until age 38, when his only chance at the Chip might be Paytonesque ring-trolling.
NBA SCOREBOARD
REGULAR SEASON
TOP PERFORMERS
- 01/16/22
Rookie Watch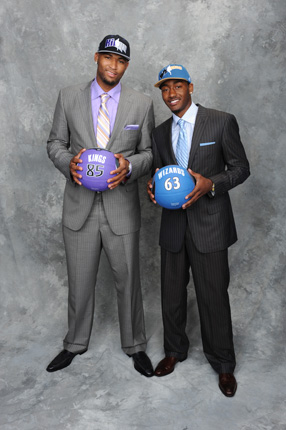 Jennifer Pottheiser/NBAE/Getty Images
With former college teammates and current NBA rookies DeMarcus Cousins and John Wall meeting tonight, it's a good time to see where they stand in David Thorpe's latest Rookie 50 rankings.

Heat At Jazz: What To Watch
By Kevin Arnovitz and Tom Haberstroh | ESPN.com


For Chris Bosh, there's an especially incriminating defensive possession at the 8:50 mark of the first quarter of the Heat's first meeting with the Jazz last month in Miami. Early in the possession, Paul Millsap holds the ball in the high post, passes it back up top, then makes a sharp cut to the basket.
Bosh is well-positioned between Millsap and the hoop to defend this dive but gets bumped out of the lane as Millsap gobbles up the space, catches the ball on the move and finishes with an uncontested layup. It's a perfectly legal move but Bosh puts up precious little resistance. He was generally manhandled by Millsap for the entire game.
Utah's power forward was able to get deep catches in the paint in early offense situations and move freely in half court. Millsap flashed to the top of the key, cut baseline and rolled to the basket with ease -- and Bosh rarely laid a hand on him. On Wednesday night, Millsap will do whatever is necessary to control the interior on the offensive end. How capable is Bosh to do anything about that?