D-Rose Fired-up In Big Bulls Win
By Nick Friedell
ESPNChicago.com

Rose
CHICAGO -- Let's take a quick look at how the Bulls roared back to the knock of the Lakers 88-84 on Friday at the United Center.
How it happened: It's a broken record at this point, but yet again Derrick Rose brought the Bulls back and locked the game up. The 22 year-old All-Star hit several crucial shots down the stretch as the Bulls rallied to beat the Lakers. Rose has no hesitation is clutch situations and clearly is enjoying the moment and the responsibility that comes with being the face of the franchise. Luol Deng added 14 points of his own, while Ronnie Brewer and Kyle Korver played well off the bench combining for 23 points.
What it means: Let there be no doubt, not that there was any already. Rose has lifted his game to the type of level that few players in the league are able to get to. He has the ability to carry the Bulls on his back and lead them. One of the bigger knocks on the Bulls this season is that they don't have many wins over quality opponents -- now they have one against the defending champs. This victory should give them team confidence heading into a much easier portion of their schedule.
Nuggets' Karl On 1,000th Victory
Spoelstra Thriving Under Pressure
By Brian Windhorst
ESPN.com

Spoelstra
SAN FRANCISCO -- Erik Spoelstra is not a natural salesman, though his job might be easier if he were. He is focused, consistent, thorough and a dogged worker. He's got the smile to pull it off but not the eyes, which endlessly burn with intensity even when he's trying to use humor to relieve the constant tension he works with. The challenge is formidable. He's got so many people he's in charge of selling, more than just your average coach in an average season. There are his Heat players at the top of the list, and they're the hardest, especially because there are stars who have discriminating taste when it comes to what they buy into. Not being a former player or a coach with decades of success to use as capital makes the task even more challenging. "One of the hardest things to do as a coach in this league is to get NBA players to do things they don't want to do," Spoelstra is fond of saying. He's right. It is one of the toughest demands on a coach in such a star-driven league. There's more. Spoelstra has to sell his plan and his vision to his mentor, Heat GM Pat Riley, who is a salesman, and to owner Micky Arison, who is famous for owning ships and running a tight one with his franchise. Then Spoelstra has to sell the media, which smothers his team on a daily basis, analyzing each week like it's a mini-playoff series.
Dwyane Wade
,
LeBron James
and
Chris Bosh
might have signed up for that, but Spoelstra isn't in their pay grade. And of course he's got to sell fans, many of whom nationally seem to revel in any struggles the Heat have. These fans may not be able to name the presidents and general managers of even half the teams in the league, but they know Riley is in the front office and they know he's gone downstairs before. To a certain extent, Spoelstra even has to sell himself to some of his peers. There are a handful of young coaches who like him and relate to his struggle to rise from intern to head coach. But the old guard isn't totally there yet, evidenced by Lakers coach Phil Jackson, who talked about Spoelstra's potential firing on the radio like it was a throwaway line at a cocktail party. So he has a hard job -- all can agree to that. Yet here is what is interesting and maybe even surprising: He's thriving at it.
Knicks Still Streaking
By Chris Sheridan
ESPN.com

The juggernaut rolls on at the expense of another weak victim, and Amare Stoudemire's 30-point streak rolls on, too, as he scored 36 and tied a team record by reaching that mark for the seventh consecutive game -- more than excusing his 11 turnovers.
With the Knicks not playing on the road again until next Saturday, they'll have gone more than a month without a road loss (their last one was Nov. 16 at Denver). This was their eighth consecutive victory on the road (the team record is 13 straight, set in 1969), giving them an NBA-high 10 road wins, and their seventh straight victory overall. Their fans were in the house and making plenty of noise, too, serenading Stoudemire with the same MVP chant he heard two nights earlier at Madison Square Garden.
Super Support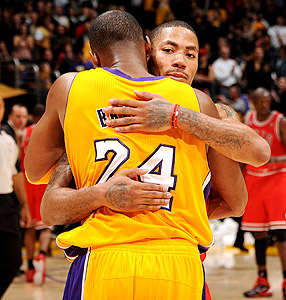 Andrew D. Bernstein/NBAE via Getty Images
John Hollinger doesn't think Derrick Rose is an elite point guard quite yet, but the Bulls' rising superstar has caught the eye of Kobe Bryant.